The coronavirus pandemic has severely impacted major industries, small and mid-size enterprises (SMEs), and local businesses. Traditional retailers such as multinational clothing-retail company Hennes & Mauritz (H&M) and Esprit have announced lay-offs and plans of closing down multiple outlets across the globe permanently.
As stores around the world closed their doors amid coronavirus lockdowns, consumers turned to online retailers to shop for leisure items and even for groceries. This has given e-commerce a major boost. According to Kantar consulting group, international e-commerce grew 41 percent in just three months compared to a 22 percent growth for 2020 as a whole. 
Even before the pandemic, Southeast Asia's e-commerce sector was already tracking massive growth, increasing almost 600 percent in value, from US$5.5 billion in 2015 to US$38 billion in 2019. It was reported that the region's e-commerce sector is expected to be worth US$150 billion by 2025.
ASEAN member state Singapore is one of the fastest growing e-commerce markets in Southeast Asia. The island state is projected to hit almost US$10 billion in online sales this year alone.
Singapore E-Commerce Giants
A report by data analytics and consulting company, GlobalData showed that Singapore has experienced a surge in e-commerce transactions amid the pandemic. This is driven by COVID-19 measures in place in order to control the outbreak, prompting shoppers to stay home and buy online.
E-commerce aggregator iPrice Group recently revealed that Singaporeans spent an average of US$83 per person from January to June 2020. The study also found that the average basket size had also increased by 51 percent when compared to the same period last year.
According to data from the organisation, e-commerce platforms in Singapore experienced a two-digit growth at 23 percent in total web visits throughout the first six months of 2020. Based on overall commerce traffic in the city-state, the top five e-commerce players were Shopee, Lazada, Qoo10, Amazon, and Ezbuy.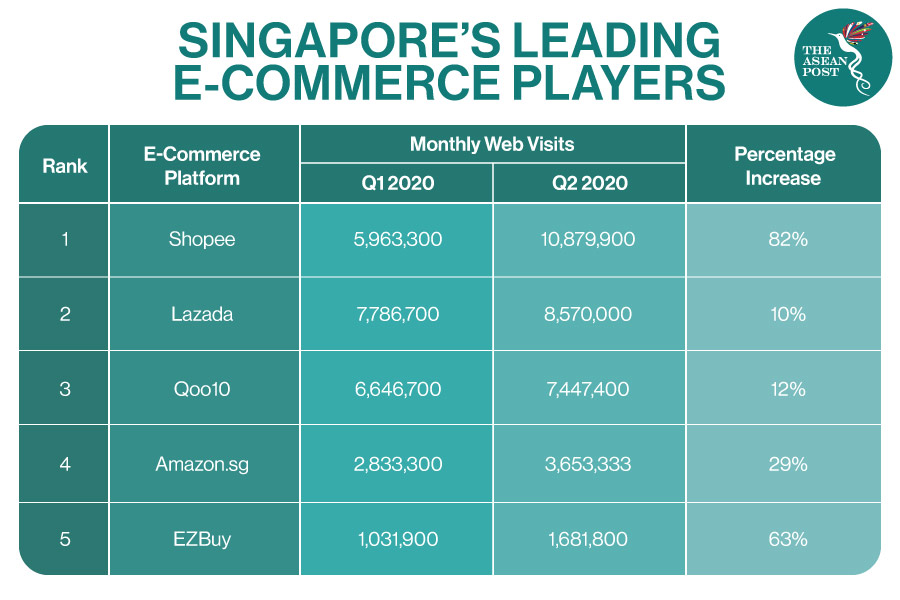 As of Q2 this year, Shopee is the most visited e-commerce platform in Singapore. The company saw an 82 percent increase in the number of users from Q1 to Q2, gaining nearly an additional five million in average visitors in the second quarter alone, stated iPrice Group in its report.
It is also important to note that it's not just industry unicorns such as Lazada and Shopee that are experiencing growth in the city-state, but homegrown e-commerce company Qoo10 too saw a 12 percent increase in web visits from Q1 to Q2 2020.
What Are Singaporeans Buying?
Another iPrice Group report titled, "Unexpected Things Singaporeans Search While WFH" revealed that products under categories like healthcare, electronics, gaming, home and living, appliances, and drinks have soared since February this year.
Unsurprisingly, Vitamin C, face masks and hand sanitisers are some of the most sought-after items online. An interesting finding from the study also found that Singaporeans are practicing safe sex as searches for condoms shot up by 67 percent in March. 
Other than that, webcams, WiFi routers, printers, gaming systems such as the PlayStation4 and Switch, and cooking equipment, among others were also some of the popular products searched for by Singaporeans while they stayed indoors amid the pandemic. iPrice Group data also revealed that interest in coffee grew by 107 percent, followed by alcohol which saw a 47 percent increase as well.
Post COVID E-Commerce
The coronavirus pandemic has accelerated digital adoption worldwide. With the rapid growth of the e-commerce sector, it seems like online shopping is the only way forward. 
"Our shift to digital commerce is here to stay as people embrace the benefits of safety, security and convenience. Consumers now want on-demand products and services – whether it's food delivery, groceries, fitness courses, telemedicine, conferencing, learning or entertainment. This demand and these expectations will continue to drive e-commerce long after COVID-19 subsides," said Sandeep Malhotra, Executive Vice President, Products & Innovation, Asia Pacific at Mastercard.
"As communities and economies emerge from the pandemic, the new consumer mindset sends a clear signal to merchants of all shapes and sizes that online shopping and touch-free transactions are essential to building the business and ensuring customer loyalty now and, in the future," he added.
Related Articles:
Online Shopping: The New Reality