Based on a 2019 study by Facebook and Bain & Company, a global management consulting firm, digital consumers in ASEAN will be spending three times as much in 2025.
The joint study found that while consumers in Southeast Asia spent US$125 on average on online purchases in 2018, that sum is expected to more than triple to US$390 in 2025.
Highlighting increasing choices, better internet access and rising affluence as factors that will continue to drive more spending online, the report also predicts that Southeast Asia will be home to around 310 million digital consumers by 2025 – in comparison to 250 million in 2018 and just 90 million in 2015.
Titled 'Riding the Digital Wave: Southeast Asia's Discovery Generation', the study surveyed 12,965 respondents across ASEAN's six biggest economies – Indonesia, Malaysia, Philippines, Singapore, Thailand and Vietnam – and interviewed more than 30 CEOs and venture capitalists in the region in an effort to learn about how the behaviours of today's digital consumers are reshaping online spending in the region.
It was reported that more than 90 percent of Southeast Asians connect to the internet primarily through their smartphones, and this connectivity has ushered in a new horizon of opportunities for e-commerce players.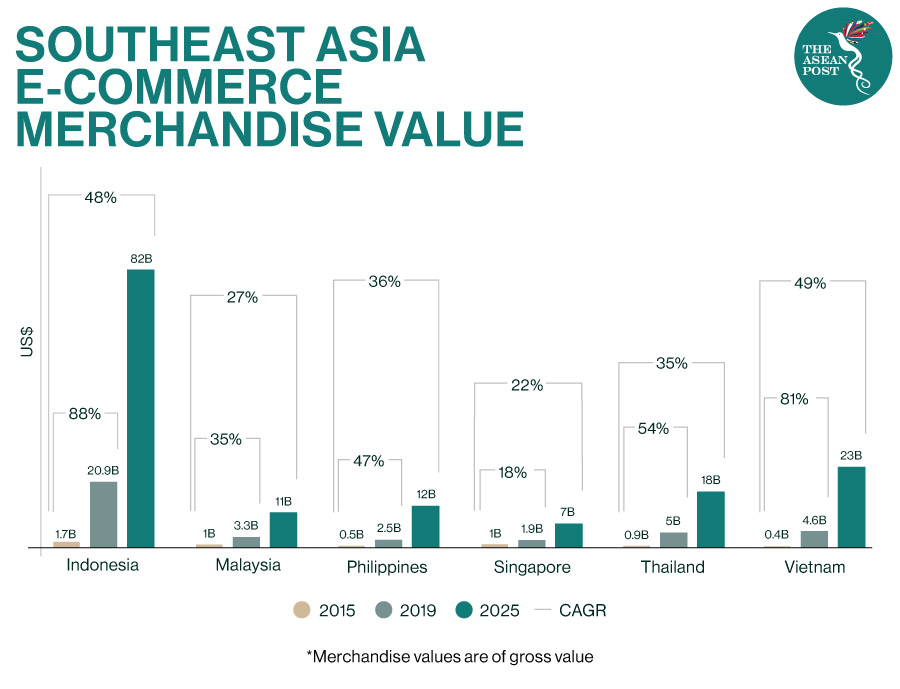 No longer looking at e-commerce as a platform to hunt for discounts on big-ticket items such as electronics, today's digital shoppers are increasingly going online to purchase lower-cost daily items such as groceries, clothes and personal care products. This trend can be widely seen amid the current COVID-19 pandemic. 
HappyFresh and Honestbee are two of the biggest players in the online grocery delivery market in the region. With virus lockdowns implemented in various countries as a preventative measure to contain the outbreak, supermarkets such as Tesco and Cold Storage have also jumped on the bandwagon and are relying on their delivery services as many regular customers have opted to order their groceries and necessities online. It was reported that even traditional wet market grocers have taken to online channels to hawk their products and to conduct online auctions.
The value of ASEAN's e-commerce sector has expanded sevenfold in just four years, rising from US$5.5 billion in 2015 to over US$38 billion in 2019. The sector is on track to exceed US$150 billion by 2025.
More Choices
However, the addition of new companies and the rapid development of existing players is changing the e-commerce landscape in Southeast Asia – ultimately offering consumers more choices.
According to the Bain & Company report, 67 percent of respondents said they do not know exactly what they want to purchase before they shop online and over 40 percent have tried an online store they have never heard of before.
In Singapore alone, 75 percent of respondents said that they are either open to other brands or will buy from multiple brands when shopping online.  
"There is no longer just one way to shop and nobody shops the same way twice," said Sandhya Devanathan, Country Managing Director, Facebook Singapore.
"The key takeaway is that designing for discovery is absolutely crucial, given that customers engage with a business through multiple channels at the same time," she added.
Fast Trends
E-commerce aggregator iPrice Group recently released a report titled 'Vietnamese e-commerce industry in the time of COVID-19: Missed opportunities' which revealed that three out of four major e-commerce marketplaces in Vietnam actually experienced drops in website traffic during the first quarter of 2020. 
The report stated that Shopee Vietnam is the only one out of the four popular e-commerce players that saw an increase in their website traffic quarter over quarter. The other three which include Tiki, Lazada Vietnam and Sendo saw their traffic decrease by nine percent on average compared to the same period last year. 
According to iPrice Group analysts, the reasons for the surprising downward movement are fast-changing trends and the unpredictably of demand for online shopping – resulting in new challenges for e-commerce businesses. For example, in February when the virus first appeared in Vietnam, online demand for healthcare products such as face masks and hand sanitizers shot up by 610 percent and 680 percent, respectively, compared to January. However, by March, as consumers stayed home due to virus fears, online groceries were in high demand among Vietnamese. 
With regional e-commerce players going all out to battle for market share and leadership in each of their geographical markets, consumers across ASEAN can expect to enjoy more value, choice and convenience, especially during this health crisis.
Related articles:
Shop Online And Save The Planet