Southeast Asia is home to some of the world's fastest expanding economies, with a combined economy about the size of the United Kingdom's (UK's) or US$2.6 trillion. Armed with a younger, urbanised and more affluent consumer base, the region continues to grow at a phenomenal pace. In 2017, the region's gross merchandise value (GMV) of first-hand goods surpassed US$10 billion, up from US$5.5 billion in 2015. For players such as Lazada, Zalora, Shopee, Alibaba, Tencent and Amazon, Southeast Asia is a lucrative battleground.
Supported by its government's sectoral pro-foreign investment policies, Indonesia is leading the region in e-commerce and is expected to corner 52 percent of the total growth in this market by 2025. Singapore, home to the two regional e-commerce titans Lazada and Zalora, is the most advanced e-commerce market, aided by its high internet penetration and speed rates. In Thailand, e-commerce is the primary mode of purchase and digital sales have been growing at more than 100 percent.
With increasing access to technology and connectivity, this growth is set to be boosted as online consumers in the region shop even more. This is evident through the more than 200 million digital consumers who shop for goods and services online and the increasing availability of new digital channels for online commerce. The e-commerce market in the region is set to grow at a compound annual growth rate (CAGR) of 31 percent until 2025, with an expected value of around US$88 billion.
According to iPrice Group's Chief Marketing Officer, Matteo Sutto, between 2016 and 2017, the region's mobile-first e-commerce grew 19 percent on average, accounting for 72 percent of the overall e-commerce web traffic, shooting ahead of all Western economies.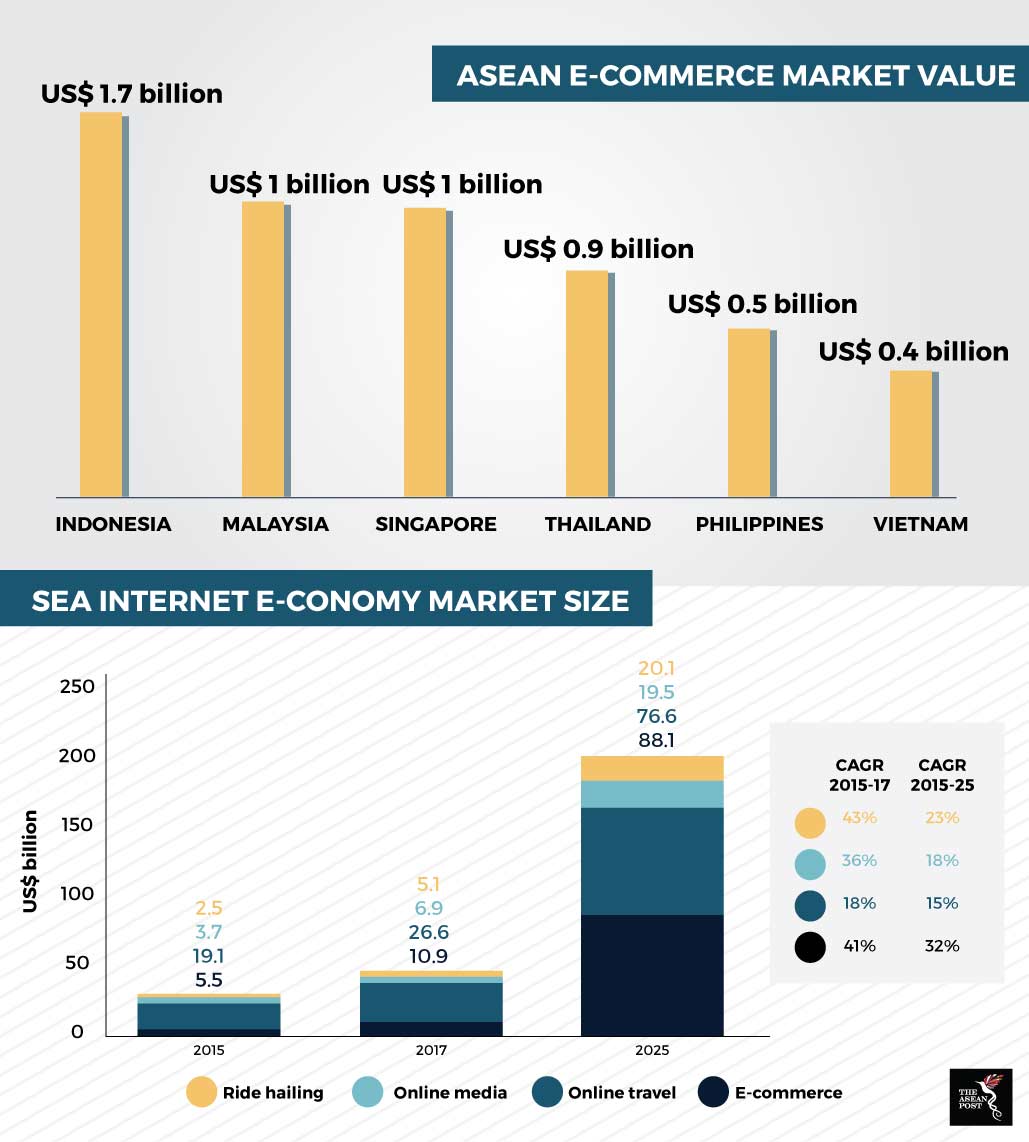 Source: Various
Online shopping and the climate
Linking the booming marketplace for online shopping and the environment, many studies have made comparisons between the impact of shifting consumer trends on greenhouse gas (GHG) emissions. The outcomes are as mixed and varied as the purchases' origins and destinations, and shopping behaviours, as well as the blurring between brick-and-mortar and e-commerce operations.
A study by Dimitri Weideli under the MIT Center for Transportation & Logistics found online shopping to have less of an environmental impact than traditional shopping. The main component affecting GHG emissions in traditional shopping is customer transportation, whereas for online shopping, it is the packaging and freight transportation. This means, when the entire buying process is taken into consideration, factors such as customer location and choice of transportation greatly influence the result.
"Online retailers tend to have a more controlled environmental impact during the shipping process, and focusing on optimisation of packaging and the return process would highly reduce their overall footprint. Brick-and-mortar retailers could focus on an efficient online search step, and leveraging their retail store locations to foster consumer pickup in dense urban areas," he stated in the report.
For Swedish furniture company IKEA, its foray into online shopping has resulted in a positive effect on its global emissions reduction efforts. IKEA's Southeast Asian Sustainability and Communications Director, Lars Svensson said that e-commerce has helped reduce customer transportation to and from their stores, which accounted for 14 percent of its carbon footprint, as well as more efficient handling in its warehouse in the preparation of goods for delivery and payment.
Aside from its impact on GHG emissions, the impact of traditional and electronic commerce in terms of other environmental and social issues such as compulsive shopping, fast fashion, discriminating and predatory labour and employment practices in less developed markets should also be taken into consideration by consumers when making purchases.
The key takeaway is that much of its impact depends on not only how businesses are operating, but also how consumers are making their purchases. Both brick-and-mortar and online retailers could play an important role in this by informing their customer about the environmental impact of their choices. With sufficient education and awareness, consumers themselves can make informed decisions on how to strategise and navigate their shopping experience while keeping an eye on the impacts on the climate, the environment and world at large.
This article was first published by The ASEAN Post on 28 September 2018 and has been updated to reflect the latest data.
Related articles:
Tapping into digital consumers for greater business opportunities