As of 17 June, over eight million people have been infected with the new coronavirus, taking with it more than 440,000 lives worldwide. Although the death rate is relatively low – below 10 percent to date, the COVID-19 virus is believed to be able to trigger other diseases or further weaken those with pre-existing medical conditions. According to the World Health Organisation (WHO), the new disease is often more severe in people who are 60 years and older and those living with other illnesses such as diabetes, high blood pressure or conditions that affect the immune system.
According to recent research reported in the European Heart Journal based on data from nearly 3,000 hospital patients in Wuhan, China – people who have high blood pressure may be twice as likely to die from COVID-19 than those without medical problems. 
Another study in the United States (US) by the Centers for Disease Control and Prevention (CDC) revealed that people with underlying health conditions such as heart disease and diabetes are six times more likely to be hospitalised with COVID-19. They also have a risk of coronavirus-related death 12 times higher than other 'healthier' patients. The CDC also found that the most prevalent underlying medical problems in more severe COVID-19 cases were cardiovascular disease and diabetes.
One theory that has been shared by many medical experts around the world is that diabetic patients could be at greatest risk of contracting COVID-19 related complications. A letter signed by an international group of 17 leading diabetes experts was recently published in the New England Journal of Medicine which suggested that the new coronavirus may also trigger new diabetes in healthy people. They claim that the deadly virus could affect the pancreas and cause high levels of sugar or hyperglycaemia among those infected.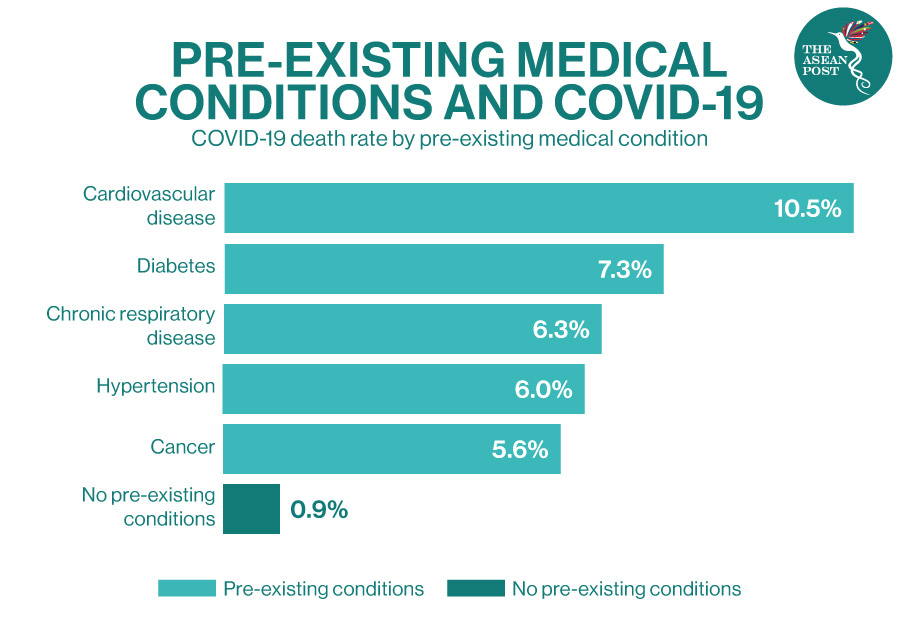 Diabetes
According to the International Diabetes Federation (IDF), 88 million adults aged 20 to 79 were living with diabetes in Southeast Asia in 2019. This figure is projected to increase to 153 million by 2045. The IDF also noted that diabetes was responsible for 1.2 million deaths in the region last year. Southeast Asians also make up about 20 percent of diabetics globally.
These patients are more likely to require intensive care treatment and tend to have worse outcomes when they catch the COVID-19 virus, said Dr Sriram Narayanan, senior consultant and a vascular and endovascular surgeon at The Harley Street Heart and Vascular Centre in Singapore.
Like everyone else, those with diabetes are urged to practice standard preventive measures against the virus such as regular handwashing and social distancing. The WHO has also released guidelines for those who are at higher risk of severe COVID-19, which includes having sufficient quantity of regular medication to minimise trips outside, and ensuring that all vaccinations are up to date. 
"In order to mitigate the risks and complications of COVID-19, the most important factor is to observe standard preventive measures. People with diabetes also need to maintain good control of their blood glucose levels at all times," said Dr M Shafi Kuchay, senior consultant endocrinologist at the Medanta The Medicity in India.
Food Industry
Diseases like diabetes and high blood pressure have long been associated with obesity.
As more studies reveal that diabetic, obese and older people are at much higher risk of developing life-threatening coronavirus consequences, medical experts have called on manufacturers to stop promoting the consumption of calorie-laden food and drinks, according to a medical news report.
"It is now clear that the food industry shares the blame not only for the obesity pandemic but also for the severity of the COVID-19 disease and its devastating consequences," stated researchers at the Wolfson Institute of Preventive Medicine, part of the Queen Mary University of London in the United Kingdom (UK).
The researchers also accuse some food manufacturers of "thinly veiled tactics, using the outbreak as a marketing opportunity".
Numerous countries like ASEAN member state Malaysia have imposed a 'sugar tax' to address the growing number of obese people and the diseases that come with it. Nevertheless, for the Southeast Asia region where bubble teas are popular and fast food is found everywhere, some experts say that a sugar tax won't solve the problem. 
"Behaviour change will not just result from taxes," said Lim Chee Han, former senior analyst at Malaysian think tank, the Penang Institute. "It will also result from urban planning, advertising and government interventions in limiting the market for unhealthy food."
However, those with underlying medical problems should not treat the new coronavirus as a death sentence if they are infected. There has been a number of miraculous stories of patients with severe COVID-19 bouncing back from the illness. An example of this is a Turkish senior citizen with numerous chronic diseases such as cardiac problems, diabetes, hypertension and high cholesterol who recovered from COVID-19 after 50 days in an intensive care unit (ICU).
Related articles:
The High Health Costs Of False Advertising