The COVID-19 coronavirus has infected more than 4.3 million people, taking with it close to 300,000 lives. Governments around the world have imposed strict measures to contain the deadly outbreak. This includes citywide lockdowns and travel curbs. The pandemic has severely affected livelihoods, local businesses and the general economy. Experts believe that the coronavirus crisis will trigger a global recession this year. 
Although some countries such as Thailand and Vietnam have begun easing virus restrictions, their citizens are still encouraged to practice social distancing and to wear masks. People would have to adjust and embrace the 'new normal' as a result of the deadly pandemic. Until a viable vaccine for the COVID-19 virus is produced, some of these measures are likely to stay indefinitely.
Scientists around the world are racing to develop vaccines and treatments to tackle the new coronavirus. Some of the possible solutions suggested include antibody drugs and a century-old technique called convalescent plasma.
Some scientists and pharmaceutical companies are looking into antibodies found in the blood of COVID-19 survivors to develop drugs that can benefit everyone. The drugs would not act as vaccines, but because antibodies are said to last for some time in a person's blood, they could potentially be some sort of a temporary vaccine – which could be helpful to protect healthcare workers, based on media reports. 
Nevertheless, as the COVID-19 virus had just emerged a few months ago and requires more studies to fully understand it – health officials said that it is still uncertain if the antibodies that result from the disease will provide someone with immunity from a future infection. 
Li QinGyuan, director of Pneumonia Prevention and Treatment at China Japan Friendship Hospital in Beijing, argued that those who have been infected with COVID-19 would develop a protective antibody but is uncertain how long the protection would last.
Another approach currently in heated debate is the use of convalescent plasma, which is the term used for plasma that is removed from the blood of a person who has recovered from an illness, then donated to a patient still combatting it. Plasma is the yellow, liquid part of the blood where the potentially life-saving COVID-19 antibodies may reside. The technique has also been used for Ebola, polio and Severe acute respiratory syndrome (SARS). 
In both circumstances, blood samples from recovered COVID-19 patients are very much coveted for developing treatments, tests, vaccines and drugs for the disease.
Blood Donors
Many recovered COVID-19 patients are coming forward to donate their blood plasma in order to help other patients fight the virus. Even high-profile celebrity Tom Hanks who tested positive for the virus and has since recovered has donated his plasma.
President Joko Widodo of Indonesia told the media that the archipelago nation is preparing for a large-scale trial on convalescent plasma treatment for COVID-19 patients. The blood plasma – taken from COVID-19 survivors, would be transfused to severely ill patients to give their systems a boost, according to a local news agency.
"I have seen significant progress in blood plasma treatment trials. The treatment would be clinically tested within a large scale in several hospitals," said President Widodo.
Malaysia's Director-General for Health, Noor Hisham Abdullah told the media last month that the study on using recovered patient blood plasma as a treatment option was still in the early stages. 
"It may take some time before the ministry can find strong evidence to use it. The ministry is studying the use of blood plasma by looking at the antibody content and so on," explained Noor Hisham Abdullah.
Market For Plasma
According to media reports, the high demand and lack of supply of COVID-19 blood samples are prompting some companies to take advantage of the situation by soliciting blood donations and selling samples at exorbitant prices. And some recovered COVID-19 donors are not even aware of the practice. 
It was reported that biotech companies such as Cantor BioConnect in the United States (US), has charged US$350 to US$40,000 for just a millilitre (ml) of blood, while Indian company Advy Chemical, has charged up to US$50,000.
"I've never seen these prices before. It's money being made from people's suffering," said Dr Joe Fitchett, medical director of Mologic, a British test manufacturer that was offered high-priced samples.
The trade in COVID-19 blood samples doesn't just end here. It was reported that criminals are now selling the blood of supposedly recovered coronavirus patients on the dark web.
According to Atlas VPN, a tech company that provides VPN services, the blood of recovered COVID-19 patients costs over three times more than hiring a hitman on the dark web.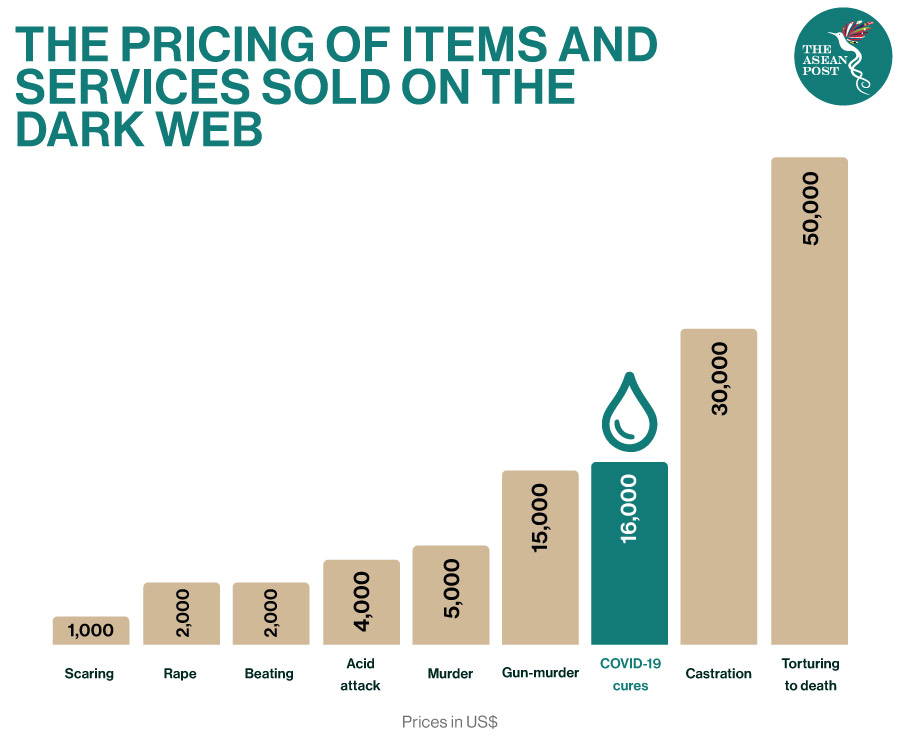 Media reports have stated that a group of researchers with the Australia National University had scoured the dark web and found hundreds of unregulated coronavirus products – from anti-malaria drugs to personal protective equipment.
"The idea of any kind of black market is that there will be some people who may be prepared to be jumping ahead of the queue, if you like, and taking a punt on a vaccine that's undergoing trials," said lead researcher Rod Broadhurst.
Related articles: