Before the devastating coronavirus pandemic, during the 2019 ASEAN Summit, Thailand introduced the Eastern Economic Corridor (EEC) initiative to transform three Thai provinces into smart cities – which has turned out to be a success. 
With the aim to create a centre for trade, investment, regional transportation, and a strategic gateway to Asia - Thailand is confident that it would promote a seamless ASEAN. 
In accordance with Thailand 4.0, the country aims to achieve 100 smart cities by 2024. That goal is well on its way to completion especially now that the Digital Economy Promotion Agency (depa), a Thai government agency, has signed a partnership with City Possible global network. Pioneered by Mastercard, 27 Thai smart cities had been inducted into the City Possible program which is designed to make technology work for people by aligning key stakeholders to address urban issues. 
City Possible provides members with unrivalled access to a global community of urban leaders, businesses, non-governmental organisations (NGOs) and academics and are regularly invited to a series of knowledge-exchange forums where participants identify common challenges, exchange learnings and establish holistic urban solutions. 
"Cities around the world face similar challenges but they are too often solving in isolation. City Possible connects cities with insights and resources from cities around the world which accelerates progress and enables smart governance," said Miguel Gamiño Jr, Executive Vice President, Global Cities, Mastercard.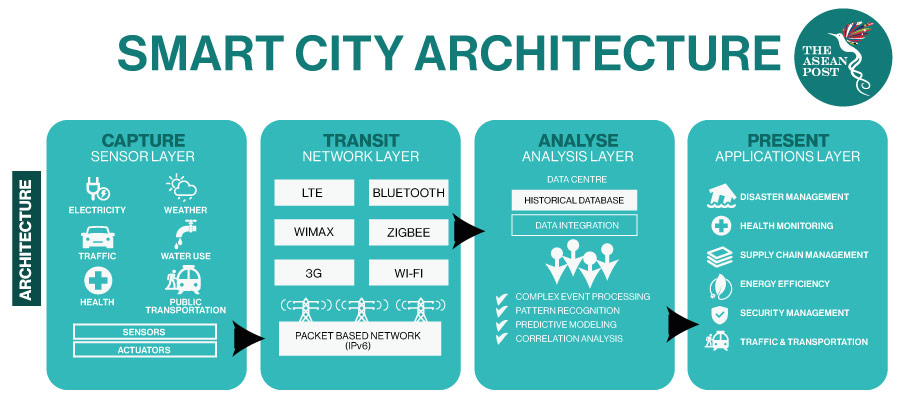 The focus on smart cities is a core pillar of the government's Thailand 4.0 initiative which aims to transform the kingdom into a high-income nation with vastly improved quality of life in urban centres. 
"As a country relying on agricultural and tourism industries, we want smart cities to be the ecosystem to promote both of these, which in turn will afford to close the income gap and accelerate much-needed growth in the economy of the country as a whole," Dr Passakon Prathombutr, Senior Executive Vice President of depa told The ASEAN Post. 
"Two most important sectors are environment and economy. We place environment as the most important sector because it only makes sense for a city to be smart if it does not deteriorate the environment," he added. 
Pollution and drought are the two most critical environmental issues facing Thais, "the key idea is to deploy to the local governments by equipping them with the technology; such as sensors, integrated data systems, and a digital twin, to monitor and predict foreseeable disasters," explained Dr Prathombutr. 
Several cities in seven provinces have been committed to pursuing smart city development. They include those in Phuket, Chiang Mai, Khon Kaen, Chon Buri, Rayong, Bangkok, and Chachoengsao. 
According to local media reports, from May to July 2020, a total of 39 cities have submitted proposals for evaluation and approval to the National Steering Committee on Smart City Development to join the scheme.
In order to get approval for smart city development, cities must meet five criteria: have clear geographical boundaries and smart city goals, have infrastructure investment and a development plan, have a design for an open and secure city data platform, provide smart city solutions, and have a sustainable management model.
Recently, the Thai government decided to participate in the Smart Green ASEAN Cities project jointly coordinated by the European Union (EU) and ASEAN. The project's framework aims to support sustainable urbanisation in the region, reduce the environmental footprint of urban areas and improve the quality of life of residents.
It was reported that under the framework, the EU would provide funding of €5 million (US$6 million) to selected ASEAN cities to develop smart, sustainable and environmentally friendly urban areas.
"This cooperation is in line with the government's policy to develop Thailand's cities into smart and sustainable urban areas. This framework will lead to capacity building and the sharing of best practices which can lead to improvements in urban residents' quality of life," said Rachada Dhnadirek, a government spokeswoman.
Nonetheless, the implementation of new infrastructure comes with its challenges and resistance. In terms of effectively utilising resources and technology, three significant challenges lay ahead; the mindset of leaders in a city, existing regulations, and the capacity to act. 
"Many city leaders do not have adequate technological literacy to pivot the role into innovators. Among those who do, they are sometimes too timid to pose a technological vision," said Dr Prathombutr. 
He further explained that "local agents of transformation in each city are needed to play a critical role in moving the cities toward becoming "smarter."
Related Articles: