The coronavirus crisis has disrupted businesses everywhere. From large corporations to start-ups and small vendors – industries are feeling the pinch from the pandemic. Sectors such as tourism and aviation have been hit especially hard. Nevertheless, there are several industries that are thriving amid the crisis, these include the global payments industry and e-commerce. 
The global payments industry has proved to be resilient amid the pandemic as the general public still continues to trust payments systems and providers, said Sulabh Agarwal, Managing Director of Global Payments at Accenture in his article titled, "The Top Eight Ways COVID-19 Will Impact Payments."
In the article, Agarwal listed a few potential impacts of the coronavirus crisis on the payments industry. These include a strong push towards a cashless society, a new need for fraud protection, a tougher environment for payments fintechs, and an explosion in online shopping and digital checkouts, among others.
A Cashless Society
Many people in the Asia-Pacific region are not unfamiliar with digital payments. According to a 2019 World Payments Report by consulting firm Capgemini, the value of non-cash transactions in Asia is projected to grow from US$96.2 billion in 2017 to US$352.8 billion by 2022, a meteoric rise of over 266 percent.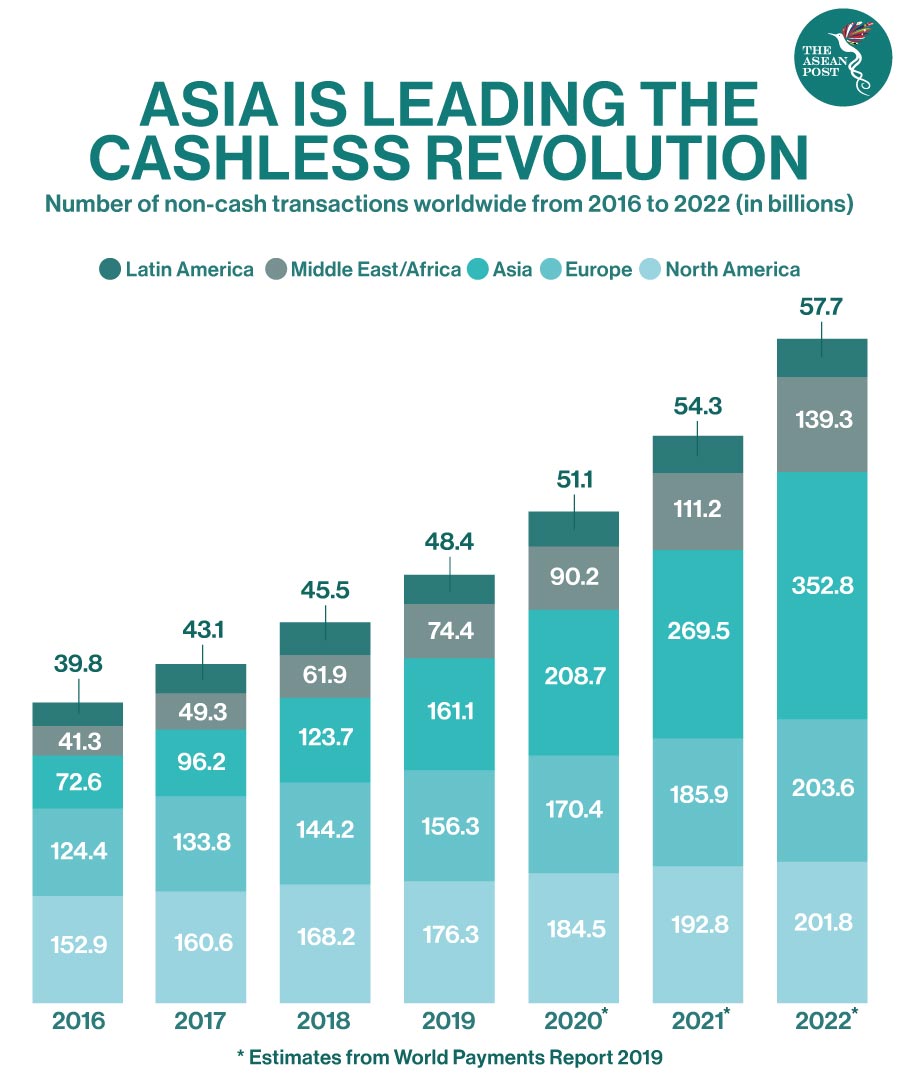 Contactless payments allow people to pay by tapping their payment cards or phones on point of sales (POS) terminals instead of swiping or inserting their cards. QR (quick response) codes are two-dimensional bar codes which can carry purchase transaction information – allowing merchants to receive payments from customers when scanned. Whereas, digital wallets such as GrabPay allow a payment to be made without even touching a card to a terminal or entering a PIN.
This trend became even more popular during the pandemic as the World Health Organisation (WHO) warned in early March that banknotes may spread the COVID-19 virus. 
The recommendation by the WHO to use cashless transactions in order to help curb the spread of the virus has meant that contactless payments have skyrocketed. Other than that, the COVID-19 pandemic has also further undercut the use of cash by forcing retailers to move online as many consumers are staying home due to virus fears. 
E-Commerce And Payments
As many are practicing social distancing amid the crisis, consumers turned to online retailers to shop for leisure items and even groceries. This has given e-commerce a major boost. According to Kantar consulting group, international e-commerce grew 41 percent in just three months compared to a 22 percent growth for 2020 as a whole.
While e-wallets and online payments have been available in some market for decades, their popularity has only really flourished in the past few years. PayPal, one of the pioneers for e-wallets was favoured in the 1990s to enable consumers to make e-commerce purchases on popular digital mall, eBay. 
These days, there are a number of e-wallets that consumers can choose from to make payments online. Other than that, for merchants and e-commerce, the business of authorising, processing and optimising payments has also become more convenient in recent years with payments orchestration.
Among several challenges for e-commerce, management of payment infrastructure is sometimes overlooked as it does not form part of a typical merchant's core competence, noted Olha Getalo from Payoneer, a digital payment platform. Therefore, payment orchestration is necessary for online businesses to scale quickly. 
To note, payment orchestration is a concept which entails unifying multiple payment capabilities and partners into one platform to optimise payment transactions across all channels and markets. A number of industries such as the e-commerce sector have opted for this new strategy.
Payoneer recently jumped on the bandwagon as it announced that its new payment orchestration platform is available for e-commerce merchants across Asia-Pacific that are looking to accept international payments through multiple providers. The platform provides merchants with access to its network of over 100 global partners, consisting of global, regional and local payment providers and methods, as well as fraud prevention providers.
"Bringing an independent payment orchestration platform to the Asia-Pacific market aligns perfectly with our mission to connect the world together, making it as easy for merchants with global ambitions," said Keren Levy, Chief Operations Officer at Payoneer. 
"For merchants that depend on flexibility and choice, our single integration opens their world to the top payment providers globally, optimises the customer experience and lowers costs," she added. 
As more people are shifting online during the pandemic, there will likely be a boost in demand for digital banking services. Many traditional payments providers will perhaps fast-track their digital innovation efforts. Consequently, the payments industry will have a major role to play in revamping the economy.
Related Articles:
Digital Payments Are The Future Of Transactions In Southeast Asia