In a move aimed at strengthening the relationship between Japan and ASEAN and promoting the digitalization of trade procedures, the Japanese government and a consortium of 20 of the country's largest companies have announced the introduction of a digital platform to manage and integrate trade transaction information.  
ASEAN is Japan's third-largest trading partner (as a bloc) after China (including Hong Kong) and the United States (US). 
According to data compiled by the Japan External Trade Organization (JETO), trade between Japan and ASEAN stood at US$214 billion in 2019, with imports (US$108 billion) slightly exceeding exports (US$106 billion), down from a total of US$226.5 billion in 2018.
The test run of the new system, which will rely on blockchain technology, will kick off in fall of this year with Vietnam, which chairs ASEAN for 2020, and will later be extended to the other nine members of the Southeast Asian trade bloc.  
Phasing Out Paper
Currently most information related to shipments, payments, insurance, and custom clearing are paper based and use different standards. The new platform aims to unify record standards across the board and reduce costs as well as the time required to process import and export procedures.
The system will also help identify potential bottlenecks in the supply chain process by using artificial intelligence to analyse past data related to these transactions and, for example, identify an alternative supplier or shipping company in case of a supply chain disruption. 
The platform will reduce and eventually eliminate the need for exchanging documents in paper form. For example, bills of lading (B/L), which represent title to the goods, are typically issued on paper. 
Usually B/Ls are issued in three original copies, one for the shipper, one for the consignee, and one for the banker. The more B/Ls are issued the higher the risk of fraud, theft, unauthorised release of goods, or release to the wrong person.
Blockchain technology will allow for non-physical original B/Ls to be delivered in a secure way, reducing delays and risks of tampering. 
This technology can also help digitalise procedures for letters of credit issuance by banks and trade insurance contracts. A letter of credit is a letter issued by one bank to another bank to serve as a guarantee for payments. 
Dependence On China
The move is part of a broader initiative by Japan to lessen its dependence on China for manufacturing and to reduce future risks of supply chain disruption in case of another black swan; and it follows up on some of the measures contained in the stimulus package unveiled by Japanese Prime Minister Shinzo Abe at the beginning of April.
The massive stimulus plan of JPY108 trillion (US$992 billion) include an economic support fund worth about US$2.4 billion to help finance local businesses bringing manufacturing back to Japan from China, or to move it to other countries in Southeast Asia.
But it is not only Japan that is interested in stepping up its involvement in ASEAN. The trade bloc too sees Japan as an anchor in the bigger and not-so-smooth relationship between China and the US, and therefore welcomes efforts to strengthen commercial ties.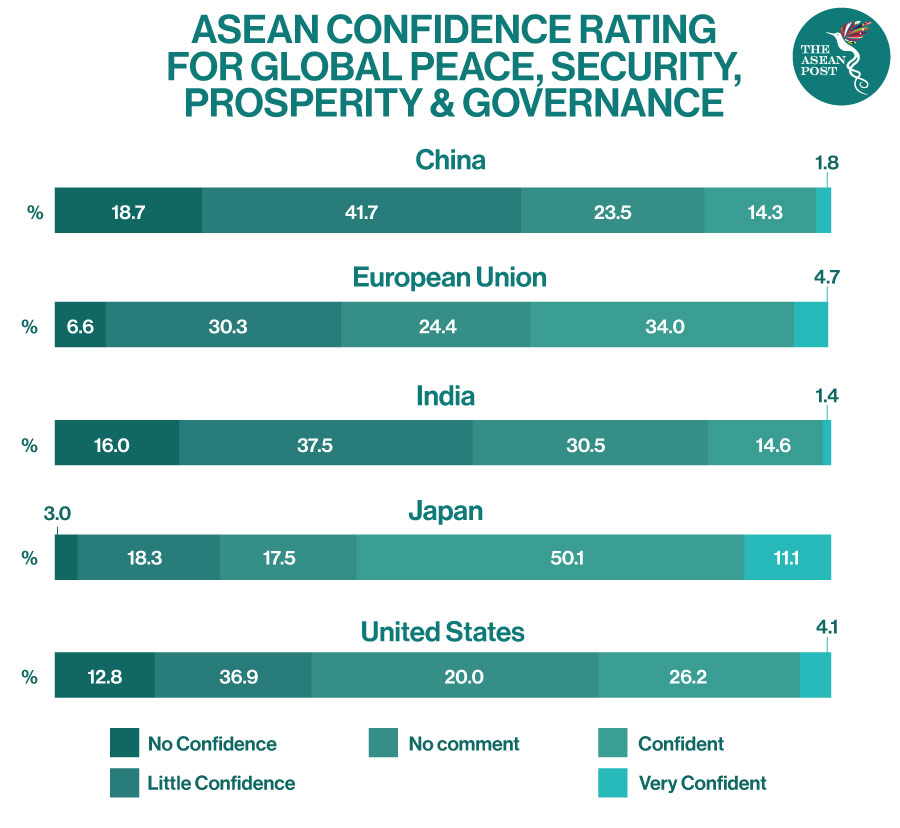 In a January survey by the Singapore-based ISEAS-Yusof Ishak Institute, Japan turned out to be the most trusted major power, with 61.2 percent of respondents expressing confidence in Japan to do the right thing for public good. The European Union (EU) followed with 38.7 percent; the US came in third with 30.3 percent; and China placed fourth with 16.1 percent. 
The new system will also benefit ASEAN as a whole. According to a 2018 Bain & Co. report titled, "Advancing Towards ASEAN Digital Integration," ASEAN's digital economy was just seven percent of gross domestic product (GDP) compared to 16 percent for China and 35 percent for the US. 
Moreover, digital integration will foster and accelerate intra-regional trade and growth, and could stimulate an increase in GDP for the bloc between US$800 billion and US$1 trillion by 2025, the report stated.  
The report also noted that more than 50 percent of Small and Medium Enterprises (SMEs) see cross-border trade processes and logistics infrastructure as key barriers to selling overseas through digital channels, while many digital businesses see data localisation regulations as a barrier to seamless digital trade. 
Among the companies that will take part in the project are Mitsubishi Corp., Japan's largest trading house, Mitsui & Co., Nippon Express, NYK Line, the nation's second-largest shipping line by 20-foot equivalent unit (TEU) capacity and part of the Mitsubishi conglomerate, Mizuho Bank, Sompo Japan Insurance, Tokio Marine & Nichido Fire Insurance.
Related Articles:
Blockchain In The Financial World