Netflix, Amazon Prime, Apple TV, these are only a handful of available streaming services where people today have the power to decide what they want to watch and when they want to watch it. All one needs is an electronic device to play videos, an internet connection and an account on one of these services.
Last year, a report published by Dataxis estimated that Southeast Asia will have four million paid subscription video-on-demand (SVOD) accounts in 2019. This number is expected to grow to 6.2 million subscribers by 2022. The 2018 report, 'SVOD in Asia Pacific: the gold rush' states that by 2022, the SVOD market in Southeast Asia is expected to be valued at US$390 million. 
Nevertheless, there's a problem.
Pirated movies and videos have been around long before the advent of streaming services. Before high-speed internet, bootlegged VCDs and DVDs were easily available in the black market. Today, from the comfort of your own home, you could easily download illegal torrents or even stream movies for free through illegal websites. The sad fact of the matter is that this is still what many people do today.
Recently, a survey commissioned by the Asia Video Industry Association's (AVIA) Coalition Against Piracy (CAP), found that amid the boom of online entertainment streaming services, the majority of online consumers in Indonesia favour watching movies for free through these illegal websites. Streaming site indoXXI has become a popular option.
The survey, conducted by global public opinion and data company YouGov from 19 to 20 September, involving 1,045 respondents, showed that 63 percent of online consumers in the Southeast Asian country preferred to watch premium content through illegal torrent websites. While 62 percent said they had stopped paying for cable TV services. 
The survey also found that 29 percent of respondents used illegal apps that provided access to bootlegged videos and TV channels. Among 35 percent of those using illegal apps, indoXXI's illegal streaming website and app were the most popular channels for them to watch free movies. The app was also popular among younger respondents, with 44 percent of respondents aged 18 to 24 years old having used it.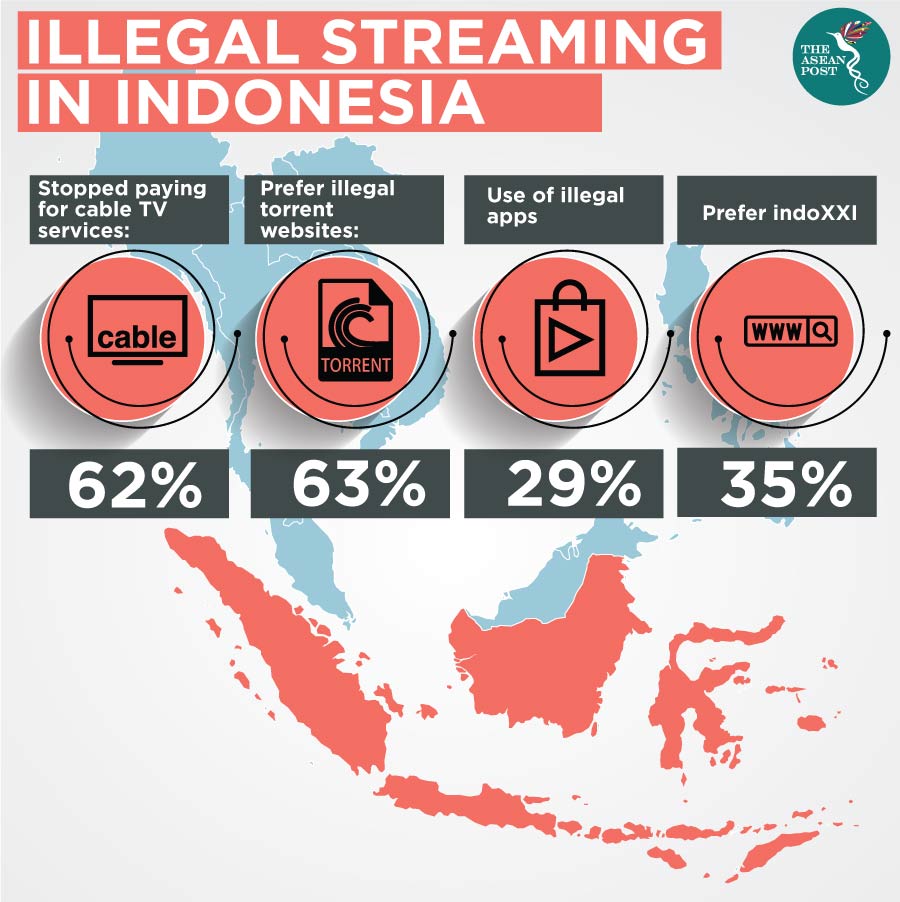 While the website has been frequently blocked by the government, it has been able to bypass these blocks through regular site address changes. 
Movie producer and chairman of the Indonesian Film Companies Association (APFI), Chand Parwez, expressed his concerns over the survey findings.  
"Content stealing hurts Indonesia's creative industry as [the thieves] steal from the content creators," he was quoted by local Indonesian media as saying recently.
He said the APFI had collaborated with the Indonesia Video Coalition and the Communications and Information Ministry to identify and block websites that facilitated the distribution of pirated content. The ministry has blocked at least 1,000 websites for content piracy since July.
A regional issue
Watching movies online illegally isn't just happening in Indonesia. Before this most recent survey involving Indonesians, the CAP had commissioned a series of other surveys which found that 45 percent of Thais use illicit streaming devices (ISDs), followed by the Philippines (28 percent), Malaysia (25 percent) and Singapore (15 percent).
The surveys, which were conducted from last November to February 2019, also found that 69 percent of Thais who purchased an ISD said that they had cancelled all or some of their subscription to legal pay TV services. The number was 60 percent in Malaysia, 28 percent in Singapore and 18 percent in the Philippines.
There are a few possible reasons why Southeast Asians continue to turn to ISDs. The most obvious one is that ISDs offer free content while legal streaming services can cost quite a bit depending on the service provider and subscription package. This is likely to increase in cost as ASEAN governments attempt to incorporate a digital tax in the coming months.  
Another notable reason is that, while streaming services offer a wide variety of movies, documentaries and such, they don't offer everything available in the market. Netflix Asia, for example, is vastly different from Netflix United States (US) in the content that it provides. Netflix Asia also has the habit of bringing down content after a certain period of time. 
Southeast Asians must learn that piracy is not socially acceptable. It affects not only the film industry, but also the users enjoying pirated content who are likely to be exposed to malware, ransomware and spyware which can infect their electronic devices. Legal streaming service providers too must understand that most of their users are internet-savvy and demand better, more affordable services.
Related articles:
Video streaming on the rise in Southeast Asia