Sexist posters by the Women and Family Development Ministry (KPWKM) in Malaysia have gone viral and made international headlines. As the country is currently in a partial lockdown, also known as Movement Control Order (MCO) since 18 March, the KPWKM has released a few posters with tips on how to avoid marriage conflicts during the MCO which is set to end on 14 April. Some of the advice include – avoid nagging your husband and speak to them in a voice similar to that of popular Japanese cartoon character, Doraemon – to ensure a happy marriage. The KPWKM also advised women working at home to make an effort to wear makeup and dress properly, rather than just wear casual clothing. 
The online posters sparked a public outcry in Malaysia and have since been taken down after a major backlash from activists and members of the public. 
The posters which observers say are the epitome of the concept of gender inequality even caught the attention of the country's former law minister, Azalina Othman who tweeted:
"#KPWKM, the memes are politically incorrect, promote gender bias & perpetuate misogyny. I'm disappointed that the Ministry is condoning messages which go against the empowerment of women & gender equality." 
The KPWKM has since issued a public apology in the wake of the posters.
"We apologise if some of the tips we shared were inappropriate and touched on the sensitivities of some parties," the KPWKM said in a statement.
A 2018 study by IPSOS, a global market research firm headquartered in Paris, revealed some of the top issues faced by women in Malaysia. Based on the study, the top three issues are sexual harassment, sexual violence and sexualisation of women in the media. Other issues include gender stereotyping and lack of women in leadership roles.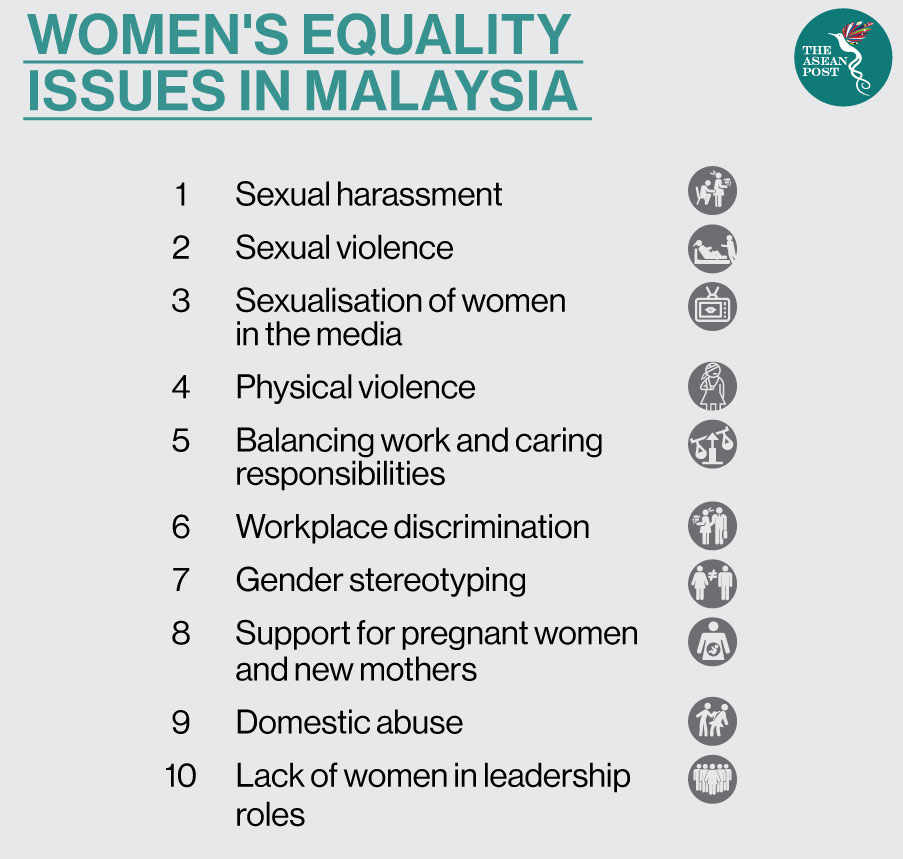 Many do not understand the implications of gender stereotyping and how harmful it can be. The United Nations (UN) Women released a publication titled 'Gender Stereotypes: In laws and court decisions in Southeast Asia' in 2016 and defined gender stereotyping as "a generalised view or preconception about attributes, or characteristics that are or ought to be possessed by women and men or roles that are or should be performed by men and women". 
For many nations, especially in conservative countries such as most ASEAN member states, women remain at a disadvantage in the work-place, political life, and at home. It is said in the UN Women paper that the reason for this is because of the structure and organisation of society that is built on gender stereotypes.
"This means that gender stereotypes do not function simply as cultural ascriptions and prescriptions for men and women; gender stereotypes constitute men and women as different and unequal, and this difference and inequality become the organising principles of society," the UN Women noted. 
More harm to women 
While gender stereotypes affect both women and men, they often bring more harm to women. According to the Office of the United Nations High Commissioner for Human Rights (OHCHR), some effects of gender stereotyping can be seen in 'male dominated' sectors such as information and communication technology (ICT) and gender-based violence. 
The common perception that women are weak, emotional, lack assertiveness and are less rational compared to men have put them at a disadvantage in exercising leadership roles in the workplace. According to a 2019 report, 'Women in Business' by Grant Thornton International Ltd., a majority of senior management positions in Southeast Asia are held by men. The Philippines has the highest percentage of women holding senior management positions in the region at 37.5 percent, followed by Vietnam and Singapore with 36.9 percent and 33 percent, respectively.
Other than that, it was reported that in some societies, women's and girl's access to education is "severely limited due to gender stereotypes". The stereotype of men as breadwinners and head of the family leads to the prioritisation of boys' education. Whereas girls are typically associated with domestic and care responsibilities, with the assumption that they will be economically dependent on men, according to the OHCHR. 
Gender stereotyping results in gender inequality, where women are viewed to be inferior to men. Men are said to be brave, tough, reliable, and sound. However, they are also said to be aggressive and egoistic, among other toxic masculine traits. These stereotyped traits sometimes lead to gender-based violence.
"Violence against women throughout their life cycle is a manifestation of the historically unequal power relations between women and men. It is perpetuated by traditional and customary practices that accord women lower status in the family, workplace, community and society, and it is exacerbated by social pressures," stated UN Women. 
Malaysia's Talian Kasih hotline, which is a helpline to provide assistance to women and children who are experiencing abuse among other issues, has seen an increase by 57 percent of calls since the country enacted its MCO. Local women's groups have warned lockdowns could see a rise in domestic violence as women are potentially trapped in a confined space with their would-be abusers. Perhaps, the authorities should investigate this further and share tips on how best to handle such issues instead of releasing posters promoting misogyny. 
Related articles:
Poor gender gap improvement in ASEAN