Online shopping is not entirely a new phenomenon in Southeast Asia. Nevertheless, more people are buying daily necessities, gadgets and luxury purchases online now, especially amid the pandemic. Tech giant Google, Singapore's wealth fund Temasek and Bain & Co, a consulting firm, said that the region's e-commerce market was worth some US$38 billion in 2019, and is expected to grow exponentially. 
Southeast Asia's rising internet economy could be the reason for the region's e-commerce boom. A 2019 report by the aforementioned organisations titled, "e-Conomy Southeast Asia" showed that ASEAN's internet economy has more than tripled in size over the last four years prior to the report amidst a fundamental shift in the way people shop, eat and get around.
In 2020 when the COVID-19 crisis hit and shops shuttered temporarily, consumers in Southeast Asia were forced to turn online for their retail therapy. Some observers believe that this trend will likely continue even in a post-pandemic world.
Therefore, it was not at all a surprise when this year's 11.11 sale saw e-commerce companies breaking their past records. 
Chinese online commerce giant Alibaba reaped US$74.1 billion in gross merchandise volume in its Single's Day sale which ran for nearly two weeks, from 1 to 11 November. Alibaba typically organises its 11.11 sale in a 24-hour event which garnered US$38 billion in 2019, but this year opted to conduct an 11-day sale period.
It was reported that Malaysia ranked fourth this year among top overseas countries who purchased from China during the 11.11 sale by gross merchandise value. The ASEAN member state was only behind the United States (US), Russia and France.
Whereas Shopee's 11.11 one-day sale enabled first-time sellers to record 10 times more orders than on average day.
"Shopping events such as the 11.11 sale allow us to push the boundaries of innovation, introduce new features and initiatives to empower and enable brands, retailers and sellers to kick into high gear for recovery in the current economic climate," said Ian Ho, regional managing director of Shopee Malaysia. 
He also added that the sale unlocked new opportunities for budding local entrepreneurs and small and medium enterprises.
According to data from ShopBack, a cashback site and app, millions of bargain hunters from Malaysia, Singapore, Indonesia, Thailand, Vietnam and the Philippines rushed to purchase their items when the clock struck midnight on 11.11 sale day.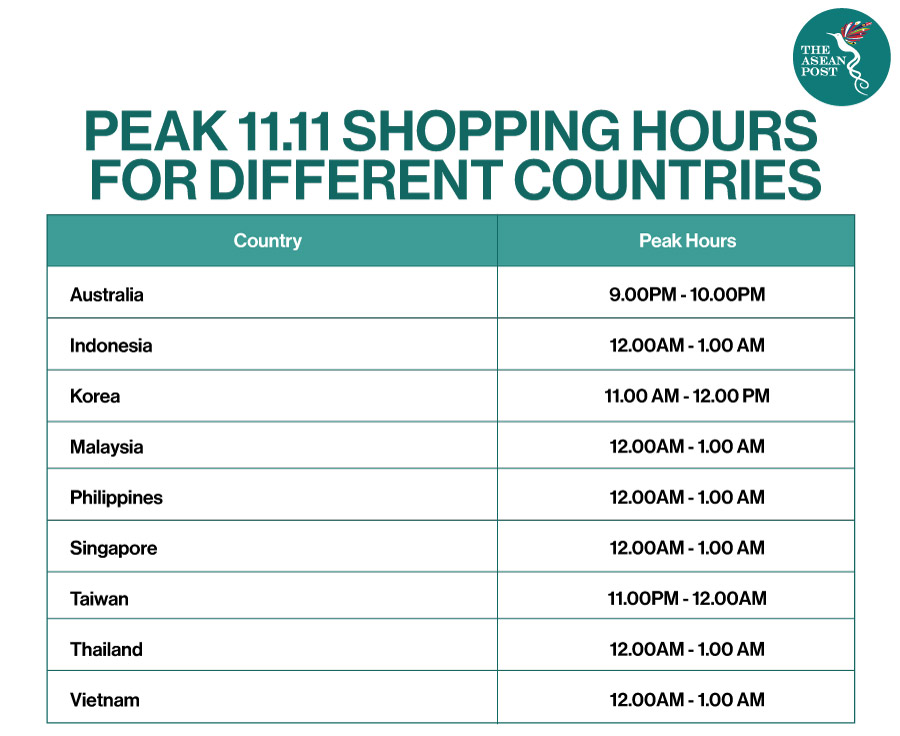 The ShopBack study also found that on a regional level, around 90 percent of shopping traffic came from mobile applications. This correlates with the Google, Temasek and Bain & Co report which stated that 90 percent of Southeast Asia's internet users go online via their mobile phones. The report also notes that the growth of the mobile internet is transforming the region's economy.
"Today, Southeast Asians are the most engaged mobile internet users in the world," the report stated.  
Sales Season
Single's Day or 11.11 started out as a day to celebrate singlehood back in 1993, commemorated by a group of male students at Nanjing University in China. Soon after, the celebration caught the attention of the general public and is now the biggest online shopping extravaganza.
Alibaba first started offering Single's Day discounts in 2009 and has since turned the event into a bonanza of online shopping. Other e-commerce platforms as well as regular brick-and-mortar stores have also joined the event since then. 
E-commerce websites usually kick-off Single's Day from the beginning of November or even earlier by offering flash sales, promotions and deals, but it is expected that on 11.11, consumers get the biggest discounts and promotions.
In recent years, the 11.11 celebration sale has also gained traction outside China and is now a global event. Consumers in Southeast Asia have also embraced other year-end sales offered by e-commerce sites such as the 9.9 (9 September) and 10.10 (10 September) sales. 
Some brands and online shopping platforms such as Shopee and Zalora are already gearing up for Black Friday, Cyber Monday and the 12.12 sale.
Related Articles:
Online Shopping: The New Reality