Continuing The ASEAN Post's series of articles on e-hailing, readers will recall that despite GrabTaxi Holdings Pte. Ltd. (Grab) acquiring its competitor's (Uber) Southeast Asia operations, it did not end up with a monopoly on the e-hailing business. 
Monopolisation was a common worry among Malaysians because with a monopoly, Grab would be able to set its fares higher than marginal cost and at the same time, the quality of service which made ride-hailing a popular alternative to traditional taxis in the first place would dwindle. 
While Grab is still, arguably, the most popular choice for many Malaysians today, we intend to take a quick look at what other ride-sharing services are available in the country.
Riding Pink
The first and possibly most interesting one out there is a ride-hailing service called "Riding Pink". With the tagline "By Women, For Women", Riding Pink intends to fulfil its mission of providing women drivers with an alternative, flexible source of income as well as to present them with a reliable, affordable and safe transportation option. This means, however, that the app will not be applicable to either male drivers or passengers.
With horror stories involving male drivers and women victims it is understandable why Riding Pink saw the need for such a service. 
Users, however, have complained that there is a problem creating their account on the mobile app. Hopes are high that Riding Pink will look into the matter soon.
MyCar
Hailed by some media reports as the next best alternative to Grab, MyCar's development started as early as September 2017 and the platform went live in February last year.
Independent personal financing website Loanstreet did a side-by-side comparison of MyCar and Grab and found that in terms of travel costs, MyCar is the cheaper alternative. It found in October 2018, that with an exact same measured distance between the Kuala Lumpur City Centre (KLCC) and Bangsar Village, a MyCar ride cost only RM8 (US$2), while Grab charged RM14 (US$3.4) for the same ride on its platform.
On the flipside, MyCar only accepts cash as payment from passengers.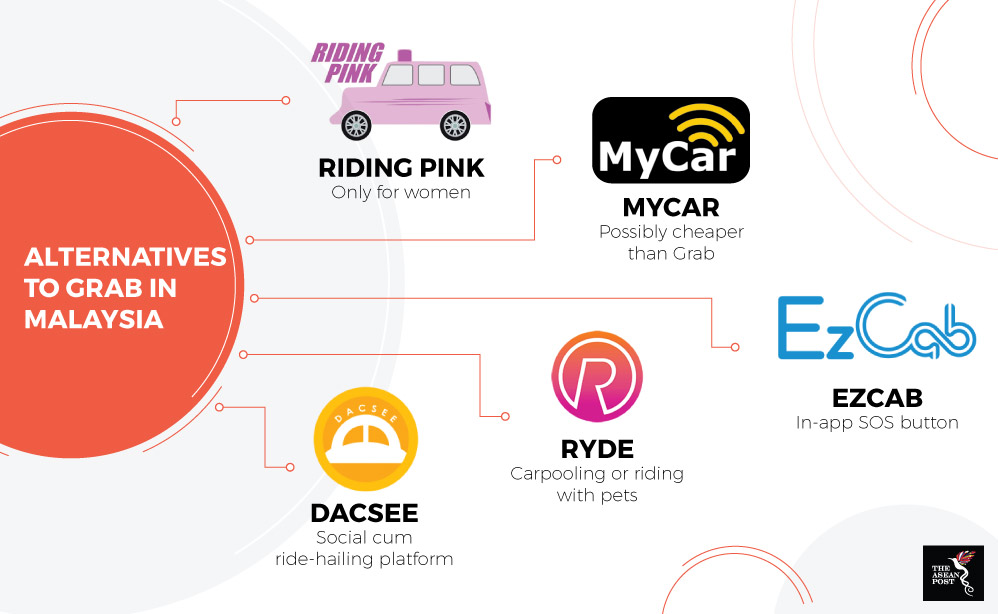 Source: Various
EzCab
Another alternative is EzCab, which offers a transport booking service for taxis, private cars, as well as executive and luxury Multi Purpose Vehicles (MPVs). This mobile app allows users to book vehicles using a fixed fare or metered taxi fare booking, anywhere within its main coverage areas in the Klang Valley and in the states of Penang, Perak, Seremban, Johor, Melaka and Sabah. 
Another very useful feature of EzCab is the in-app SOS button. This panic button instantly displays your location to the person, service, or authorities who attend your call to reach out to the nearest potential responders.
A common complaint from customers on the app, however, seems to be the lack of available drivers.
Ryde
If you're looking for something truly cost-efficient you could always consider carpooling. That's exactly what Ryde offers to its users.
Hailing from Singapore, Ryde currently provides two different services for Malaysians: RydePet and RydePool. RydePet allows users to travel with their pets while RydePool uses a GPS algorithm to determine the amount each passenger has to pay based on distance. At the end of the ride, passengers pay cash directly to the driver to split the cost of the trip.
DACSEE
We all know how big social media is in Southeast Asia and this includes Malaysia as well. DACSEE combines aspects of social media and ride-hailing into main service.
DACSEE allows users to create or join various social community groups and get connected with people that share similar interests. Communities are able to develop networks, friendships, and even exchange knowledge and experiences on the platform. 
DACSEE is also cryptocurrency-centric which means it accepts e-coin as payment.
Grab continues to have a firm-footing here in Malaysia and since it's been around the longest, it is well-developed and does not have the same issues that some of the other alternative ride-hailing platforms have at the moment. However, as these ride-sharing platforms continue to improve, it is very likely that Malaysia will see a thriving ride-hailing market in the country. Most important of all, it's obvious that Malaysians do not have to worry about monopolisation as far as the ride-hailing industry in concerned. 
Related articles:
Ride-hailing in Malaysia: Driving downhill?