A previous article published by The ASEAN Post on ride-hailing ended with the lingering question on whether some taxi drivers are refusing to change their attitudes even after facing tough competition from ride-hailing services. While that question is still up for debate, the one thing studies have shown is that some ride-hailing drivers too have bad attitudes and that this is becoming a major concern in Malaysia. 
This concern stems from a study conducted by international media intelligence company Meltwater back in March 2018 titled "The Sharing Economy: Exploring the Future of Transport in Southeast Asia". Meltwater found that of all the online talk throughout 2017 on Grab, Uber and Go-Jek, 73 percent of social media buzz across all ridesharing services centred around driver behaviour. This was followed by pricing (12 percent), promotions (seven percent) and waiting for rides (six percent). Other topics such as convenience and customer service made up the rest of the conversations.
Malaysians accounted for 82 percent of complaints and grouses about Uber and Grab drivers. Meltwater notes in its report that the 82 percent far surpassed Indonesia and Singapore which were also under study. However, it did not reveal the percentages for those two countries.
"The words 'rude', 'dangerous' and 'unsafe' are commonly used to describe driver behaviour across the region," the report said. 
In its attempt to get to the root of the issue, Meltwater claimed that part of the problem could be attributed to the high-pressure, incentive-driven environment drivers operate in. 
"In the past, both Grab and Uber have been accused of exploiting drivers to hit some tough goals by incentivising them to drive more. Uber previously had a criterion for drivers to accept a minimum of 80 percent of trips for incentives and ride-hailing companies still penalise drivers for not maintaining a minimum acceptance rate."
Horrible cases
While Grab has taken over Uber's operations in Malaysia, another viable option to Grab today – and preventing it from holding a monopoly on ride-hailing in the country – seems to be MyCar.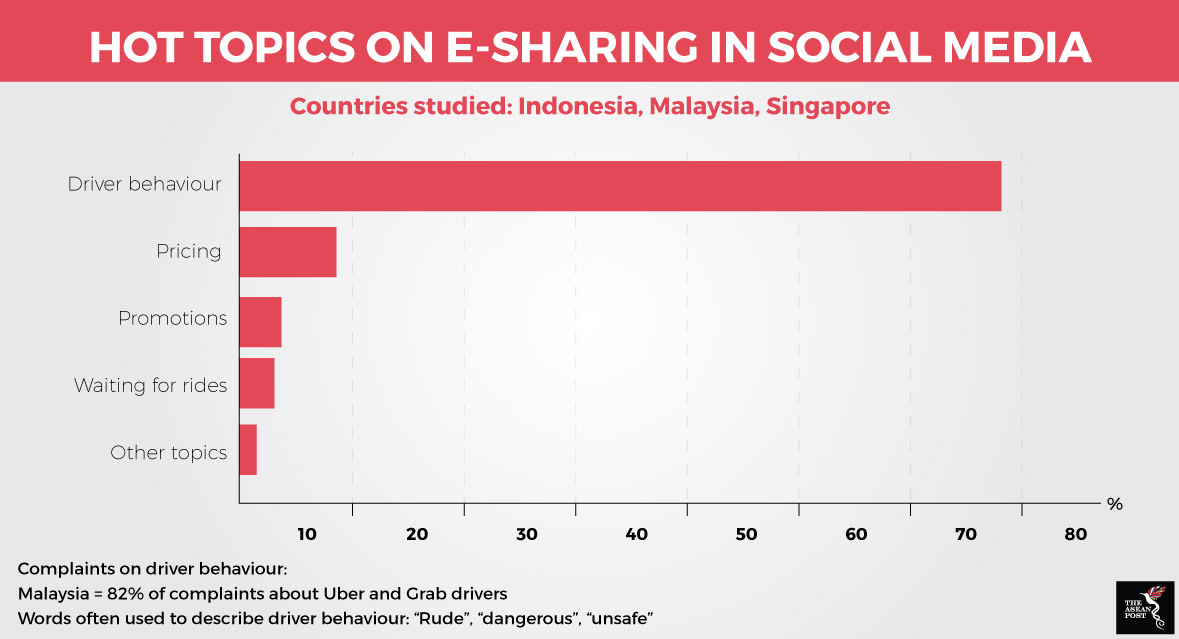 Source: Meltwater
While the service just officially launched in April 2018, it has already been mired with a controversial case involving one of its drivers. 
According to Malaysian news wire, Bernama, at the beginning of the month, MyCar had lodged a police report on the misconduct of one of its drivers who is believed to have offered sexual services to a passenger. The information went viral on social media earlier on 27 January.
In June 2017, a single mother of two was allegedly raped on her way home in a car she hired through Grab. Megat Mohamad Aminudin Megat Alias, the Officer in Charge of the Police District (OCPD) in Serdang, a town in the state of Selangor was quoted as saying that the 29-year-old was allegedly raped near her home in Bandar Putra Permai in Seri Kembangan, at around 4 a.m. on Sunday.
"She claimed that the driver had sexually assaulted her but she could not fight him off because she was drunk. He later drove her home," he said.
In the case involving the MyCar driver, the truth has yet to be revealed. As for the case involving the Grab driver, the suspect has apparently "apologised" over the rape. Regardless, both cases have certainly tainted the reputations of MyCar and Grab and some damage control will have to be done by the two companies.
Drivers get it hard too
Sometimes, however, it is the drivers themselves who receive the short end of the stick.
In July 2017, Facebook user Amilia Adnan had taken to the social media platform to call out a customer who had allegedly caused her father to be sacked by Grab. His crime? Refusing to pick the customer up at a taxi stand. This is despite the fact that it is illegal for private-hire car drivers to pick up customers from taxi stands. 
A Grab spokesperson, however, wrote to local media clarifying that "the driver was banned for repeated behavioural issues including passing improper remarks to passengers, despite previous warnings and temporary suspensions by Grab."
Later, in June 2018, a 27-year-old Grab driver was found dead in his own car at a parking lot with his head on the floor and his legs upright. Early investigations found no injuries on the body of the victim but there were marks on his neck, a sign that he was possibly strangled.
Meltwater's advice to ride-hailing companies to ensure drivers are at ease on the road and where there is a need, implement training programmes to ensure good customer service and mutual respect between passengers and drivers.
"Drivers are the backbone of the ridesharing industry. However, in the quest for profitability, companies have been known to use rewards and penalties to push drivers' buttons. This, in turn, impacts how drivers behave on the road," it said.
The fact that drivers are the backbone of the ridesharing industry could not have been clearer. It would be wise for ride-sharing companies to take heed of Meltwater's advice if they do not want to be put on the backbench the way conventional taxis in the country have.
Related articles:
Ride-hailing in Malaysia: Driving downhill?