Businesses in the Philippines are taking measures to improve or preserve the gender balance in leadership roles. According to a recent report, 'Women in Business' by Grant Thornton International Ltd., female executives in senior management positions in Philippine companies dropped to 37.5 percent in 2019 down from 47 percent in 2018. However, Filipino women remained the highest among women holding senior management positions in Southeast Asia, followed by Vietnam and Singapore with 36.9 percent and 33 percent, respectively.
Among the initiatives taken by businesses to maintain the number of females in top management, are ensuring equal access to development work opportunities (70 percent), providing mentoring and coaching (66 percent), and enabling flexible work arrangements (56 percent).
Even with the percentage drop, the numbers indicate a positive outlook for Filipino women. Francesca Lagerberg, global leader at Grant Thornton International, said that the figures "are incredibly encouraging and a strong indication that gender parity is starting to be taken seriously by businesses."
Lagerberg cited contributing factors for the changes including the increase of "organizational transparency, gender pay gap reporting, and highly visible public dialogue like the #MeToo movement."
Promoting equality
Gender equality remains a top priority in the Philippines with policies already in place to address the equal opportunity in careers, recruitment biases and flexible work arrangement. The country is also one of the few with gender provision in its Constitution, and one of the earliest signatories to the United Nation's (UN) Convention on the Elimination of All Forms of Discrimination Against Women (CEDAW). 
2019 marks the 10th anniversary of the enactment of the Magna Carta of Women (MCW) which was signed into law on 14 August 2009, as a step to empower and uplift Filipino women and support the laws that protect women's rights and equal access to opportunities and resources. The MCW is the Philippines' response to the UN CEDAW.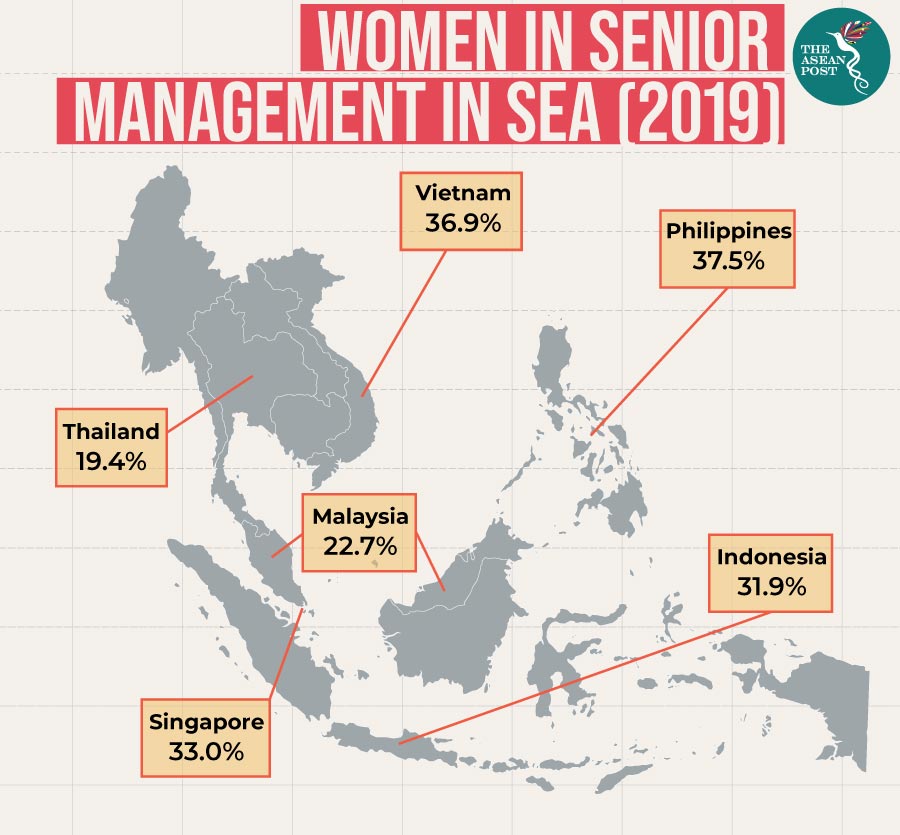 Source: Women in Business, Grant Thornton International Ltd., 2019
The Philippine Plan for Gender-Responsive Development (PPGD) 1995-2025, a 30-year strategic Framework Plan for Women (FPW) was adopted in 2001. The FPW emphasises women's rights, economic empowerment and gender-responsive governance. 
Unfortunately, Filipino women still face issues in the workforce. According to the Grant Thornton report, 55 percent of female executives cite lack of access to developmental work opportunities, while 51 percent face difficulty finding time alongside core job responsibilities. 47 percent of women cite the lack of access to networking opportunities and external responsibilities outside work as barriers that prevent them from acquiring skills and attributes to be successful at their jobs. 
Marivic C. Españo, P&A Grant Thornton chairperson and chief executive officer, said that policies "cannot just be nice to have. To achieve meaningful progress, they must be adhered to, enforced, and regularly revisited to assess their effectiveness and, when that is combined with real commitment from senior leadership, you begin creating a truly inclusive culture."
Rather than focusing on policies as a solution, Lagerberg insists on looking at the overall environment. "Policies can set the parameter, context and direction of travel but they won't achieve anything if the underlying culture hasn't changed," she said, adding that "how people are treated, the way leaders live and breathe and deliver on issues of gender diversity, are far more important than specific policies."
According to Gina Romero, founder of start-up Connected Women, five million women in the Philippines are not working due to family reasons while many felt held back in their careers when they perceived their business or job to be 'location-dependent'. Connected Women saw the potential of technology in bringing professional Filipino women back into the workforce by matching them with long-term, remote work opportunities.
The start-up has also partnered with #SheMeansBusiness, an initiative by Facebook, to provide space for entrepreneurial women to make valuable connections, share advice and provide women entrepreneurs with skills and knowledge required to build and grow their businesses. 
C-Suite level 
Despite the country's high number of women executives, women representation at the C-Suite level is considerably low. The Grant Thornton report cited that only 15 percent of businesses globally have women in the CEO or managing director position, and this number is significantly low in the Philippines. According to a 2018 McKinsey Global Institute on 'The Power of Parity: Advancing Women's Equality in Asia Pacific – Focus: Philippines,' diversity at the C-suite level dropped to a mere three percent of women representation. 
The Philippine Business Coalition for Women Empowerment's (PBCWE) 2019 report on 'Women in the Philippine C-Suite,' suggest four factors that affect gender diversity in the workforce, which are, individual perception, family concerns, workplace culture and social and cultural norms. 
There is compelling evidence that gender diversity leads to enhanced business performance and stimulates economic growth. Españo says that although women and men are equally capable of leadership, "the critical point is that diverse leadership teams tend to outperform their socially homogenous rivals." Regardless of their top rating, Filipino women still have a difficult journey towards leadership and high-level positions. 
Related articles:
Women can make banks more profitable
Are ASEAN businesswomen being ignored?