Southeast Asia's flourishing start-up ecosystem has led to the evolution of shared working spaces in the region, with rising demand driven by entrepreneurs, start-ups and even, corporate firms.
A 2018 report by JLL, an investment management firm, indicates that flexible workspaces in Southeast Asia have shown a compound annual growth rate (CAGR) of around 40 percent from 2015 to 2018 and now make up two percent of the total office stock. The report titled 'Technology firms transforming the office landscape in SEA,' also predicts that as much as 30 percent of corporate portfolios could be flexible space by 2030. Southeast Asia is currently home to six out of 10 of the largest global markets for flexible office space, according to FlySpaces' 'Flexible workspace report 2019.'
Flexible child care
Entrepreneurs, start-ups and corporate firms utilising coworking spaces are also made up of parents. And due to parents' changing work schedules, they need more flexible child care. To cater to this need, some coworking spaces are offering child care on-site.
"The workplace is changing and becoming more flexible, but we haven't seen child care go along with that - it's either all (full-time) or nothing," Marlene Mejia Weiss, co-executive director of The Inc co-working and child care centre in Seattle.
Coworking serves the perfect transition space for working parents returning to work after maternity or paternity leave. But child care cost is a significant consideration for many parents as they head back to work. Many women also face a 'motherhood penalty' where they are often perceived as less committed to their jobs or held to higher standards of punctuality and attendance.
Coworking spaces that include child care facilities will certainly help parents to work productively while their kids can play and learn happily and safely, either under the same roof or close by.
SEA disruptors
In Southeast Asia, 66 percent of children aged four and under are cared for solely by a family member, including a parent, grandparent or other relatives over the age of 65. The 2015 study, done by the Council on Asian Pacific Minnesotans, titled 'Early Childhood Education: Opportunities for Southeast Asian Children,' also found that 18 percent of children are cared for by a paid but unlicensed provider in their own home or someone else's home, while 11 percent of children are enrolled in child care centres, nurseries, pre-schools, pre-kindergartens or licensed family child cares.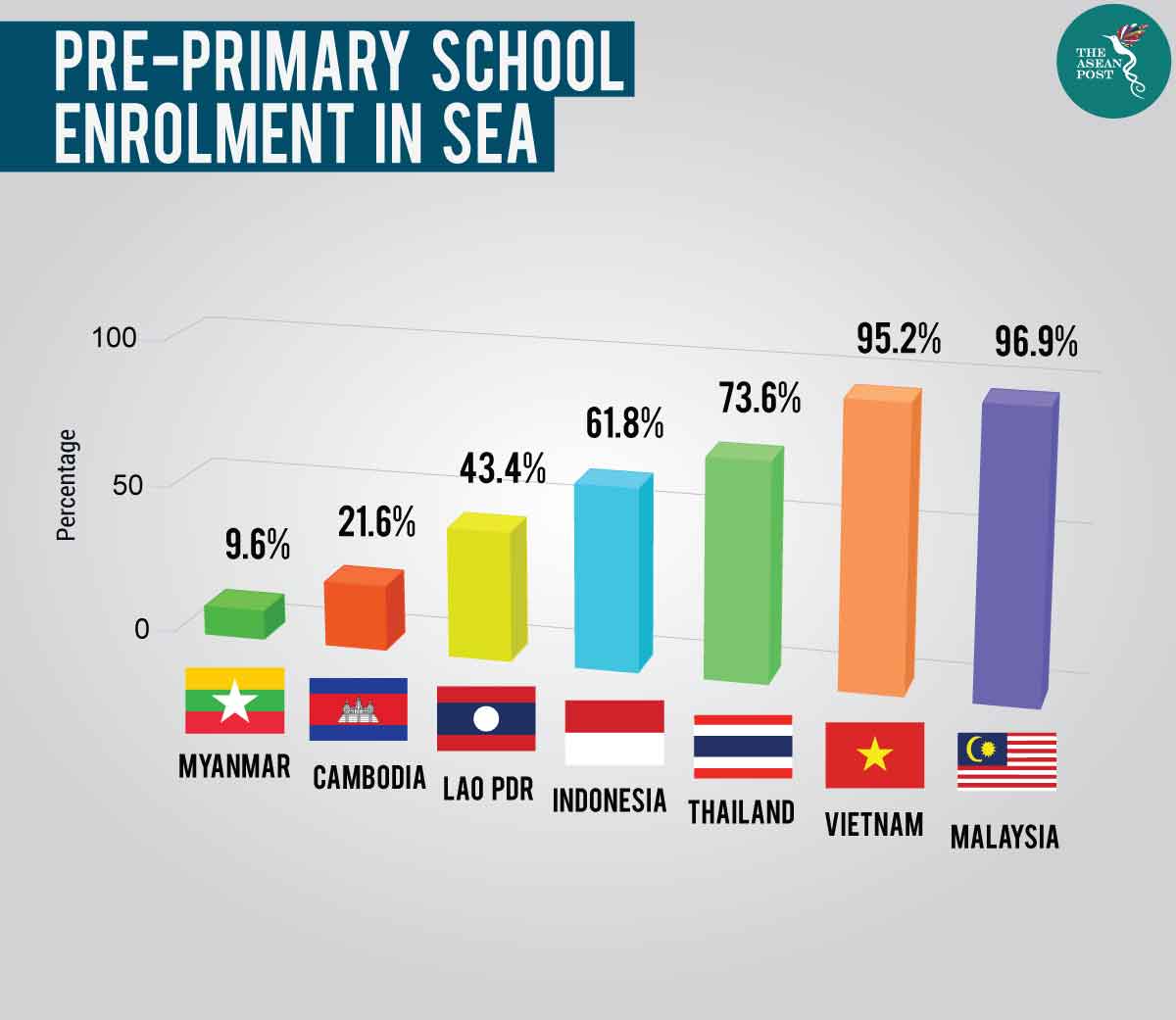 Source: World Bank, 2017
The report also revealed that the average Southeast Asian family spends 18 percent of their annual income on child care.
Co-working with child care services in the region is still in its infancy, but these disruptors have the potential to proliferate the Southeast Asian market.
One of the co-working space that has seized the opportunity to include child care in their services is Common Ground, a coworking space in Malaysia. Last year, they announced their partnership with Curious Child, a child enrichment centre. Co-founded by Erman Akinci and Juhn Teo, the coworking community was built to provide an ideal work environment for entrepreneurs, digital nomads and also working mothers.
"In line with the new government's recent statement on addressing women empowerment and child welfare, our aim through this partnership with Curious Child is to provide services that meet the needs of working mothers and encourage them to join our growing community to utilise and enjoy one of our many offerings, all whilst they build their careers," said Erman Akinci.
The partnership also looks to support working mothers who struggle to manage the demands of a career and domestic responsibilities.
"It's crucial for us to identify the needs of the working generation of today and fulfil those in order to continuously be on top of our game. We will continue to explore similar partnerships of these sorts as we continue to grow our business and expand into the Southeast Asian region," said Juhn Teo.
Another coworking space that provides child care facilities is the Colony, which has private nursing rooms and child-friendly interiors.
Trehaus, Singapore's first coworking space built for working parents allows parents to bring their children to work. The coworking firm understands the challenges in being both, a working and present parent and has equipped their space with an adjoining child-minding and learning facility. Nanny supervision, play areas and meals are also provided for children.
"We offer the option of bringing your children to work at a conducive workspace, complete with child-minding assistance and play-based learning activities – so that while you build your career, your little ones can build their minds too," said co-founder Rachel Teo.
For Rachel, the concept of integrating childcare with workspaces was born out of need. But she hopes to go further and change the landscape of working parents, and at the same time, educating the workforce that quality work and family life can co-exist.
Parents look forward to the opportunity to have a flexible schedule and an open space to work that is also child-friendly. But when it comes to children, strict restrictions must be adhered to especially in terms of caregivers' ratio, bathrooms and fire exits for the centre to operate safely. But these rules should not deter disruptive spaces from jumping on the child care bandwagon. Perhaps then, Southeast Asia can finally achieve a work-life balance.
Related articles:
Coworking is reshaping the workplace