Cambodia may receive a lot of criticism aimed especially at its politics and human rights, but the Kingdom is apparently doing something right. Recent reports show that Cambodia has made leaps and bounds as far as protecting its children go. This is especially significant considering the fact that (relative to some other ASEAN countries) a large portion of its population are made up of young people.
The fact that Cambodia has a problem with child labour is nothing new. The fact that many of these children also work under hazardous conditions in brick kilns is simply tragic. Nonetheless, the government has taken proactive steps in attempting to address the issue.
Cambodia's Ministry of Economy and Finance this year provided the budget to directly help at least 400 children a year in efforts to end child labour by 2025.
Veng Heang, director of the Ministry of Labour's child labour department, was recently reported as saying that around 30,000 Cambodian children had been rescued from the most serious forms of hard labour in the country over the past five years. A further 180,000 had been prevented from being used as child workers and provided with access to education and skills training.
"Over the past five years, some 30,000 Cambodian children had been saved from the most serious forms of hard labour, while 180,000 had been prevented from being used as child workers," he said.
But while it's very possible for a government to toot its own horn, it's not just the government that has been saying it's been doing a good job. Save the Children's Global Childhood Report 2019 titled "Changing Lives in Our Lifetime" has also applauded Cambodia for improving its performance in terms of providing a safe and nurturing environment for children to grow up in.
"The score for Cambodia increased 149 points, from 606 to 755, because of gains in child survival, nutrition and school enrolment. Cambodia is also making excellent progress with child labour, which is down 78 percent, from 43 percent of children in 2001 to nine percent today." the report noted.
Cambodia has not only made great progress in combating child labour. It has also made great gains in reducing violence against children. Save the Children noted that since 2000, the latest data suggests that Cambodia has cut its child homicide rate by 76 percent. 
"The total number of victims fell from an estimated 210 to 50 per year during this time. Children in Cambodia are increasingly protected by improved national legislation and services to prevent violence and exploitation. Recent laws have strengthened the juvenile justice system and discouraged violence against children at home, in school and in institutional settings."
Kilns keep burning
Cambodia may be making progress but that doesn't mean that there isn't still a lot more that needs to be done. Despite its praise for the country's improvements, in a ranking of 176 countries, Save the Children placed Cambodia at 120th (not a good position).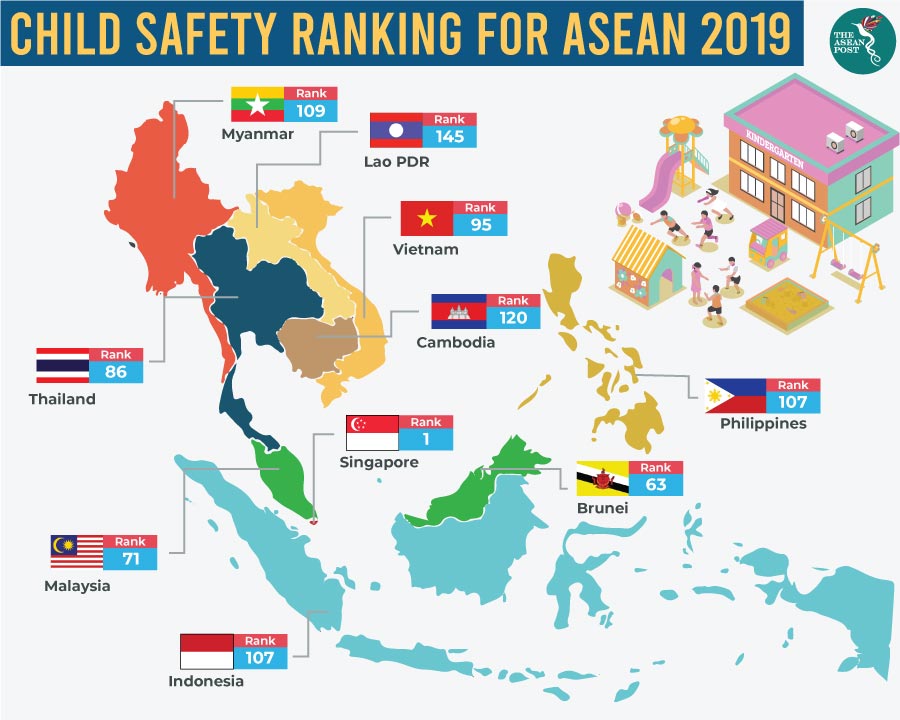 Source: Save the Children
In a recent news report, Naly Pilorge, head of human rights group Licadho was quoted as saying that the government had long failed to tackle abuses in brick kilns and needed to enforce existing rules before launching new initiatives.
"More important than just releasing directives, the government has to ensure enforcement including routine inspections, engage with brick kiln owners and educate workers about the risks," said Pilorge.
To this day, Cambodia's brick kilns are kept burning by both adults and children trapped in debt bondage. 
According to a 2018 report by researchers at Royal Holloway, part of the University of London in a report titled "Blood Bricks", kiln operators generally consolidate the debts of struggling farmers, who move on site with their families to work long hours in dangerous conditions, getting paid by the brick. 
"When the borrowers die or become unfit for work, their debt is forced upon their children, some of whom never leave," the report said.
The hope is that Cambodia continues improving in terms of providing a safe and nurturing environment for its children. For a country blessed with so much youth, nothing less is expected.
Related articles:
Worst place in ASEAN for children