Malaysia's Alliance of Hope-led (Pakatan Harapan) government turns one today, and like most one-year-olds, there have been a few falls and bumps.
Euphoria swept through the country after the coalition led by former prime minister Mahathir Mohamed shocked the nation on 9 May last year, finally handing Malaysia its first new government after 61 years of independence. The transition of government from the National Front (Barisan Nasional) was a peaceful one, and Malaysians were eagerly anticipating the changes that the Alliance of Hope promised to deliver under their 'New Malaysia' (Malaysia Baru) slogan.
But one year later, nothing seems to have changed.
Politicians continue to play up racial and religious sentiments, and unfavourable economic conditions and the high cost of living remain glaring concerns. While Mahathir has repeatedly stated that the country's poor finances are why they cannot honour their campaign promises, the new government has also failed to repeal several draconian laws outlined in the Alliance of Hope's 150-page manifesto – which has largely remained unfulfilled.
Policy flip-flops have eroded public confidence in their governance and support for the government is quickly fading, dropping from 79 percent last May to 39 percent this March. Three recent by-elections which the Alliance of Hope lost to the National Front are seen as proof of this, and a by-election this weekend in Sandakan, a town in the state of Sabah, will be a big test for them.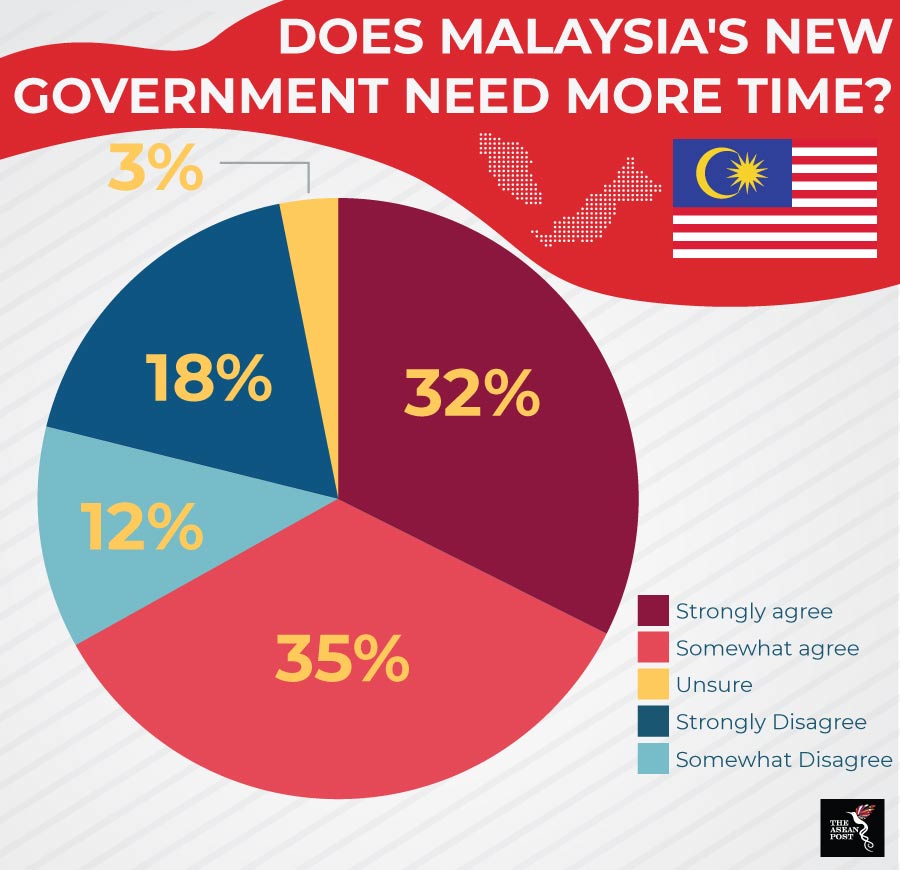 Source: Merdeka Centre
Failing economy, U-turns
Upon coming to power, the Alliance of Hope claimed the country inherited US$264 billion of debt from the previous National Front administration led by Najib Razak – going on to spend the first few months criticising the previous government, time which could have been better spent on reforming institutions and addressing the faltering economy.
The benchmark FTSE Bursa Malaysia KLCI Index has fallen 14 percent from a record in May 2018 when the Alliance of Hope came to power, and Malaysia is now the worst major market in the world so far this year having slipped 3.6 percent, according to Bloomberg. The rising cost of business and increased competition has led to business confidence being at a two-year low according to the 3,500 firms surveyed in Malaysia for the RAM Business Confidence Index.
While pledging to champion transparency, the government's decision not to make public the findings of a 100-day report by the Council of Eminent Persons – a five-member team of experienced business leaders and economists tasked to advise Mahathir on socio-economic and financial matters – dented the government's integrity. It was especially ironic that the Official Secrets Act 1972, which the Alliance of Hope promised to revise and improve, was used to defend this decision. Failure to revoke repressive laws such as the Sedition Act 1948, Printing Presses and Publication Act 1984 and the Peaceful Assembly Act 2012 has also cast the fledgling government there in a bad light.
In addition, backtracking on ratifying the International Convention on the Elimination of All Forms of Racial Discrimination (ICERD) and the Rome Statute of the International Criminal Court (Rome Statute) – both due to pressure from the opposition and misinformation surrounding the two controversial agreements – has affected their reputation both in Malaysia and abroad.
Institutionalised problems
To be fair, Malaysia's new government always had its work cut out for it, trying to fix a system of racial politics, financial mismanagement and corruption that has been institutionalised over six decades under the National Front-led government.
The government had to bail out Malaysia's smallholder farming agency (Federal Land Development Authority – FELDA) and Muslim pilgrimage fund (Lembaga Tabung Haji) to the tune of US$7.8 billion last month, nearly eight percent of the country's 2019 budget. 
In many cases, the policies and laws which the Alliance of Hope have wanted to implement or repeal require a two-thirds Parliament majority – forcing them to rely on the opposition for support. 
The previous government's financial negligence culminated in the 1MDB scandal, the state investment fund which former National Front chairman Najib Razak is accused of plundering and which Malaysia is only now beginning to recover funds from.  
Promising to review megaprojects, Mahathir successfully renegotiated the East Coast Rail Link (ECRL) with China, reducing its price by 33 percent to US$10.6 billion. Other highlights include women appointments to the posts of Deputy Prime Minister (Wan Azizah Wan Ismail) and Chief Justice (Tengku Maimun Tuan Mat) – a first for Malaysia.
During a speech to mark the government's first anniversary yesterday, Mahathir admitted that the Alliance of Hope-led coalition has made its fair share of mistakes but was confident they would implement all their manifesto promises before their mandate ends in four years. Though the public will give them time, he also knows that the Alliance of Hope cannot afford to be complacent.
After all, as Mahathir himself wrote in the foreword of the coalition's manifesto; "If we fail or if we break our promises, by all means reject us in the next general election."
Related articles:
ICERD non-ratification tarnishes Malaysia's image
UMNO and PAS: A forced political marriage?