There is little doubt about it, the fifth-generation cellular network frequency (5G) is in our near future. The recent ruckus surrounding the United States (US) and China-based multinational company Huawei should only serve to remind us of how inevitable that fact really is.
While the reception for 5G has largely been welcoming, the technology does not come without its own set of complications. This is also true for ASEAN as has been made clear by Swedish telecommunication company Ericsson in a recent report commissioned by ConsumerLab.
We Are Social's January 2019 report may state that as many as 142.8 million Indonesians (53 percent of the total population) are active mobile internet users, but according to Ericsson, about half of all smartphones used in the country are incompatible with 5G. This, according to Ericsson, will delay the mass adoption of the next-generation network in the country by at least a few years.
Recent reports have noted that Indonesia intends to tap into 5G soon after the World Radiocommunication Conference (WRC) 2019, slated to take place in Egypt this October.
"The conference that is held every four years decides a frequency band of a technology. We are waiting for the WRC event," said Director General of Resources and Equipment of Post and Information Technology (SDPPI), Ismail, at the Qualcomm Forum in Jakarta on Tuesday, 23 April.
The implementation of the advanced digital cellular network would not, however, be arranged for public consumers immediately and will instead be used by industry sectors first. The commercialisation of the latest network would depend on telecommunication operators in the country, such as Telkomsel, XL, Indosat, and Tri.
Fastest growing market
Fortunately for Indonesia, if market research firm Canalys' recent revelation is anything to go by, not having the right devices for 5G networks should only be a minor setback. 
On 13 May, it was reported that Indonesia is now Southeast Asia's fastest growing market for smartphones. Canalys noted that the archipelago enjoyed a 17 percent growth from 2017 to 2018, while its neighbour, Thailand, faced a 13 percent decrease in last year's fourth quarter.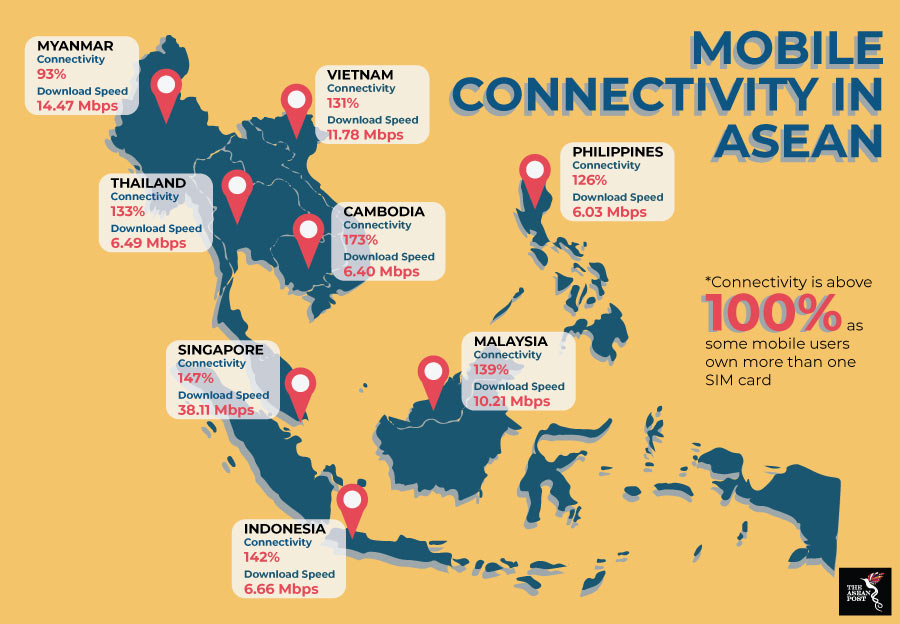 Source: Various
Yudistira "Yudis" Nugroho, senior industry analyst at Tech & Telco Google Indonesia told the media there that according to a recent survey on smartphone search behaviour during Ramadan, flagship smartphones were found to be the most-searched items when Eid-ul-Fitr holiday bonuses are paid.
"The growth of flagship smartphones is higher than mid- or low-[end] smartphones. Indonesians who earn more money tend to focus on tertiary needs instead of primary and secondary needs," Yudis said.
Meanwhile, Ericsson's report also shows that smartphone users in the country have eagerly anticipated 5G as they gained more knowledge regarding the technological requirements for the next-generation network.  
"Our Indonesian consumers expect to have 5G coverage in the next two or three years, thanks to their increased awareness of the network," Ericsson Indonesia's network solutions head Ronni Nurmal told the media.
If Indonesia is the fastest growing market for smartphones, and Indonesian smartphone users have eagerly anticipated 5G, it is more than likely that Indonesians will purchase the devices required to run 5G networks.
The future is 5G
5G networks provide the solution to internet congestion as it's built using new high bandwidth, high-frequency spectrum bands that help mitigate the daily cycle of congestion seen on today's 4G networks. These 5G services will support more simultaneous users at very fast speeds.
Moreover, according to Bain & Company, a global management consultancy headquartered in Boston, 5G-capable devices will seamlessly – and nearly instantly – connect to 4G cells when they cannot get a 5G signal. This will allow operators to "deaverage" their approach to cell building and fine-tune the creation of new cells to specific areas with the highest demand density.
Much like the Fourth Industrial Revolution, the world's march towards 5G is inevitable and with incoming demanding technologies like augmented reality or autonomous driving, 5G will be a necessity. Some experts say that most of the world will migrate to 5G by 2020. Hopes are high that when the 5G ship does sail in, Indonesia will be ready to board.
Related articles: