Leading global professional services company, Accenture, recently released a report on the perception of equality held by leaders and employees. The report found that a significant gap exists between the way leaders and employees view progress towards equality in their organisations. 
The findings are based on a global survey of more than 30,000 professionals in 28 countries including Indonesia. It includes a survey of more than 1,700 senior executives; and a model that combines employee survey results with published labour force data. 
The organisations that were assessed in Indonesia found that 88 percent of women and 86 percent of men in Indonesia's workforce today care more about workplace culture and believes it is critical in helping them thrive in the workplace. A majority of leaders (86 percent) believe an inclusive workplace culture is vital to the success of their business. 
However, the perception to what that means and whether there is a platform for progress in that regard differs between leaders and employees. For instance, 71 percent of leaders in Indonesia believe that they have established an empowering environment for their employees, yet only 45 percent of employees agree with this. 
On a global scale, the proportion of employees that do not feel included in the organisation is 10 times higher (20 percent) than leaders' perception (two percent). 
"Although the perception gap between the way leaders and employees in Indonesia view progress towards equality in their workplace is lower than global findings, more needs to be done to close the perception gap and build workplace cultures where more people feel like they belong. Leaders should solicit meaningful and continuous dialogue with employees to help capture feedback and empower leadership to quickly drive change," said Debby Alishinta, Inclusion & Diversity Lead, Managing Director, Accenture Indonesia.
Most leaders in Indonesia also rank diversity and workplace culture low on their list of top organisational priorities compared to employees. Approximately three-quarters of leaders ranked financial performance (80 percent) and brand recognition and quality (72 percent) at the top of their list of priorities, while only 34 percent ranked diversity and 30 percent ranked culture at the top.
Leaving old practices behind
When leaders were asked what was limiting them when it came to creating a more inclusive environment; 42 percent said other leaders in the organisation did not think it was important; 40 percent said it is difficult to link this concept to business performance; 38 percent said they have other priorities as a business; and 33 percent stated that it is too difficult to measure.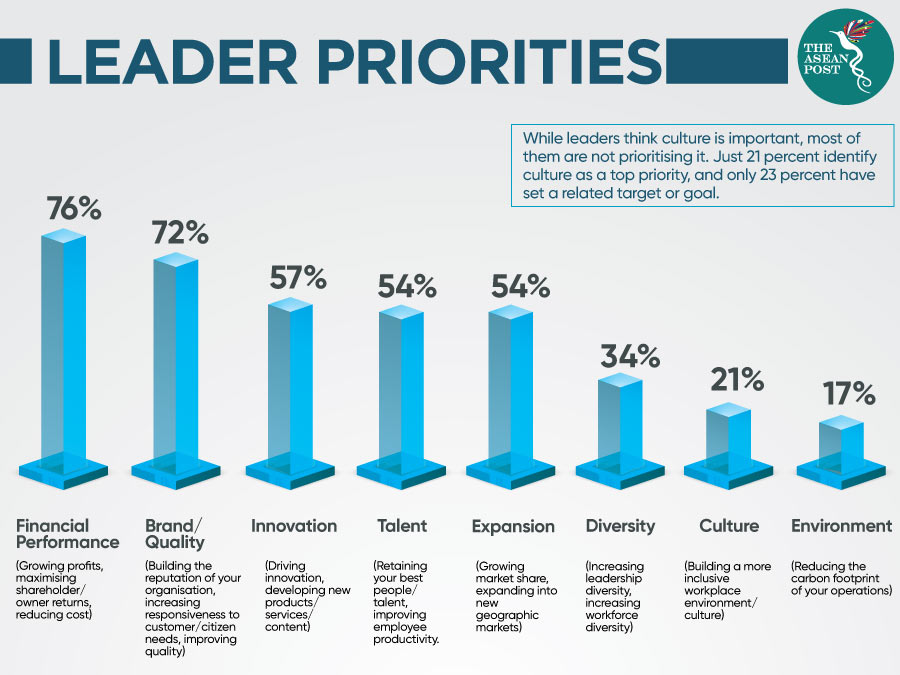 In 2019, innovation was found to be a powerful multiplier of growth. If "innovation mindset" in all countries were raised by 10 percent, global gross domestic product (GDP) could increase by up to US$8 trillion by 2028. The report explains "innovation mindset" as an individual's willingness and ability to be innovative at work – which was found to be six time higher in most-equal cultures than in least-equal cultures. 
While this research focuses on corporate practices, the estimated global growth reflects the figures presented by the World Economic Forum's (WEF) Global Gender Gap Report 2020. In this era of digitalisation, data currency, advanced deep machine learning and the tech boom across the world, leaders have to consider accelerating progress in a manner that is very different from old practices. 
Aligning leaders' perceptions with those of their employees would yield huge upsides. Everyone –both women and men – would advance faster, and Asia-Pacific organisations would see an estimated US$1.35 trillion increase in global profits.
Leaders that do not embrace the radically changing environment, risk being left behind indefinitely, as we have seen happen to giants like Nokia. Bold leadership is essential to incorporating new practices that would promote a culture of equality from the top.
Additionally, comprehensive action that goes beyond data in order to capture meaningful feedback and accelerate innovation is a simple and efficient method of driving change. Leaders have the power to create opportunities for future culture-related roles within their organisations and find ways to bring leaders and culture-minded employees together to develop specific, actionable solutions. 
"Creating a culture of equality must be at the top of the business agenda. It starts with the belief that diversity is not only the right thing to do, but a business imperative that is treated the same as any other strategic priority," said Julie Sweet, CEO of Accenture "When a strong, equal workplace culture is prioritised, everyone benefits – and as a result, organisations unlock greater innovation and growth."
Related articles:
Women are taking digital markets by storm