The COVID-19 coronavirus has spread across the globe at an alarming pace with ominous consequences. The World Health Organization (WHO) has declared the COVID-19 outbreak as a global pandemic, where approximately 210 countries have been affected. The COVID-19 virus has infected over 3.4 million people, with more than 230,000 deaths globally. 
In Indonesia, the number of confirmed COVID-19 cases have crossed the 10,000 mark with 800 coronavirus-related deaths. The majority of the country's total infections are among Indonesians living in the capital city of Jakarta and other regions that are directly linked to the capital. 
In order to suppress the spread of the coronavirus, the Government of Indonesia has implemented some policies which are in line with the WHO's recommendations and guidelines, commencing from the prevention stage, physical distancing and work from home. The policies include ensuring the distribution of basic necessities, face masks and other medical supplies and carrying out nationwide rapid tests. 
Unfortunately, while the factual narrative of the COVID-19 pandemic posits that everyone is vulnerable and at risk, the government's coronavirus efforts and responses are only intended to help Indonesians while refugees and asylum-seekers are completely neglected. 
This situation requires a paradigm shift, in that the protection and assistance to refugees and asylum-seekers should be part of the initiative and not simply forgotten. It is evident that the coronavirus can infect anyone, not just citizens of a country. What is depressing is that most of the refugees and asylum-seekers in Indonesia are "staying" in the epicentre of the COVID-19 outbreak and in other risk zones across the country. 
Of concern too is the fact that in the direct response approach to fight the deadly disease has not been extended to all. Even though Indonesia is not a signatory to the 1951 Refugee Convention, protection and assistance should be given to all refugees and asylum-seekers in the country.  
This imbalance is reflected in most of the official policies carried out by the Government of Indonesia. The influential Indonesian media too could play an important role in highlighting this issue but to date has either chosen to ignore the matter or simply focus on other "interesting issues" in the country. Sadly, the refugee issue in Indonesia is one that the media and government do not want to address at a national level.
At present, data from the United Nations High Commissioner for Refugees (UNHCR)'s report shows that the cumulative number of refugees and asylum-seekers registered in Indonesia is more than 13,000, and nearly 20 percent of them are children. They are "staying" in Indonesian Immigration Detention Centres or in temporary shelters provided by non-governmental organisations (NGOs). Some are living independently outside these shelters in precarious and overcrowded conditions in structurally unsound buildings that the Human Rights Watch (HRW) has described as "appalling". As a result, thousands of refugees and asylum-seekers are living in very difficult conditions.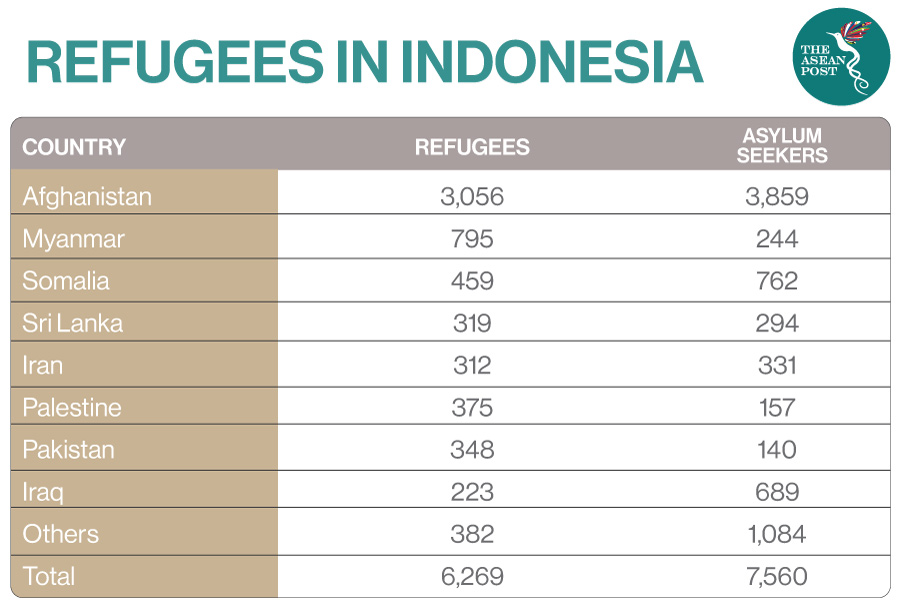 In this precarious situation, the ability of refugees and asylum-seekers to take precautionary measures against the COVID-19 virus is limited by their socioeconomic status. And this may potentially put them at risk as they are now more susceptible to contracting the deadly virus. 
Simply put, the current pandemic will affect the lives of refugees and asylum-seekers and they are in critical need of protection and assistance. The Government of Indonesia should respond to this situation by extending protection and assistance to its refugees and asylum-seekers, especially to those who are categorised as fragile and vulnerable such as women, children and the elderly. 
Juridical issues (the absence of regulations) should not be a stumbling block for the Indonesian government in its efforts to provide protection and assistance to refugees and asylum-seekers in the midst of the COVID-19 pandemic. 
Indonesia has been elected to the United Nations Human Rights Council for the 2020-2022 period. This international standing should be used by Indonesia to strengthen global efforts to actively promote human rights at both, national and international levels. Additionally, the 1945 State Constitution of the Republic of Indonesia also has constitutional mandates to promote and protect human rights. This is where understanding of what is feasible in this context becomes strategically relevant.
The Government of Indonesia must act to ensure that humanity remains a top priority. It needs to mull over a plan to help refugees and asylum-seekers by providing space and access to not only information but also social support, such as food supplies, face masks, vitamins, hand sanitizer, and other crucial needs (medical services and facilities).
In a similar vein, a whole societal approach needs to adopted. The participation of Indonesians in providing assistance to refugees and asylum-seekers during this crisis is indispensable. The public needs to understand that they have to take moral leadership and share responsibility when managing refugees and asylum-seekers with respect and dignity during this crucial time. Empathy, solidarity, social intervention and a collective response are all common sense steps that need to be taken.
Furthermore, the Government of Indonesia must review all available options to help its refugees and asylum-seekers. Joko Widodo's leadership will play a vital role in enabling control measures, which will benefit refugees and asylum-seekers. He must extend the "emergency call" of national level policies and actions to include providing protection and assistance for refugees and asylum-seekers in all areas of the country's COVID-19 response.
There is an urgent need for the Government of Indonesia to view its decisions and policies through a humanity lens when tackling the COVID-19 pandemic.   
The clock is ticking. This is a significant leadership moment for the Government of Indonesia to safeguard the lives of its refugees and asylum-seekers over the course of the COVID-19 pandemic. What is important is understanding that ensuring protection and assistance to all is in the best interest of all Indonesians, including refugees and asylum-seekers. We simply cannot afford to let them become forgotten human beings at this most difficult time. 
Related articles:
Can Indonesia Contain Its COVID-19 Outbreak?