The coronavirus pandemic has resulted in a new normal for communities with social isolation, work from home (WFH) and online shopping. As more people are staying indoors over virus fears, consumers have turned to e-commerce for their everyday essential purchases such as groceries and computer equipment. 
According to the CIMB ASEAN Research Institute (CARI), there was a 20 percent growth in global digital revenue in Q1 2020 quarter by quarter, compared to a 12 percent growth in Q1 2019. The report which analyses data from one billion global shoppers worldwide in more than 34 countries also found an increase of 16 percent in global digital traffic during the same period. 
The e-commerce boom amid the pandemic can also be seen in Southeast Asia. CARI stated that the ongoing growth of the region's e-commerce builds upon the previous expansion of online marketplaces where small and medium enterprises (SMEs) sold their goods directly to consumers. 
"Top players in this industry such as Lazada, Shopee, and Tokopedia spearheaded this growth prior to the outbreak of COVID-19 by providing scalable, readily-accessible platforms where smaller retail players could transact online and reach new consumers within and beyond Southeast Asia," stated CARI in its report titled, "E-Commerce In The New Normal."
Challenges
As the e-commerce industry experiences massive growth amid social distancing measures, the logistics and delivery sector has also received a boost. 
However, the increase in demand for medical goods and online shopping has had observers questioning if delivery companies can keep up with the current e-commerce boom. 
One of the major priorities for delivery companies is to ensure that products consumers ordered reach their destinations on time. Nevertheless, with logistics operations disrupted by the coronavirus crisis, this has proven to be a big challenge.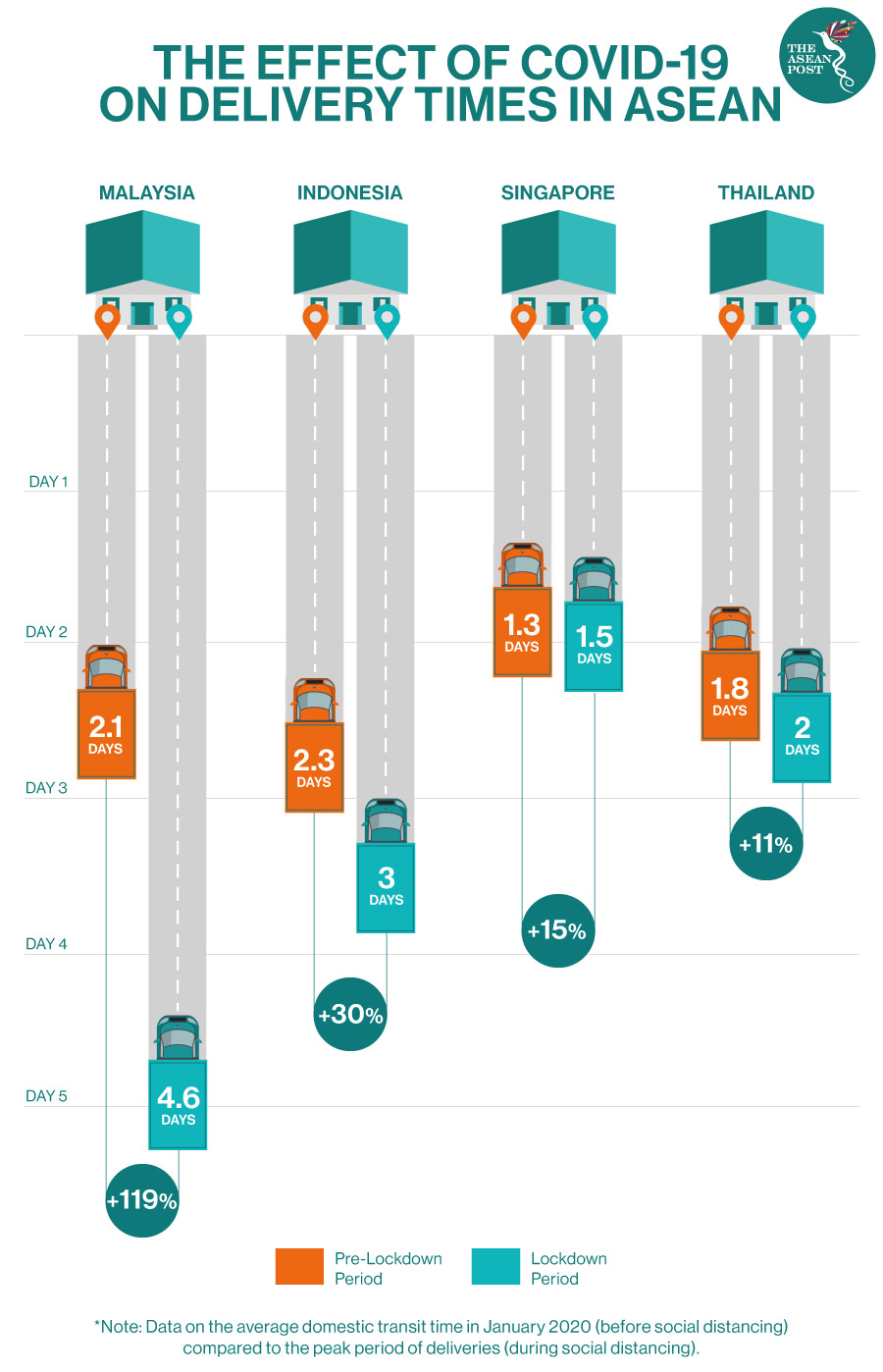 A recent joint report by e-commerce aggregator iPrice Group and shipment tracking platform Parcel Monitor has revealed that the worst impacts of social distancing on e-commerce deliveries were felt in Malaysia. The delivery time in the country increased from 2.1 days (pre-social distancing), peaking at 4.6 days during the country's partial lockdown, known locally as the movement control order (MCO). 
Malaysian media reported that many customers aired their complaints about tardy deliveries or damaged packages online during the implemented social distancing measures. SMEs have also expressed frustration at the slow service from some delivery players as they rely on deliveries to sustain their businesses.
"We have notified our customers of the potential delays including deliveries from international destinations and to East Malaysia due to cross border restrictions and limitation of flights as part of the COVID-19 preventive measures. We are working tirelessly to maximise our capacity to ensure deliveries are carried out as soon as possible," said a spokesperson at Pos Malaysia, the country's largest network courier service, back in July.
Likewise, in Indonesia, parcels took around three days to reach destinations, slower than the previous average of 2.3 days.
Although the situation was better in ASEAN member states Thailand and Singapore, the average delivery time there still increased by 0.2 days during the months when social distancing measures were implemented.
The joint report titled, "How ASEAN's delivery industry is reinventing itself to counter COVID-19 pressure" also noted that some shippers were operating on shorter hours, as a precaution to ensure the safety and well-being of their staff. 
Apart from that, limited flights and sailing across the region also resulted in delays and increased cost for logistics, explained Timothy M. Kairuz, Business Development Manager at Filipino logistics provider Transglobe Logistics International Inc.
Solutions
The above-mentioned challenges have led to the introduction of new innovations and protocols by some delivery and logistics companies in order to cope with the current pandemic and high demand.
One of the solutions recommended by Parcel Monitor is the usage of parcel locker networks in Southeast Asia. These lockers help to ensure fast and flexible delivery services while minimising direct contact between delivery personnel and customers.
The government of Singapore recently announced the development of 1,000 parcel locker stations nationwide that are scheduled for completion by the end of 2021. In addition, Malaysia has also established parcel locker stations in a number of public transport stations in the country, courtesy of courier company Ninja Van and Prasarana Malaysia, a government-owned public transport company. 
Arne Jeroschewski, CEO of Parcel Monitor also suggested enhancing the visibility and transparency on the delivery journey, as it will become a key solution to improve the customer experience for both, recipients and merchants. 
Ninja Van has implemented this solution by offering live tracking and a live chat feature that allows parcel recipients to better communicate with shippers while having full visibility of their parcels. 
"This will be a delivery trend that will continue to grow in ASEAN as e-commerce logistics in the region continues to mature," explained Jeroschewski.
Related Articles: