Malaysia's target of becoming a high-income economy looks to be on track. Recently, the World Bank reaffirmed its confidence that Malaysia should become a high-income nation by 2024, as long as the country's gross national income (GNI) per capita continues to grow at a range of four to 4.5 percent.
But a talent shortage in the country can slow down progress. According to recruitment firm, Hays' insights titled 'Majority of Malaysia's employers less confident in recruiting essential talents in 2019,' 46 percent of employers throughout the country are feeling less confident about being able to find and secure essential talent to drive business growth. This could be further exacerbated if the exodus of skilled workers is not addressed.
Initiatives to return
Highly skilled workers play an important role in the economic innovation and growth of a country. Acknowledging this, the Malaysian government took various measures to encourage Malaysians abroad in selected fields crucial to the nation, to return and work in the country. 
The government, policymakers and enterprises have attempted to make returning home for overseas talents more attractive through tax exemptions and heightened incentives. The Returning Expert Programme (REP) was introduced on 1 January, 2001 with a list of incentives that may be revised from time to time.
In 2011, the REP was put under the purview of Talent Corporation Malaysia Berhad (TalentCorp) to ensure effective outreach efforts and to design policies aimed at facilitating the transition for overseas returnees. TalentCorp is also helping Malaysian experts overseas to participate in the many business and professional opportunities in the country made possible by the Economic Transformation Programme (ETP). The ETP is a comprehensive effort that will help propel Malaysia into a high-income nation that is inclusive and sustainable. The ETP focuses on 12 National Key Economic Areas (NKEAs), namely agriculture, business services, education, electrical and electronics, financial services and healthcare.
Since 2011, more than 4,800 Malaysian professionals abroad have been approved under the REP, out of which more than 3,000 have returned and are now working in key sectors. The top five sectors that saw a return of Malaysians are oil and gas, financial services, business services, communications and electrical and electronics (E&E).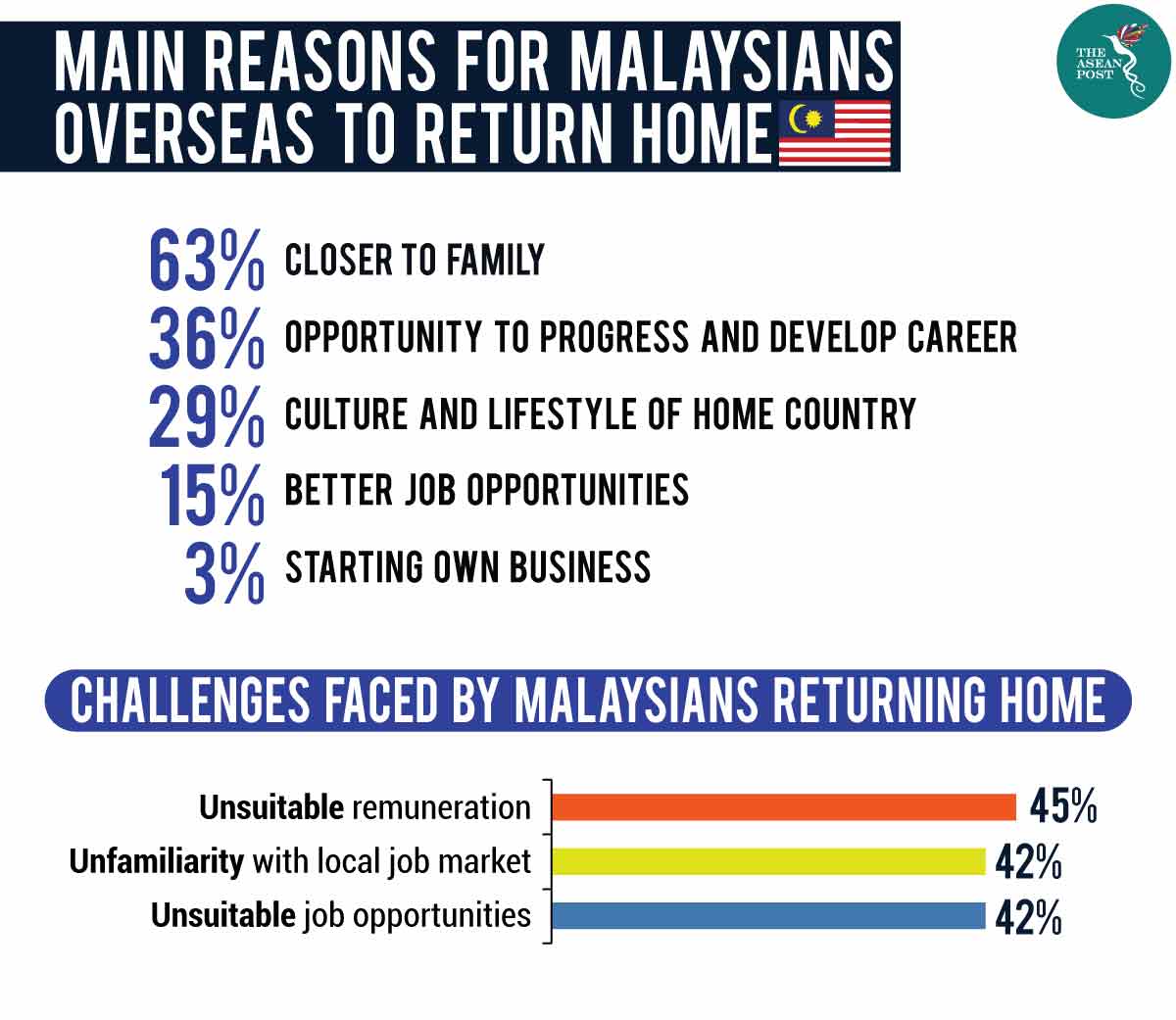 Source: Hays Asia, 2019
Another attempt to woo skilled talent home is the implementation of the Productivity-Linked Wage System (PLWS) in 2015, which aims to provide a "challengeable wage system or increase in the wages to attract [returnees]".  
These are all notable efforts by key players to address the issue of Malaysia's brain drain. However, Malaysians working abroad often return for more than just monetary reasons.
'Unsuitable remuneration' 
The reasons to return home are usually varied and mostly of a personal nature, i.e. children's schooling, aged parents, and so forth. According to the 2019 Hays Asia Overseas Returnee Report, 63 percent of returnees said they moved back to their country to be with their families. Others said they returned for the local culture and lifestyle (29 percent) and the opportunity to progress and develop their career (28 percent).
Based on data sourced from TalentCorp from 2011 to 2017, returning experts have an average of eight years of work experience abroad with many returning from Singapore, China, United Kingdom (UK), Australia and the United States (US). 77 percent of returnees are male and 23 percent female with an average Malaysian salary of US$6,400 a month.
Yet, overseas returnees are not optimistic about salary with 45 percent citing 'unsuitable remuneration' as their biggest hurdle. They also face challenges in terms of 'unfamiliarity with local job market conditions' (42 percent) and 'unsuitable job opportunities' (42 percent).
The same study by recruitment firm Hays Asia found that 45 percent of Malaysian returnees first found employment in foreign-owned enterprises while only 25 percent worked in local organisations.
The report found that 84 percent of employers in Malaysia said they were willing to hire an overseas returnee in the next 12 months although only 48 percent said there were able to employ one in the past year. Despite Malaysian employers willing to pay a premium salary for returnees, 77 percent of employers do not see eye-to-eye with the candidates when it comes to remuneration numbers, citing 'mismatch in expectation of offer packages' to be the most prevalent challenge.
Tom Osborne, Managing Director at Hays Malaysia, said open discussions about career development and performance assessment is important to manage overseas returnees. "There is much room for improvement when it comes to satisfaction levels of overseas returnees in the workforce. They are more likely to gravitate more towards employers who have relevant HR policies in place which provide desired non-monetary perks such as flexible working hours or health and wellbeing benefits," he added.
Malaysian talent who are capable of securing employment on a global scale are likely to be highly skilled and to have them leave would be a deprivation of skills and experience to Malaysia. Tapping into the increasing volume of overseas returnees is an attractive option but unless there are efforts to engage and retain the returnee workforce, Malaysia could expect a further brain drain in the near future.
Related articles:
Malaysia launches Industry 4.0 policy