Technological disruption will significantly affect ASEAN's workforce, driving growth and creating new demand for workers. Based on a 2018 study, 'Technology and the future of ASEAN jobs' by technology company Cisco and Oxford Economics Data, 6.6 million jobs will become redundant by 2028 across the six largest ASEAN economies – Indonesia, Malaysia, the Philippines, Singapore, Thailand and Vietnam. By 2028, these countries will require 28 million fewer workers to produce the same level of output as today. 
However, trends like rising affluent middle-incomers, increased consumption, and investment in infrastructure and energy will create a strong demand for new jobs to offset the displacement of work. Cisco's analysis reveals that 41 percent of workers today are lacking the skills that future new jobs will demand. To ensure their skillsets meet job creation, workers will need to upskill.
Skill shortage
According to a 2019 Hays Asia Salary Guide, 65 percent of organisations in the Asia Pacific are restructuring to keep up with changing business needs. 64 percent said that skill shortage had a negative impact on the productivity of their organisations in 2018. Companies from the region put skills shortages down to a lack of training and professional development, with 62 percent of organisations addressing these skills shortages by upskilling their current workforce. 
Yet the Hays' study found that 67 percent of employees believe that their current skills will still be in demand in five years, while only 37 percent of employees are actively enhancing their professional skills, at least one to two hours a week. 
"While there is much to be encouraged by, there is a potential concern surrounding employee skill levels, with many believing that their skillsets will still be in demand five years from now, spending just one to two hours per week on upskilling. However, with companies claiming that skills shortages are hampering operations and citing a change of skillset as the primary reason for restructuring, employee mindsets may have to evolve," said Richard Eardley, Hays recruitment's managing director for Asia. 
Workers need to be engaged and have the time, energy and inclination to acquire new skills. 
Skill gaps
The skill gaps that will need to be addressed include technical skills, such as IT skills, cognitive skills or problem-solving and building proficiency in new technologies such as AI, machine learning and blockchain, among others. Technical skills are however one part of the skill equation, where human skills such as creativity, organisational development, emotional intelligence and leadership are equally important. Studies have shown that social and collaborative skills can ensure inclusive growth.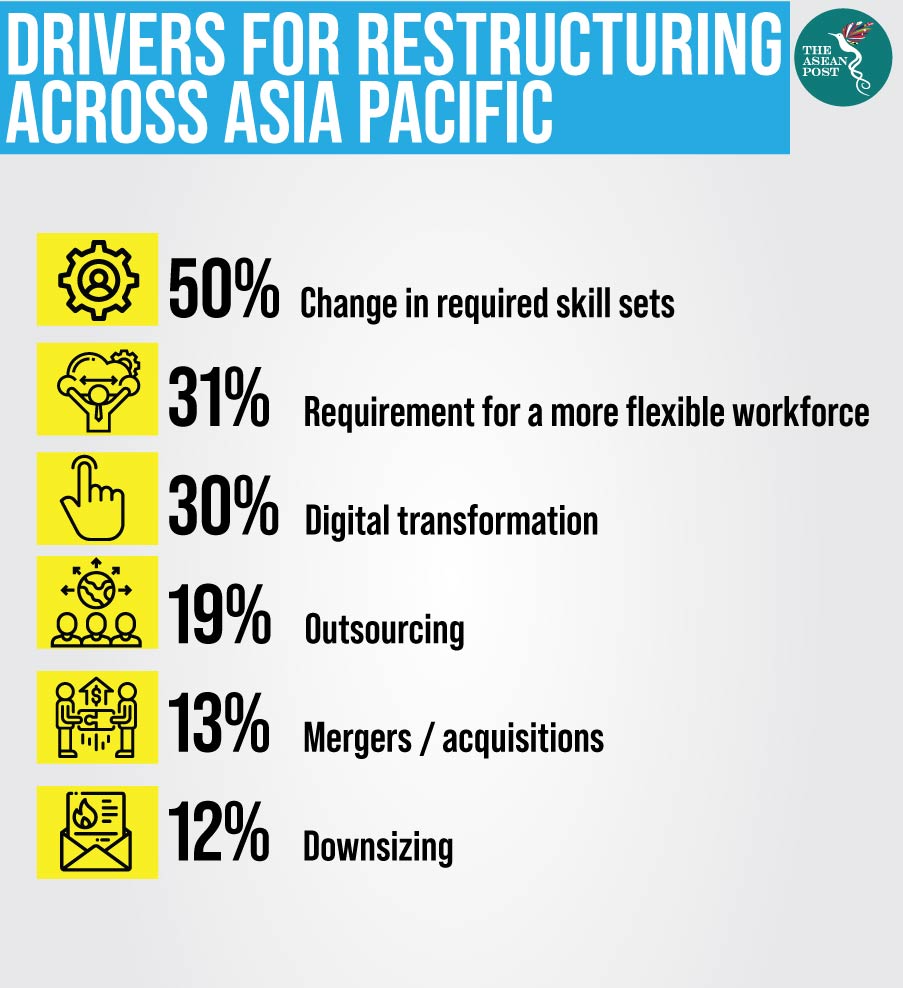 The World Economic Forum (WEF) initiative pledged to equip 20 million ASEAN workers with digital skills by 2020. The pledge, taken last year together with major tech companies, was to establish a regional movement among businesses committed to empowering individuals through skilling, reskilling and upskilling. The WEF's initiative is geared towards creating an ecosystem where people are trained in relevant skills that are in demand so that they have
employability for the future
.
Singapore is upskilling its workforce through government-organised workshops, known as the SkillsFuture Advice programme. The program offers attendees access to more than 400 courses, mostly conducted by institutes of higher learning (IHLs), giving them a chance to develop their education, training and job prospects. 
Ronnie Tan, director of mobile game development company Gumi Asia, says he works hard at creating an environment where employees feel engaged and empowered to develop new skills. "After they have upgraded, they will contribute back to the company. This benefits both, the company and our industry at large," he explained. 
A survey conducted by technology market research specialist Vanson Bourne found that 86 percent of Singaporeans agree that the future of work is nothing without training, learning and development. However, the survey also saw nine in 10 Singaporeans concerned that they are not receiving enough from their organisation to remain employable and skilled for the future. 
To build an inclusive ecosystem for workforce re-skilling and upskilling in ASEAN requires action by both, the public and private sector. Among the steps that can be taken include identifying the specific skillsets required in the future, creating collaborative workshops or training programs and carrying out education reforms to prepare the current workforce for the future. 
Digital skills have a short shelf-life, so learning will need to be continuous. Building a joint public-private workforce strategy while providing the right incentives can promote a life-long learning mindset among workers. As some job segments undergo disruption and start to disappear from the market, employees need to upskill, re-skill and acquire new skill sets to adapt to the changes. 
Related articles:
Strengthening ASEAN's labour force