Contrary to what some observers may believe, Malaysia's economy is actually doing better than expected – although that doesn't mean fears of a recession are unwarranted.
Earlier this month, Malaysia's central bank, Bank Negara Malaysia (BNM) announced that the country's economy grew by 4.9 percent in the second quarter of 2019, recording stronger growth than in the first quarter (4.5 percent) and beating most economists' predictions. Malaysia's economy grew by 4.7 percent in 2018.
Calling Malaysia's second quarter growth performance "resilient," BNM Governor Nor Shamsiah Mohd Yunus said the growth was supported by higher net exports, increased household spending and private investment. On the supply side, the mining sector has rebounded – driven mainly by a recovery in natural gas output. 
The manufacturing sector has grown marginally thanks to the better performance of domestic-oriented industries, and the services sector continues to expand amid sustained growth in the wholesale and retail trade sub-sector. 
According to ING Bank Asia economist Prakash Sakpal in a report last week, Malaysia's economy seems to be relatively unscathed despite the ongoing United States (US) - China trade war as well as a slump in the tech sector.  
"Firmer growth, low inflation and a healthy external payments position – all are coming together in support of positive investor confidence in the economy in the current global economic turmoil," he said.
Other factors driving the Malaysian economy include the revival of major infrastructure projects such as the East Coast Rail Link (ECRL), a Belt and Road Initiative (BRI) project which has boosted investor sentiment in the country according to Sakpal.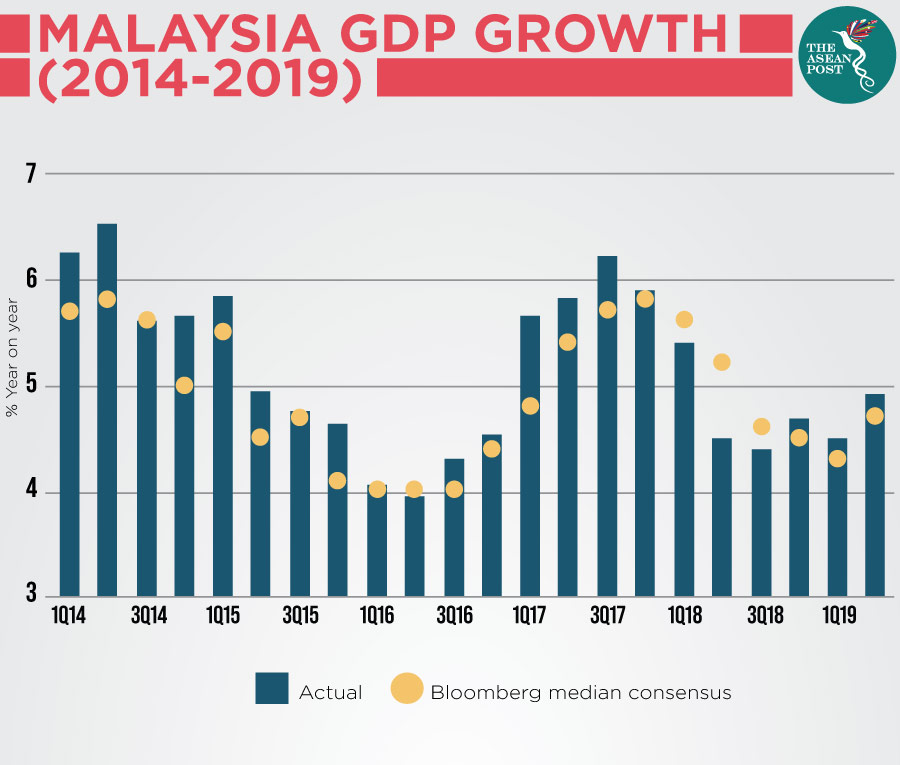 Why worry?
But amidst the rising cost of living, increased business uncertainty and a slowdown in the global economy, some local commentators are questioning whether a recession is on the horizon in Malaysia. 
Economists across the world have warned of a possible global recession next year thanks in part to the escalating US-China trade war, which is expected to impact open economies such as Malaysia's.
"If the trade war continues to worsen… then the probability of recession (in Malaysia) will rise," Steve Cochrane, Chief APAC Economist at Moody's Analytics told The ASEAN Post.
While recession has no official definition, the International Monetary Fund (IMF) states that commentators and analysts use, as a practical definition of recession, two consecutive quarters of decline in a country's real (inflation adjusted) gross domestic product (GDP) – the value of all goods and services a country produces.
Apart from production, a recession also hits employment, income, real estate prices, equity values and other economic indicators. Among the factors which cause a recession include a reduction in consumer spending, higher interest rates, falling property prices and drops in the stock market – all of which are increasingly being reported in major global markets.
Cyclical by nature, Malaysia last faced a recession during the global financial crisis of 2008, with the Asian financial crisis (1997-1998) and the downturn in commodities prices in the mid-1980s the country's other two recessions of the post-Independence era.
Speaking to The ASEAN Post, Chief Economist at the ASEAN+3 Macroeconomic Research Office (AMRO), Dr Khor Hoe Ee, said that another recession doesn't look imminent.
"No, we do not think so. The (Malaysian) economy is well diversified and has shown itself to be relatively resilient to external shocks. Domestic demand remains the key driver of the economy, accounting for 56 percent of GDP after adjusting for imports, and it is holding up well," he noted.
Vishrut Rana, an economist at S&P Global Ratings based in Singapore, agreed with Dr Khor, stating that "a recession is highly unlikely in Malaysia."
Pointing out that while trade and investment has been weak, Rana said consumption growth and labour markets remain steady and will support growth.
Be worried
In Malaysia, however, the mood does not seem to be as positive.
Stressing that economic and political disputes across the world could cause a slowdown in the country's economy, Rafidah Aziz, Malaysia's former international trade and industry minister and deputy finance minister, told local media that the government should plan ahead so "we won't be caught unaware (should a recession occur)."
Pointing out BNM figures which show that the Malaysian government has already borrowed RM58.1 billion (US$13.75 billion) in the first six months of the year, renowned economist Barjoyai Bardai warned of excessive government spending. The federal government's debt now stands at RM799.1 billion (US$189.1 billion) compared to RM686.8 billion (US$162.51 billion) as at the end of 2017.
"The (government's) debt-to-GDP ratio (52.7 percent) is still below 55 percent, so it's manageable, but if a recession happens – and we are expecting one – then we must keep in mind that our GDP for 2019 will drop," the Universiti Tun Abdul Razak lecturer told local media earlier this month.
"Hopefully, this trend (of spending) is short-term. If it persists, we will have serious problems."
Related articles:
China to impose new tariffs on US imports