In a bid to control the spread of the COVID-19 virus that has killed over 2.4 million people worldwide, the Malaysian government has called for a partial lockdown, also known locally as the movement control order (MCO) that is expected to end on 18 February. 
Therefore, more roadblocks or road barricades have been set up by police officers to carry out compliance operations in order to ensure that the public adheres to coronavirus restrictions stipulated by local authorities.
However, recently, a number of reports have been made against some policemen at these roadblocks.
According to a Malaysian news agency, police are currently investigating two separate cases involving women who claimed they were harassed by policemen at roadblocks. 
In the first incident, a woman, in a series of tweets, said that she was asked by an officer why she was not wearing a bra.
She also claimed that "she was approached by a policeman who asked her to reveal her breasts, and threatened to issue a summons if the complainant refused," said local district police chief, Anuar Omar. 
"The complainant was also asked by the policeman to provide her phone number before being allowed to leave, once her identity card had been verified," he said in a statement.
In her viral Twitter thread, she also included a copy of a police report she lodged over what had transpired.
In another incident, which took place in the northern Malaysian state of Penang, a policeman was accused of contacting a woman whom he had stopped at a roadblock as he "wanted to get to know her better."
She said he had jotted down her details, including her phone number and license plate number, and messaged her on WhatsApp shortly after.
Both "the offences are a serious breach of conduct as it can mar the image of the police," said Zamri Yahya, Director of the Malaysia's Federal Police Integrity and Standard Compliance Department (JIPS).
"I would also like to issue a reminder to policemen and officers on duty that they need to be professional and not do anything unrelated to their official duties, either via their actions or speech," he added.
The two cases involving abuse of power by policemen were not the only ones reported. Back in April 2020, when Malaysia was under its first MCO, two Mongolian women were stopped by a police officer at a roadblock one night and were kept against their will at a nearby hotel for more than 24 hours before they were rescued by police. 
The policeman, an inspector in his 30s, was arrested in the wake of police intelligence and surveillance.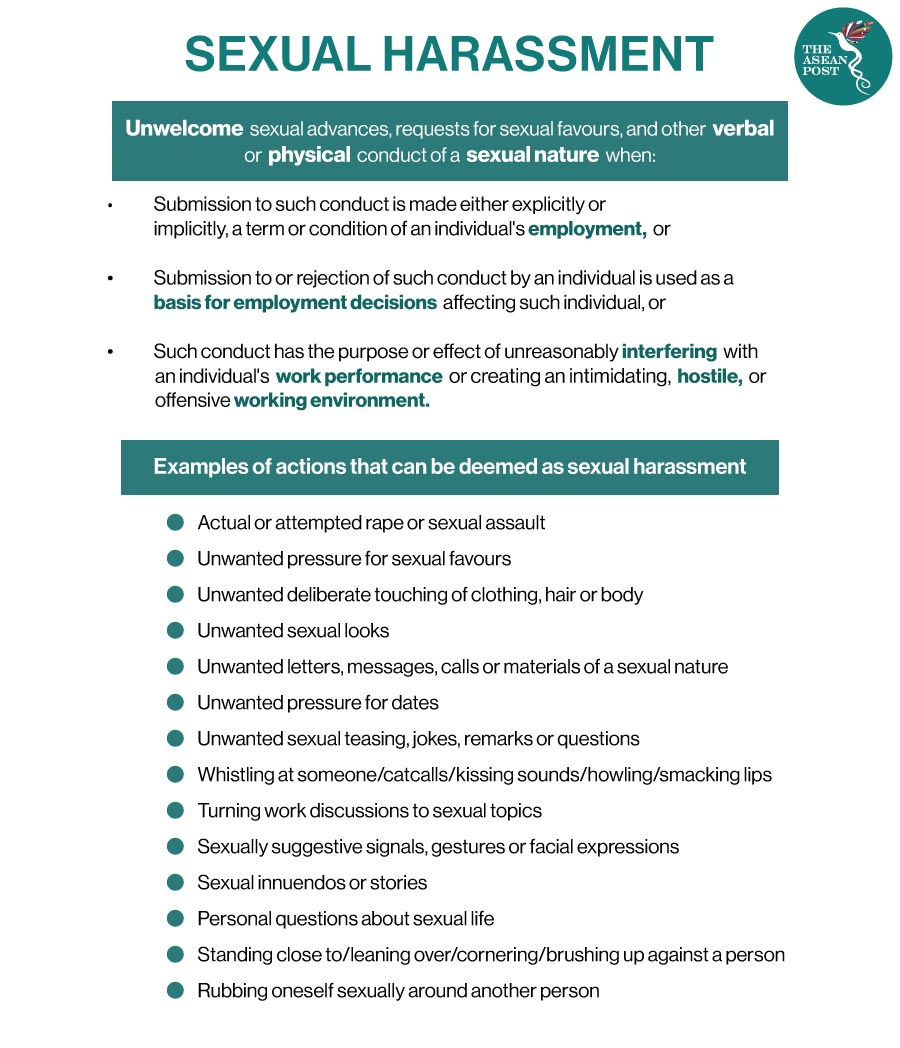 Sexual Harassment Bill
In a response to the first case which was highlighted by Malaysian media over the weekend, Rina Harun, Malaysia's Women, Family and Community Development (KPWKM) Minister has urged the police to quickly investigate the incident.
However, a politician from the opposition has slammed the minister. In a press statement, Kasthuri Patto, a Member of Parliament (MP) questioned where was Rina's voice in the midst of all the other harassment and abuse cases in Malaysia involving women and children.
Other than the aforementioned harassment cases, local women's organisations such as the Women's Aid Association (WAO), have highlighted the increase of reports of domestic abuse amid the pandemic.
"Compared to the 250 enquiries received in February, before the MCO came into effect, we received 350 in March, 898 (April) and 848 (May), respective increases of 3.6 and 3.4 times the pre-MCO levels," explained Joanne Melissa Wong, WAO's Head of Programmes in an interview with local media last year. 
Despite the large number of cases that fall under the jurisdiction of Rina Harun's ministry, Patto said the KPWKM minister was nowhere to be seen. The only strong statement from the ministry in the past few months was just a reminder for Malaysians to contact the Talian Kasih helpline if they needed assistance. Patto said that this was simply not enough. 
Opposition MPs Wan Azizah Wan Ismail and Hannah Yeoh also added that there is an urgent need for the Sexual Harassment Bill to be tabled at the next Parliament session, especially after the incident of the harassed woman by a cop.
Wan Azizah and Yeoh, former minister and former deputy minister of KPWKM also called on the government to provide more training and courses on gender sensitivity to civil servants and enforcement officers in order to prevent such incidents from happening again.
It was reported yesterday that the Sexual Harassment Bill is expected to be ready this March.
"The draft has been sent to the Attorney General's Chambers (AGC) to evaluate if there are any minor amendments, we will table the bill once Parliament convenes," Rina told local reporters.
The minister also gave assurance that the bill would be holistic in nature in curbing issues linked to sexual harassment. 
Related Articles: