Malaysia's solar photovoltaics (PV) industry is on the rise thanks to strengthening government support, growing investor confidence and reducing costs.
Already ASEAN's biggest solar PV employers, Malaysia's solar sector is well poised for more growth given the favourable conditions that are developing. 
Besides having relatively high irradiation levels, Malaysia already has an established solar manufacturing sector, although most of the solar equipment used is exported at present.
"The expanding domestic manufacturing base for renewables components will ensure that there is a reliable and low-cost supply chain for project developers amid global falling technology costs," noted Fitch Solutions Macro Research in a report last month. 
"We believe that this will be a key supportive factor to the Malaysian solar industry over the coming year, as greater numbers of manufacturers set up in the country," added the credit rating agency.
Policies
Renewable energy is being promoted at the highest levels of government, and speaking at an environmental event on the side-lines of the United Nations General Assembly (UNGA) in New York last week, Malaysian Prime Minister Dr Mahathir Mohamad promised that current incentives and tax breaks such as the Green Technology Financing Scheme and the Green Investment Tax Allowance will be continued to spur further development in the renewable energy sector.
Such policies are needed if Malaysia is to achieve the ambitious target of increasing its energy generation mix from renewable energy from two percent in 2018 to 20 percent by 2025 as announced by the Energy, Science, Technology, Environment and Climate Change Ministry last September.
Malaysia has the potential to generate more than enough electricity to meet its current demand if all the roofs in Peninsular Malaysia are fitted with solar panels.
There are over 4.12 million buildings with solar rooftop potential in the peninsular (West Malaysia) said Malaysia's Energy, Science, Technology, Environment and Climate Change Minister, Yeo Bee Yin in May, and they could generate 34,194 megawatts (MW) of electricity if they are fitted with solar PV systems. The country's total electricity production currently stands at an average of 24,000 MW.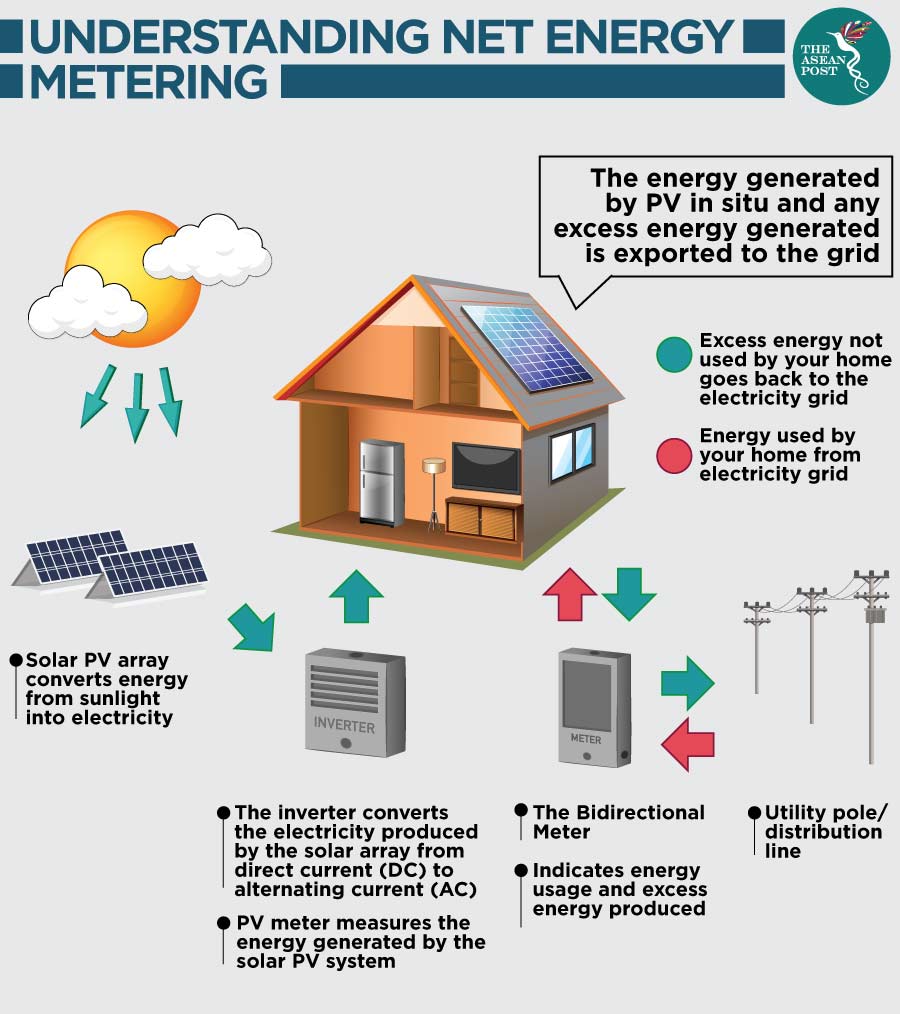 The revised Net Energy Metering (NEM) scheme has also been received well, and a total of 16.6 MW of NEM was approved by industry regulators Sustainable Energy Development Authority (SEDA) in the first four months of 2019 compared to 18.24 MW in 2018.
Since the NEM's introduction in 2016, solar power producers would sell excess electricity to Malaysia's largest electricity utility company, Tenaga Nasional Berhad (TNB), at RM0.31 pkWh (US$0.07 per Kilowatt per hour) and purchase it at about RM0.50 (US$0.11) pkWh. 
But since 1 January, the sale and purchase prices of electricity under the NEM has been at the same price – a move aimed at improving solar PV's return on investment.
Reduced cost
As it is, solar energy has now become cheaper than gas-generated power thanks to advances in technology.
The government of Malaysia opened bids for an estimated RM2 billion (US$477 million) worth of projects under the third round of the Large-Scale Solar (LSS3) scheme in February, and speaking to local media last month after the bidding process ended, Yeo revealed that the first four projects – 365 MW out of 500 MW – were actually bid below the gas-generation price of RM0.2322 (US$0.0554) per kWh.  
"In the second round of LSS bidding (in 2017), RM0.32 (US$0.0763) per kWh was the lowest price; that became our reference price when we opened LSS3 for bidding this year. But when the bidding exercise closed, the lowest bid was at RM0.1777 per kWh (US$0.0424)," she said. 
"That is a 45 percent reduction in just a few years. That is why we are very confident that the renewable energy price will reach parity (with that of gas) in the foreseeable future," she added.
Investment
Businesses and investors have taken note of this, and SEDA approved 17 solar investor applications in the first three months of this year alone.
Yesterday, CIMB – one of the country's largest banks – announced it had allocated RM100 million (US$23.9 million) to its renewable energy financing scheme for small and medium enterprises (SMEs), and one of its main initiatives is to provide companies with 100 percent financing to cover the cost of solar PV systems and installation on their rooftops in support of the NEM scheme.
"Our planet is at a tipping point from an environmental, economic and social (EES) perspective, and we must take action now … to begin pursuing profits with a purpose," stressed CIMB Group CEO, Zafrul Aziz.
On 19 September, Mydin Mohamed Holdings Berhad (Mydin) became the first chain retailer in Malaysia to install a solar PV system at its outlet in the city of Ipoh, in the northern state of Perak. They expect the 324 kilowatt-peak (kWp) solar PV installation in the department store to save up to RM3.24 million (US$773,000) in electricity bills throughout its 25-year lifespan.
In June, the Seberang Perai Municipal Council (MPSP) in the northern state of Penang became the first municipal council in the country to choose solar energy generation by installing solar panels on the rooftops of public markets and some state government offices.
With TNB proposing an internal restructuring of its generation, transmission and retail divisions – which is expected to be completed in the third quarter of 2020 – the increasing liberalisation is set to improve competition and grow investments in the solar PV sector.
This article was first published on 2 October, 2019. 
Related articles:
Malaysia: ASEAN's biggest solar employer
Solar rooftop potential in Thailand