It was reported recently that the ASEAN +3 Macroeconomic Research Office (AMRO) had given Myanmar's economy a positive outlook for the fiscal year of 2019 to 2020, expecting it to expand by 7.1 percent up from 6.8 percent in the previous fiscal year. This is largely thanks to reform momentum, improving business sentiments, growth in manufacturing, tourism related expansion and stronger fiscal spending.
According to AMRO, the five key sectors with growth potential in Myanmar this year are (1) the tourism industry, (2) property, (3) insurance, (4) digital transactions and (5) the stock exchange business.
Looking at the tourism industry, several measures have been taken to attract tourists. Among these measures is the easing up on visa requirements. Beginning 1 October last year, tourists from Australia, Germany, Italy, Spain, Switzerland and Russia were given visas on arrival for US$50 each at Yangon, Mandalay and Nay Pyi Taw international airports. Even more recently, on 1 January, the government of Myanmar relaxed its visa regulations for five more countries. Travellers from the Czech Republic, Luxembourg, New Zealand, Hungary and Austria will be given visas on arrival when entering the country for the next three years.
There have also been a slew of new flight routes coming in and out of Myanmar and neighbouring countries including India, China, Cambodia, and Thailand all throughout 2019. 
On the property front, property investors are expecting prospects to improve after measures were taken to modernise and regulate the sector in the past two years. On 5 January last year, Myanmar's Ministry of Construction announced the formation of a management committee to oversee the implementation of regulations under the Condominium Law 2016 and Condominium Rules 2017.
In December, Myanmar Construction Entrepreneurs Association (MCEA) general secretary, U Myo Myint was quoted as saying that the Condominium Management Committee had been fine-tuning the registration process under the Condominium Law and will accept registrations early this year.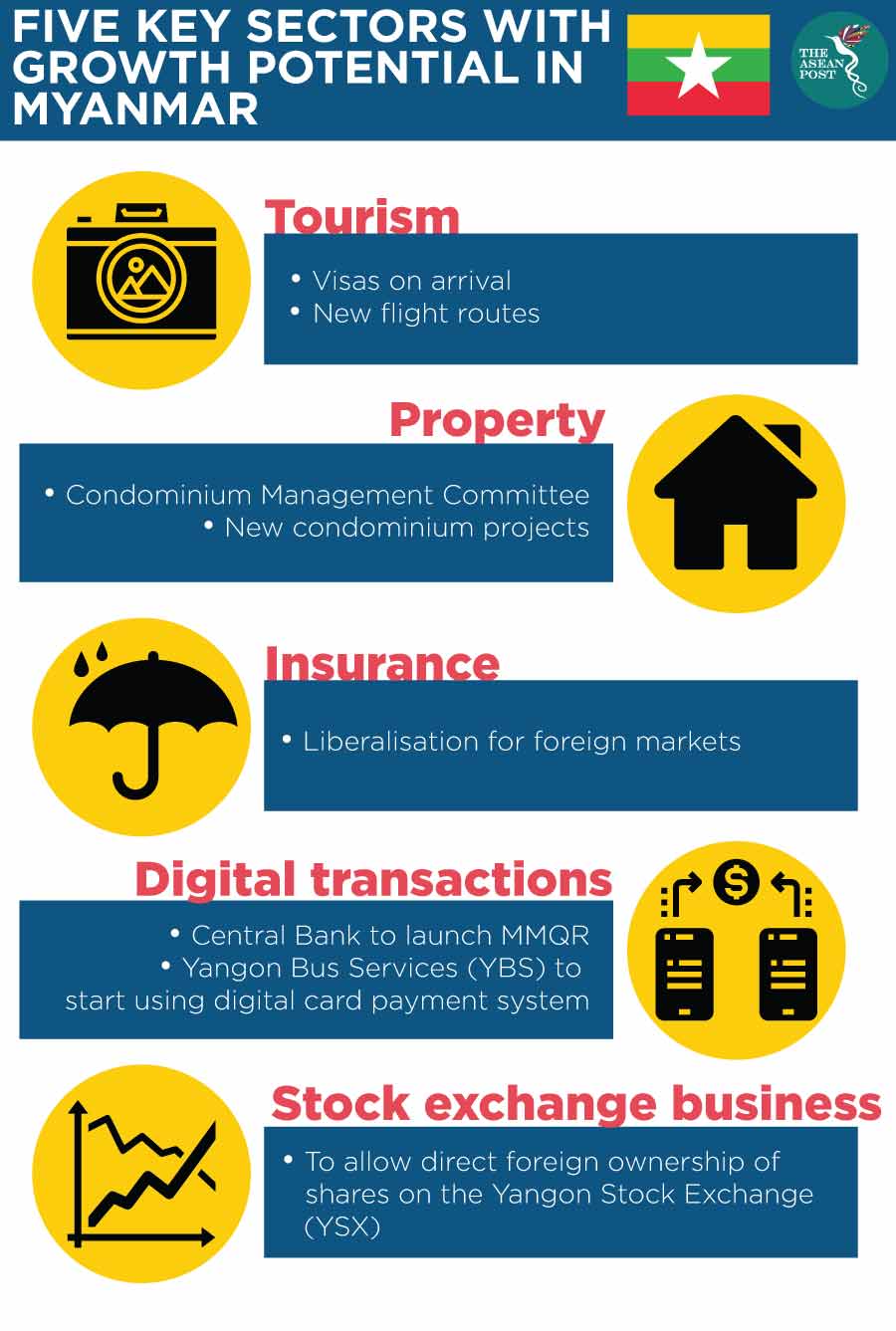 New condominium developments like Time City, Diamond Inya Palace, The Central, City Loft and 85 SOHO were launched in Yangon in 2019, while other developments like Gonyi Residences and Emerald Bay are now under construction.
As for insurance, on 2 January 2019, Myanmar's Ministry of Planning and Finance (MoPF) announced a roadmap to pave the way for foreign insurers to enter the country's largely untapped insurance market as part of an ongoing process to liberalise the sector. In April, five foreign insurers – United Kingdom (UK)-based Prudential, Dai-Ichi Life Holdings from Japan, Manulife from Canada, AIA from Hong Kong and US-based Chubb – were given approval to set up wholly owned subsidiaries to compete in the life insurance sector.
According to the MoPF, the potential for growth is huge. While the country has a population of around 54 million people, approximately two million people (3.7 percent) only have any form of insurance coverage. The Myanmar Times quoted AIA Myanmar CEO, Nhon Ly as saying that only one percent of the population had exposure to insurance.
As far as digital transactions go, the government has been pro-actively trying to encourage more use of cashless payment methods and to introduce such solutions into the daily lives of its citizens. Last year, U Aung Soe, director of Myanmar's Export Promotion Department, warned that the country's economy will be left behind if digital settlements and e-payment systems do not improve as these systems are playing an increasingly key role in facilitating trade, especially among the country's youth.
As part of the effort in 2020, the people of Myanmar can look forward to the Central Bank of Myanmar (CBM) launching the MMQR, which enables digital payments using QR codes. The Yangon Bus Services (YBS) is also set to start using a digital card payment system on its buses. Banking experts say that once the YBS successfully implements the payment system, more people will have a chance to get familiar with cashless technologies.
Myanmar's stock exchange business looks set to bustle as the country is set to allow direct foreign ownership of shares at the Yangon Stock Exchange (YSX) this year. In July 2019, the Securities and Exchange Commission of Myanmar, the regulator, announced that non-Myanmar individuals and locally-registered entities would be allowed to invest in listed shares of up to 35pc.
Last November, Philippine conglomerate Ayala Corporation announced its plan to take 20 percent stakes in two of Serge Pun's listed companies – one of which is the YSX-listed First Myanmar Investment (FMI) – for a total of US$238 million. Ayala's deal represents the first major foreign investment in a company listed on the bourse.
2020 looks like it's going to be a good year for Myanmar's economy. There are, however, certain risky elements that may affect the country's gross domestic product (GDP) growth. 
This article was first published on 8 January, 2020. 
Related articles:
Can Myanmar attract more tourists?