The coronavirus crisis has brought chaos to nations across the world. Fears and anxiety amplify as the virus is not only a health threat – but is also severely affecting livelihoods, businesses and the economy in general. Governments have imposed drastic measures to contain the COVID-19 virus such as travel restrictions and citywide lockdowns. Although these curbs have proven to be necessary for some countries – they have devastated local industries and businesses. Millions of people have lost their jobs and more will lose theirs in the near future. Shrinking economies will push countries into a deep recession.
Yesterday, The ASEAN Post published an article titled 'The World's Biggest COVID-19 Worries' which mainly discussed about some of the biggest concerns for the world and businesses with regards to the pandemic. The World Economic Forum (WEF) in partnership with global professional services group, Marsh & McLennan and the Zurich Insurance Group released a report which taps into the views of nearly 350 senior risk professionals who participated in the COVID-19 Risks Perception Survey. 
Two-thirds of the professionals surveyed identified a prolonged global recession as the number one worry for businesses. Whereas half of the executives identified bankruptcies and industry consolidation, the failure of industries to recover and a disruption of supply chains as their crucial worries.
The future in a post-COVID-19 world is full of uncertainties. Some foresee a catastrophe, while some believe that things will never be the same again. A 'new normal' comprising of temperature checks and social distancing – might be here to stay until a viable vaccine is found. Nevertheless, media reports have suggested that there is a bright side to the pandemic. For example, researchers around the world have seen a drop in air pollutants as a result of the many virus lockdowns. It was also reported that some countries are already planning to redesign their cities and that the pandemic could possibly change city planning forever; making existing and future cities more sustainable, inclusive and circular.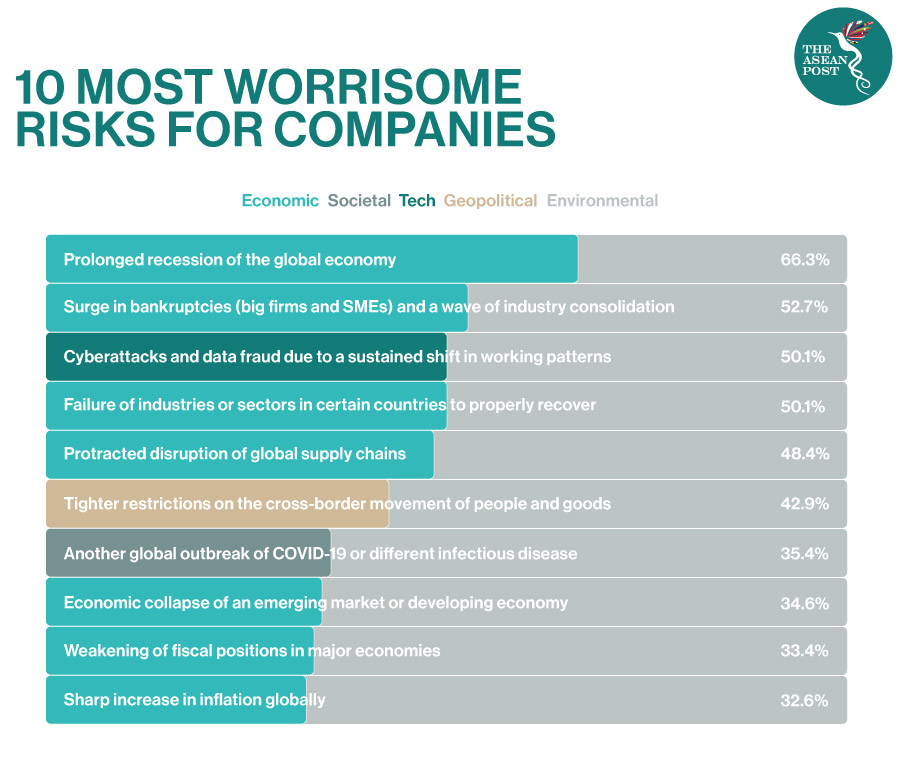 The WEF recently released another report, 'Challenges and Opportunities in the Post-COVID-19 World' which draws on the insights of thought leaders, scientists and researchers to outline emerging opportunities to build a more prosperous, equitable and sustainable world. 
Some of the opportunities in a post-pandemic world that were discussed include the wide usage of technology and also universal healthcare. 
Technology
COVID-19 has accelerated the adoption of a digital culture worldwide. As millions are now working from home, buying groceries online, and using digital wallets – it seems like almost everyone has become a digital native.
Samir Saran from the Observer Research Foundation, an independent think tank based in India – stated in the WEF report that "the most important structural change will be in the form and format of the relationship between technology and society." 
It was reported that tech giants are thriving amid the coronavirus crisis. Demand for online services has soared. Newcomers such as Zoom and Slack – which have helped companies and employees work remotely amid virus lockdowns, have become household names. Over in Malaysia, where the country is under partial lockdown, known locally as the Movement Control Order (MCO) – farmers and fishermen have even started selling their produce online. Many around the world are turning to technology and seeking to venture into e-commerce. 
Other than that, technologies that society would have once expected greater regulatory scrutiny around – such as the use of artificial intelligence (AI) in healthcare – will likely be fast-tracked and deployed, noted Saran.
Nevertheless, despite the technological transformation experienced by nations around the world, there are challenges that come with digitalisation. This includes a surge in misinformation and distorted news on social media platforms, cyberattacks and data fraud.
Health For All
One thing that the pandemic has taught us is that people who feel unwell should not have to check their bank balance before they seek help and treatment. Winnie Byanyima, executive director of UNAIDS believe that with the current crisis, global leaders have an opportunity to "build the health systems that were always needed and which now cannot be delayed any longer". 
Byanyima stated in the WEF report that some of the biggest steps forward in health usually comes in response to a major crisis – referencing post-Second World War health systems across Europe and in Japan, and AIDS and the financial crisis which led to universal healthcare in Thailand.
"The inevitability of future pandemics makes permanent the need for strong universal health systems in every country in the world."
Whether in refugee camps or urban slums – publicly funded, cutting-edge medicines must be delivered to everyone no matter who they are and where they live. Given the interrelation between health and livelihoods, countries will also need to strengthen social safety nets to improve resilience. The pandemic has reminded citizens that they need leaders that are "active, accountable, responsible" in order to "regulate markets, reduce inequality and deliver essential public services."  
The WEF report also noted that the current pandemic is simultaneously a crisis worsening existing inequalities, but also "an opportunity that makes those inequalities visible." 
Related articles:
The World's Biggest COVID-19 Worries