Smartphones are now considered a necessity to most of us in order to communicate with friends and family, for work and as a form of mobile entertainment. Today, it is estimated that over five billion people or 67 percent of the global population have mobile devices, and over half of these are smartphones. 
Southeast Asia, a region of over 680 million people, has seen an incredible growth in mobile penetration over the years.
Tech firm GMSA highlights ASEAN member state Indonesia as an emerging digital economy giant and one of the most improved countries in terms of digital transition since 2014. In its report titled, "Spotlight on Indonesia: Seizing the digital transition opportunity now", GMSA expects the number the mobile penetration rate in the country to grow to 69 percent by 2025, from a 64 percent penetration rate in 2017. 
Another ASEAN member state that has seen significant growth in mobile penetration rates is the Philippines. According to the Pew Research Center, 55 percent of adults in the country own smartphones, while another 22 percent own mobile phones.
Market research company GfK found that nearly 97 million smartphone units were bought by the region's consumers in 2019 – up by 1.2 million in 2018 – raking in US$23 billion for the industry. It was reported that Malaysia's smartphone sales by volume rose 13 percent last year, while in Singapore, it jumped 11 percent.
With increased smartphone penetration in the region, it's no wonder that e-commerce and the online shopping industry have been booming in Southeast Asia, especially amid the pandemic as many consumers are staying indoors. 
Nevertheless, like other sectors around the world, the smartphone market is also feeling the pinch from the coronavirus crisis.
Plunged Demand
According to a recent report by GfK, in January to July 2020, the smartphone market value in the Asia-Pacific region declined by 20 percent to just over US$119 billion – almost US$30 billion less than the same period last year. 
"The region's smartphone market was hardest hit in the second quarter when many countries here entered lockdown mode. This was also when we started observing new trends emerging and the corresponding shifts in consumer demand for durable goods," explained Alexander Dehmel, Market Insights Lead APAC at GfK.
The report stated that although Taiwan managed to turn in marginal growth at one percent, the rest of the 15 markets reported declines in market value; Indonesia (-4 percent), Thailand (-7 percent), India and Singapore (both -42 percent).
"Supply and demand of smartphones plunged in China, slumped across Asia, and slowed in the rest of the world. It is a period the smartphone industry will want to forget," said Neil Mawston, executive director at research firm, Strategy Analytics. 
Another key observation from the GfK study is that the COVID-19 pandemic has altered consumer spending on smartphones. Findings on the region's smartphone market from the first half of 2020 showed the rising popularity of models from the entry and low to mid-range segments that offer good features at affordable prices.
Market analyst firm Canalys also reported that worldwide smartphone shipments had dropped 13 percent in May 2020 from the same time last year.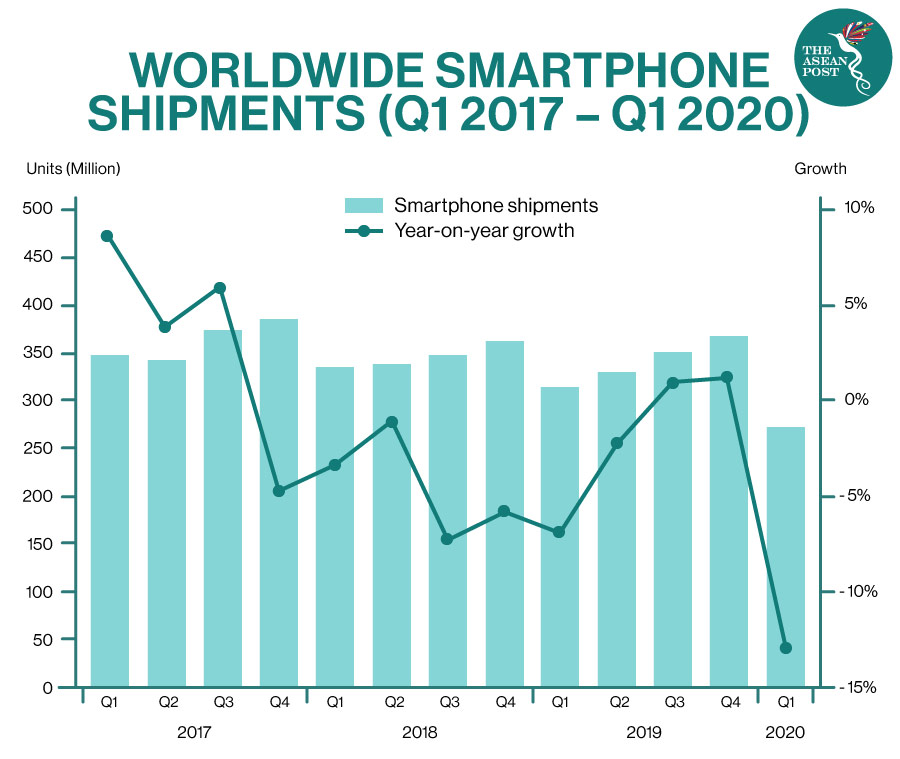 "In February, when the coronavirus was centred on China, vendors were mainly concerned about how to build enough smartphones to meet global demand," said analyst Ben Stanton. "But in March, the situation flipped on its head. Smartphone manufacturing has now recovered, but as half the world entered lockdown, sales plummeted."
Nevertheless, despite the onset of the crisis and its impact on the economy, it did not appear to dampen consumers' enthusiasm towards 5G smartphones, specifically in China and Korea, noted Dehmel. 
GfK foresees some recovery in the closing quarter into 2021, "under the assumption the COVID-19 situation improves and remains under control in the local markets," added Dehmel. 
He expects the smartphone market in Asia Pacific to be back on track to growth by the second half of 2021, driven by 5G devices that would be progressively launched into key 5G markets at prices that are more affordable.
Related Articles:
Online Shopping: The New Reality