Be it the neighbourhood wet market that sells fresh food and produce, street festivals that deliver a dose of art or music, or parks which provide fresh air and a chance to reconnect with nature – public spaces are the cornerstones of thriving communities.
But mass urban migration and rapid development are putting untold stresses on ASEAN's cities, placing even greater emphasis on the way public spaces are designed and utilised.
Almost half of the region's total population now live in urban areas, and while progress is seemingly measured by the increasing number of skyscrapers that are changing ASEAN city skylines, this should not come at the cost of public spaces.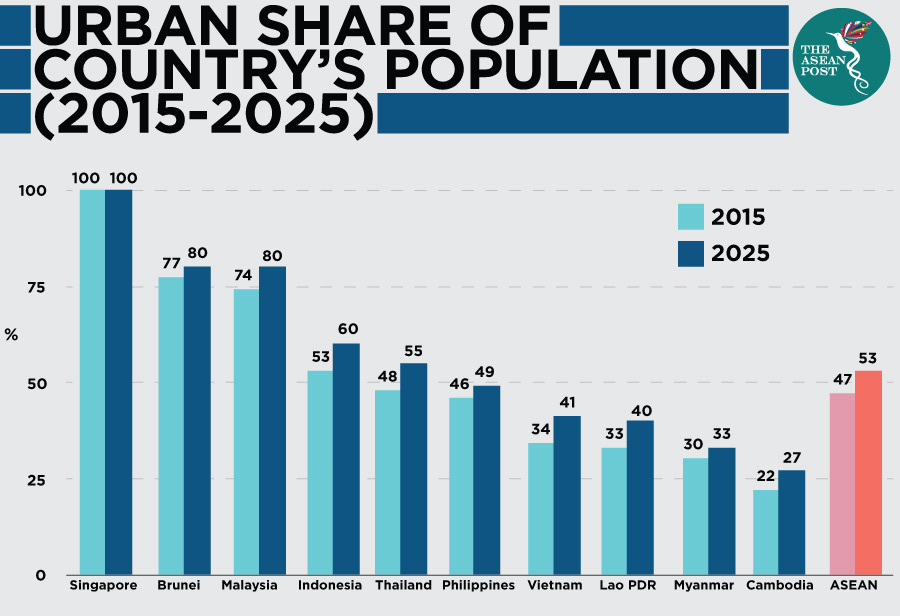 What is placemaking?
Enter placemaking, a collaborative approach to revitalising existing public spaces to benefit communities. 
Apart from promoting community bonding, placemaking also strengthens cultural identity, diversity and inclusiveness. From a quantitative point of view, improving public spaces also has numerous health, tourism and commercial advantages.
Increasingly recognised as an effective means of improving public spaces, buildings, streets and cities, placemaking is ideally driven by communities and city stakeholders to ensure sustainable outcomes and liveable places for all in the face of urbanisation.
Project for Public Spaces (PPS), an American non-profit organisation dedicated to helping people create and sustain public spaces that build strong communities, notes that while it consistently started using the term "placemaking" in the mid-90s to describe its approach, some of the thinking behind placemaking gained traction in the 1960s when PPS mentors like Jane Jacobs and William H. Whyte introduced ground-breaking ideas about designing cities for people – not just cars and shopping centres.
Placemaker Week ASEAN 
ASEAN's first placemaking conference, the week-long Placemaker Week ASEAN which ends today in Kuala Lumpur addressed key concerns such as how best to create a sense of place and belonging in cities, how to effectively forge social connections beyond homes and how to develop meaningful experiences with others as well as with our surroundings.
Organised by Think City, a Malaysian-based social purpose organisation focused on urban rejuvenation, Placemaker Week ASEAN was jointly hosted by United Nations Human Settlements Programme (UN-Habitat) and other partners – gathering international experts and interested participants from all over the world for important conversations surrounding placemaking.
Targeted at ASEAN city planners and managers, the inaugural conference was aimed at promoting knowledge surrounding placemaking best practices and encouraging discourse on innovative solutions for the future of communities and public spaces.
Apart from educational workshops, seminars and design groups, 'place games' – where participants pitched placemaking solutions to a panel based on actual locations – were among the highlights of the five-day event which also saw various programmes take place in multiple locations around downtown Kuala Lumpur, Penang and Johor Bahru.
Think City also launched the Placemaker Awards ASEAN yesterday to recognise the best public spaces within Southeast Asia. Presented by Nextdor Property Communications, Placemaker Awards ASEAN is set to take place in April 2020. The first regional awards of its kind, it will provide an avenue for local councils, property developers, community leaders and non-governmental organisations to showcase their community building efforts through the creation, design and management of public spaces.
'Everyone coming together'
"Placemaking is about everyone coming together – the community, architects, city planners, developers and other stakeholders – to create an enduring environment," Hamdan Abdul Majeed, Managing Director of Think City, told The ASEAN Post. "At the end of the day, it's about creating places for respite, contemplation and developing ideas… It has a collective purpose."
Ultimately, Hamdan hopes to see community partners such as local councils, government bodies, NGOs, property developers and other stakeholders come together to tackle key issues surrounding public spaces in ASEAN such as financing, the lack of space and disruptive technologies.  
Currently celebrating its 10th anniversary, one of Think City's first roles was as a public grants manager in George Town when the Malaysian city in the northern state of Penang received recognition as a UNESCO World Heritage Site in 2008. Focusing on a community-led approach and a system of pilot testing, Think City was determined to rejuvenate the once historically important port city which was in decline.
Think City used small projects to spark change in the inner city with the underlying philosophy of improved liveability to drive economic transformation. At the same time, it was mindful of preserving the city's unique character and cultural heritage – both tangible and intangible – alive and intact.
Apart from working with the Penang City Council on revitalising places that people enjoyed spending time in such as the markets in Chowrasta and Campbell Street, Think City also collaborated with community members to create the Georgetown Festival, an arts festival which is now in its 10th year. 
Think City worked with traders and local authorities to reset the function of Armenian Park for recreation – as opposed to being an illegal flea market – and worked on breathing new life into back alleys by cleaning them up, hosting small events and inviting mural artists to beautify walls.
"The outcome of these initiatives was that people began to realise there were more spaces for them to go out and enjoy their city," said Hamdan.
"More importantly it was about liveability and quality of life."
Related articles:
ASEAN's green spaces disappearing fast