A recent report by McKinsey Global Institute (MGI) evaluated economic projections against climate models and found a high magnitude of physical risks that 105 countries will experience in the next three decades. The study suggests that in order to address climate risks, both – adaptation measures and decarbonisation – is necessary.
Today, at least 20 million people have been forced from their homes due to extreme weather according to the World Economic Forum (WEF). With that number expected to grow, ASEAN countries may be at the forefront of it all.
The Intergovernmental Panel on Climate Change (IPCC) lists all ASEAN countries except for Singapore, in the top 50 countries that will experience severe weather impacts – four of which are in the top 10.
The report also explains that a "tipping point" will occur in the process of climate change, at which time the effects will become irreversible. It is uncertain for experts to ascertain if we are at that point already or reaching it.
Unless greenhouse gases (GHG) emissions can be reduced to zero today, governments in ASEAN may need to accept the inevitable transformation of their respective climate and develop adaptation plans to cope in the future – this is especially crucial for developing economies.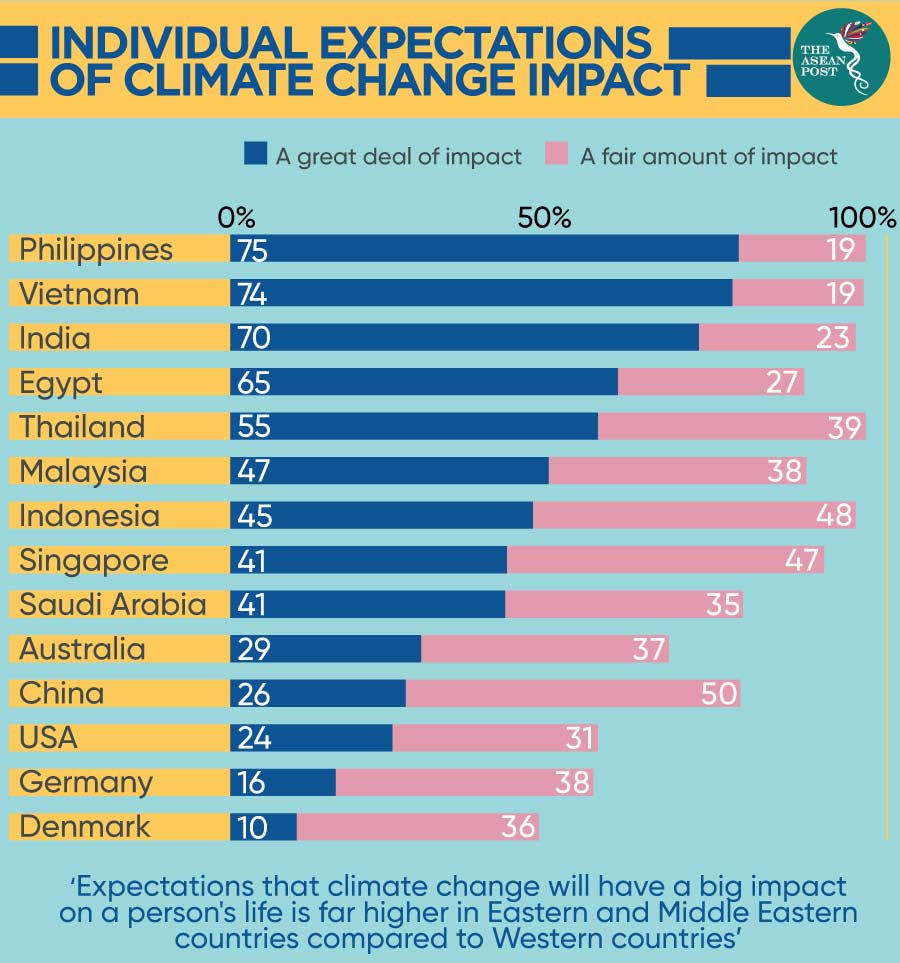 Can coastal cities turn the tide? 
The MGI report highlighted the vulnerability of Ho Chi Minh city to high impact floods. Currently 23 percent of the city area experiences flooding. This is expected to reach 36 percent by 2050. Not only will flood depth increase by three times, damage on real estate and infrastructure could total up to US$9.4 billion over the next 30 years.
Although the underdevelopment of infrastructure in the city could make it easier to implement new adaptation measures, it would prove extremely challenging for the government to be able to cover the high cost of such measures. The United Nations Environmental Programme (UNEP) estimates that the adaptation cost for developing countries could range between US$140 billion to US$300 billion per year. This cost would double by the year 2050.
"We were surprised by the magnitude and timing of these physical risks, and their potential impact on human lives, natural systems, the economy and the financial system," said Dickon Pinner, Senior Partner in San Francisco and Leader of McKinsey's Sustainability practice globally. 
"While this report demonstrates the tremendous consequences that a changing climate may have on all of humanity, it also provides a new set of tools and methodologies for decision-makers to assess risk and take what is now urgently needed action." 
The rising sea level is already causing irreversible damage in Jakarta annually. At the start of 2020, greater Jakarta was deluged again, leaving 100,000 people displaced and 66 dead. The city's coastal defence plan, the "Great Sea Wall" will cost around US$40 billion, a sum comparable to Ho Chi Minh city's current gross domestic product (GDP). 
In Thailand, flood walls cannot be used as they "create uneven exposure to future flooding, with urban economic areas protected while marginalised groups such as farmers, fishermen and rural communities are exposed to losses and damage," explained Danny Marks, researcher on urban climate resilience in Southeast Asia at the University of Toronto.
The World Bank estimates that Bangkok suffered a loss of US$46.5 billion during the devastating floods of 2011. Despite the city's vast underground water containers, its greenery has reduced from 40 percent to 10 percent since then, growing concerns that that additional water once absorbed by plants could lead to more floods. 
The Philippines is one the most threatened countries when it comes to coastal flooding, with some parts of the national capital expected to be underwater by 2050 according to non-profit science and news organisation, Climate Central. This could affect up to 6.8 million people living in high risk areas. Although the government has implemented relocation programmes for residents in threatened zones, some of them have a powerful connection to their homes and refuse to leave as their livelihoods depend on the sea. 
"We won't solve climate change without involvement from the private sector, the most influential leaders in the private sector must be at the table and engaged in the process of finding solutions," said Dr Philip B. Duffy, President and Executive Director at the Woods Holes Research Centre (WHRC), a climate change research organisation.  
The MGI report recommends a more comprehensive mitigation and adaptation plan by respective governments and corporations which integrates the "nonlinear" and somewhat unpredictable effects of climate change. 
Related articles: