While many large companies in ASEAN are piloting Fourth Industrial Revolution (Industry 4.0) initiatives in manufacturing, few small and medium enterprises (SMEs) have managed to integrate them in their processes successfully. 
Industry 4.0 manufacturing can be defined as the integration of internet-enabled technologies which allow networking in the production process. But whether it is due to a lack of awareness, knowledge or resources, SMEs in Southeast Asia have not yet fully capitalised on Industry 4.0 advances – a worrying fact considering the number of SMEs in the region and Industry 4.0's increasing importance in creating more efficient production lines. 
A white paper co-produced by the Asian Development Bank (ADB) and the World Economic Forum (WEF) describes SMEs as the backbone of ASEAN economies, stating that between 89 percent and 99 percent of ASEAN enterprises are SMEs. However, a report by consulting firm Bain & Company released last year found that SMEs only contribute 20 percent of their country's export value. Only 16 percent of ASEAN SMEs truly utilise digital tools – and among those that do, more than 95 percent export their products.
While many SMEs are limited in their ability to grow or adopt new technologies because of lack of access to finance, business services and information, Rold – an Italian SME which produces door locks for washing machines and dishwashers – can provide ASEAN SMEs in the manufacturing industry with a blueprint for wider Industry 4.0 integration. 
Rold's factory in Cerro Maggiore, about 20 kilometres northwest of Milan, was recently named one of WEF's 'Lighthouse of the Fourth Industrial Revolution' – a term WEF uses to describe advanced manufacturing sites which have successfully implemented Fourth Industrial Revolution technologies to drive financial and operational gains. Of the 16 factories chosen from a shortlist of 1,000 factories to join WEF's 'Factories of the Future' network, Rold's Cerro Maggiore factory stands out as the only SME on the list.
Applying digital manufacturing technology to increase productivity and quality in the context of a small organisation, Rold – which only has 250 full-time employees – has demonstrated that SMEs can adopt Industry 4.0 even with limited investment by using off-the-shelf technology and collaborating with technology providers and universities. In Rold's case, for example, only three programmers were hired.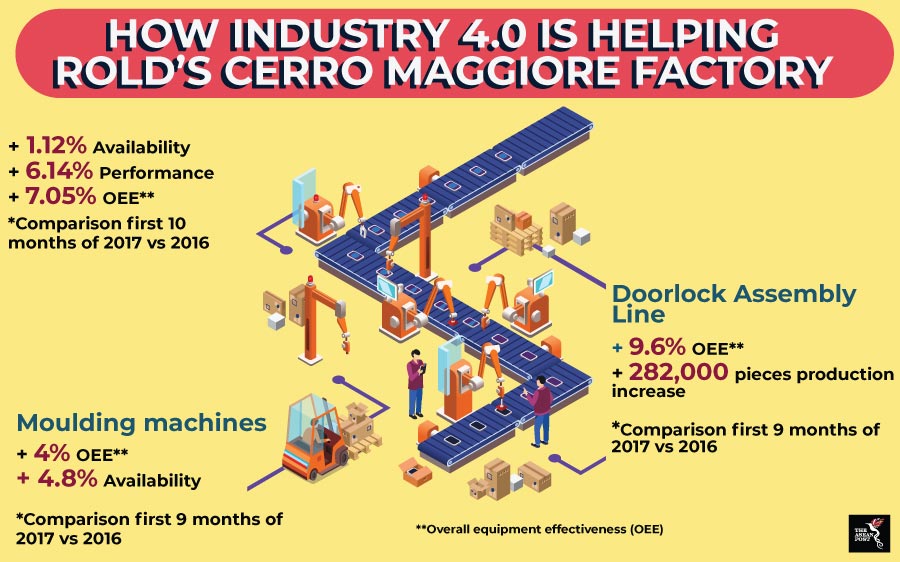 Source: Rold
SmartFab
Rold's SmartFab system uses everyday devices such as touch screens, smartphones and smartwatches to drive notifications from sensors on machines to operators in real time, resulting in quicker responses to potential emergencies by remaining constantly connected. Touch screens are installed along the production lines to control and analyse the most important information, making data readily available for operators to analyse and act on. Meanwhile, offices are remotely connected with touch screens so that management can comprehensively oversee production.
In addition, cost modelling to support make-versus-buy decisions uses data collection based on Internet of Things (IoT) devices on the shop floor, which combined with business intelligence tools, helps increase the accuracy of Rold's cost models. Meanwhile, rapid design prototyping through 3D additive manufacturing has shortened time to market for new product introductions.
Overall, these implementations have helped Rold report a financial impact of seven to eight percent growth of total company revenue from 2016 to 2017, driven by an overall equipment effectiveness (OEE) increase of 11 percent. 
"Digitalisation means evolution and this usually comes with a wider set of resources and assets typically available to large organisations," Rold's Business Development Manager, Luca Cremona, told The ASEAN Post. 
"However, Rold believes that digitalisation could match the business model of a SME that is willing to innovate and transform processes, skillset and strategy," he explained, adding that Rold has been able to integrate technologies organically into its processes thanks to clear objectives, human resource management and commitment from its Board of Directors.
While large firms are perceived to be the biggest benefactors of Industry 4.0, Rold has shown that SMEs – whether in Italy or ASEAN – can incorporate such processes if they have the right combination of factors.  
Related articles:
Struggling SMEs should turn to tech
Malaysia launches Industry 4.0 policy