With its steadily growing economy, surge in technological development and solid reputation as a start-up hub, it should come as no surprise that Vietnam's Ho Chi Minh City has become the latest city to join Singapore's Global Innovation Alliance (GIA) network.
Launched in 2017, the GIA is aimed at providing Singaporeans, students, entrepreneurs and businesses with the opportunity to gain overseas experience, connect and collaborate with their foreign counterparts. 
Contributing 45 percent to the country's gross domestic product (GDP), Ho Chi Minh City has seen investment in start-ups triple from 2017 to 2018 – making it only natural that Singapore's programme to connect the city-state with major innovation hubs across the globe has now turned its attention to Vietnam's largest city.
Ho Chi Minh City is the third ASEAN city to join the GIA network after Jakarta and Bangkok. The eight other cities in the network are Beijing, Shanghai and Suzhou (China), Berlin and Munich (Germany), San Francisco (United States), Tokyo (Japan) and Paris (France).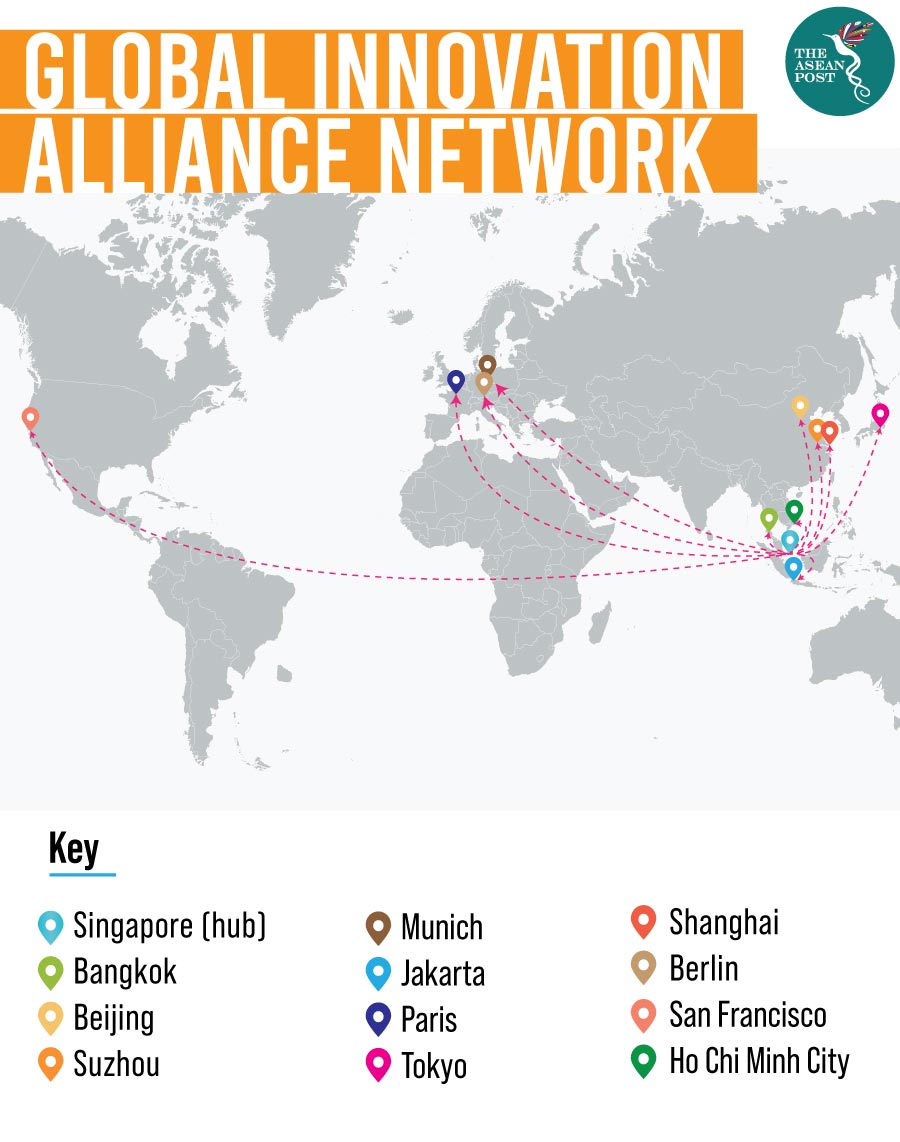 Source: Global Innovation Alliance
While Singapore may have the world's most competitive economy, its leaders have acknowledged the need to build on their "connectivity, quality and creativity" and continue to be a "safe harbour for partnerships and collaborations" in order to maintain their global standing.
A memorandum of understanding (MoU) signed in Ho Chi Minh City on Thursday now gives Singapore technology start-ups access to Vietnam's emerging innovation scene, boosting start-up collaborations between the two countries and creating more internship opportunities for Singapore students in start-ups and innovation companies in Vietnam, stated Enterprise Singapore – the government agency tasked with enterprise development – on their website.
As part of the MoU signed between Enterprise Singapore, Singaporean venture fund Quest Ventures and the Vietnam government-linked Saigon Innovation Hub, the three partners will organise curated programmes to introduce Singapore start-ups to the innovation ecosystem in Ho Chi Minh City and connect them to partners, investors and customers in Vietnam. This will help Singapore start-ups set up, test and commercialise their solutions; form business partnerships in HCMC and Vietnam; and support Vietnamese start-ups to set up in Singapore.
"With the expansion of our GIA network to Ho Chi Minh City, Enterprise Singapore will help Singapore enterprises and start-ups plug into one of the largest innovation ecosystems in Asia," said Png Cheong Boon, Enterprise Singapore's Chief Executive Officer.
"Similarly, we encourage Vietnamese start-ups to leverage Singapore's established innovation ecosystem to connect with multinational corporations (MNCs) and leading Asian enterprises based here to scale their business further," he added.
The bigger picture for Vietnam
Led by manufacturing, Vietnam's vibrant businesses have helped the country's GDP per capita multiply 10-fold since 1985. Just last month Japanese investment bank Nomura named Vietnam the biggest winner from the United States (US) – China trade war after its economy grew by 7.9 percent as a direct result of a year's worth of trade diversions leading up to the first quarter of this year.
Vietnam's start-up scene is experiencing even better growth, with Vietnamese start-ups attracting US$889 million in investment last year – three times the value in 2017 – according to start-up accelerator Topica Founder Institute. Fintech, e-commerce, traveltech, logistics, and edtech were identified as the five most profitable fields for Vietnamese start-ups. Over US$500 million of that sum was sourced in Vietnam, a clear sign that domestic players recognise the potential of local start-ups.
From a city-wide perspective, Ho Chi Minh City's addition to the GIA is in line with city planners' goal to turn the urban sprawl of 8.6 million people into an international financial hub. By June 2020, the newly-developed Thu Thiem area in District 2 is expected to start construction of a financial centre complex as part of the government's plans to attract major investors, enterprises and financial institutions.
In addition, initiatives such as the Vietnam Innovative Startup Accelerator (VIISA), which was started in 2017 with the goal of investing in over 100 global-ready Vietnamese start-ups over a five-year period, also aids the development of the start-up community in Vietnam.
All things considered; the GIA couldn't have picked a better location to expand to.
Related articles:
ASEAN competitive despite global turmoil
Vietnam biggest winner from US-China trade war