Vietnam's already strong economic outlook received another boost last week after Japanese investment bank Nomura named it the biggest winner from the United States (US) – China trade war, with its economy surging by 7.9 percent as a result of one year's worth of trade diversions leading up to the first quarter of this year.
The standoff has seen gross domestic product (GDP) gains in several other countries, though none of them are anywhere as close to Vietnam's. 
Taiwan are the next biggest benefactor of the trade war after its GDP rose by 2.1 percent, followed by Chile (1.5 percent), Malaysia (1.3 percent) and Argentina (1.2 percent). Singapore (0.7 percent), Thailand (0.5 percent) and the Philippines (0.1 percent) were the other ASEAN countries which saw their economies rise according to the report released last week.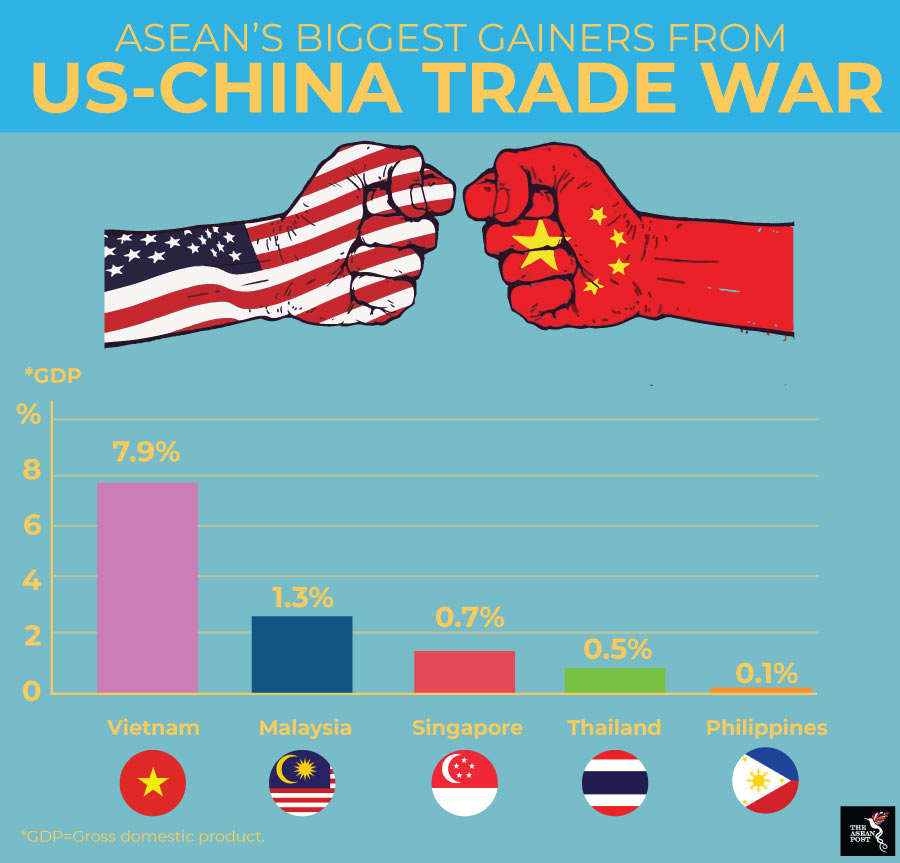 Source: US Census Bureau, China General Administration of Customs and Nomura
'Negative for the world economy'
"The escalating trade war between the world's two largest economies is no doubt negative for the world economy, but one aspect can be positive: the US and China diverting imports away from each other to other countries can benefit some industries in those economies," Nomura analysts said in the report.
Both Vietnam and Taiwan gained far more from US tariffs on China than vice versa, and a large share of Vietnam's gains came from additional imports of goods covered by US tariffs on Chinese electronics – likely because it is easier for multinationals to shift production to facilities outside China.
The report, which estimated gains for the world's top 50 economies, is likely the first major research paper to take into account one year's worth of trade since the US imposed its first round of tariffs on almost US$50 billion worth of Chinese imports last April. The study looked at US tariffs on US$250 billion worth of Chinese goods and China's levies on US$110 billion worth of US products.  
Nomura found evidence of US and China import substitution in 52 percent of the 1,981 tariffed products, with trade in Chinese furniture and travel goods joining electronics as the most likely to be diverted. Chile and Argentina gained the most due to Chinese duties on US soybeans, aircraft, grain and cotton. 
Impressive statistics
The report comes on the back of other equally impressive statistics surrounding Vietnam's economic growth.
Vietnam has been among the fastest-growing sources of American imports after they grew 40.2 percent year-on-year in the first three months of 2019 according to latest US Census Bureau import trade data.
And less than two weeks ago, Singapore-based DBS Bank predicted that Vietnam's economy would surpass Singapore's in the next decade if both countries maintain their current rate of growth.
As it is, Vietnam's economy grew by 7.1 percent last year boosted by its manufacturing sector, the second fastest rate in Asia behind India's 7.2 percent.
Vietnam and US
While Vietnam was one of the five countries added to the US Treasury Department's watch list for currency manipulation late last month for artificially holding down the value of the dong, financial analysts Bloomberg still expect Vietnam's exports to the US to hit nearly US$69 billion this year – this after total bilateral trade of almost US$62 billion last year.
Vietnam has a healthy economic relationship with the US, and their trade surplus with the world's largest economy stood at US$39.5 billion in 2018.
US President Donald Trump is well aware that Vietnam stands to gain from the trade war.
"Many tariffed companies will be leaving China for Vietnam and other such countries in Asia. That's why China wants to make a deal so badly!" Trump wrote on Twitter on May 13.
The big picture
Although the Institute of Chartered Accountants in England and Wales' (ICAEW) recent report on ASEAN noted that trade diversion may temporarily benefit Vietnam, the country remains highly exposed to China. 
Total exports to China in accounted for 10.3 percent of GDP in 2017, of which around 85 percent was used to meet Chinese domestic demand.
China is ASEAN's top trading partner, and tariffs on both sides of the pond mean that companies in the middle of the global supply chain are losing out. This is evident in the ICAEW report which stated that the deterioration in export momentum across ASEAN has continued into the second quarter of 2019, with only Vietnam bucking the trend.
As Nomura concluded in the report, higher US tariffs penalise not only the assembler of the product but also suppliers through the value chain – and smaller Asian economies are particularly vulnerable given Asia's elaborate supply chains with China at the epicentre.
Related links:
How the trade war affects the ICT industry
Vietnam is the region's fintech hub