If Internet speed was an event at the Asian Games, Singapore will surely pick up the gold medal. Its fixed broadband speed of 181.47 Mbps is the fastest in the world, beating the likes of Hong Kong (145.65 Mbps) and Iceland (143.62 Mbps), according to Ookla's Speedtest Global Index.
Within the ASEAN region, winners of the Silver and Bronze in the fixed broadband category are Thailand (47.35 Mbps, 34th in global ranking) and Malaysia (27.43 Mbps, 58th in the world).
In the mobile Internet category, Singapore's 52.84 Mbps is rated fourth fastest in the world, but still leads the ASEAN pack, with runners-up Myanmar (22.7 Mbps) and Vietnam (20.4 Mbps) beating out veteran Malaysia (17.58 Mbps).
Ookla collects data when users run speed tests on its sites. It reflects real-world experience between a user's device and the Internet, using data moving through multiple streams simultaneously. This is different from Measurement Labs' NDT test which measures a single connection to a server, and typically yields a lower figure.
The speed of an Internet connection determines how enjoyable the experience is to an end-user. If a webpage or application takes a long time to load, users tend to skip past it. Interactive applications, such as video streaming, online games and video chats, require a fast Internet connection as well.
Even in corporate settings, uploads speeds are important for sharing large files, high-resolution graphics or even high-definition video to clients. The International Association of Conference Centers (IACC) noted that demand for high-speed broadband will continue to increase.
In its latest Meeting Room of the Future Report, the IACC stated that high-speed broadband Internet connections and Wi-Fi access throughout a conference venue are no longer "nice-to-have" but instead are "essential."
"Delegates today come to meetings with not just one, but often two or three devices that can devour your property's Internet capacity quickly if you haven't adequately planned your infrastructure," it said. "You need to match your bandwidth to your guests' demands or risk losing business."
Modern conferences today increasingly use multimedia presentations, large screens, live broadcasting and video conferencing, and attendees will demand access to high-speed Wi-Fi.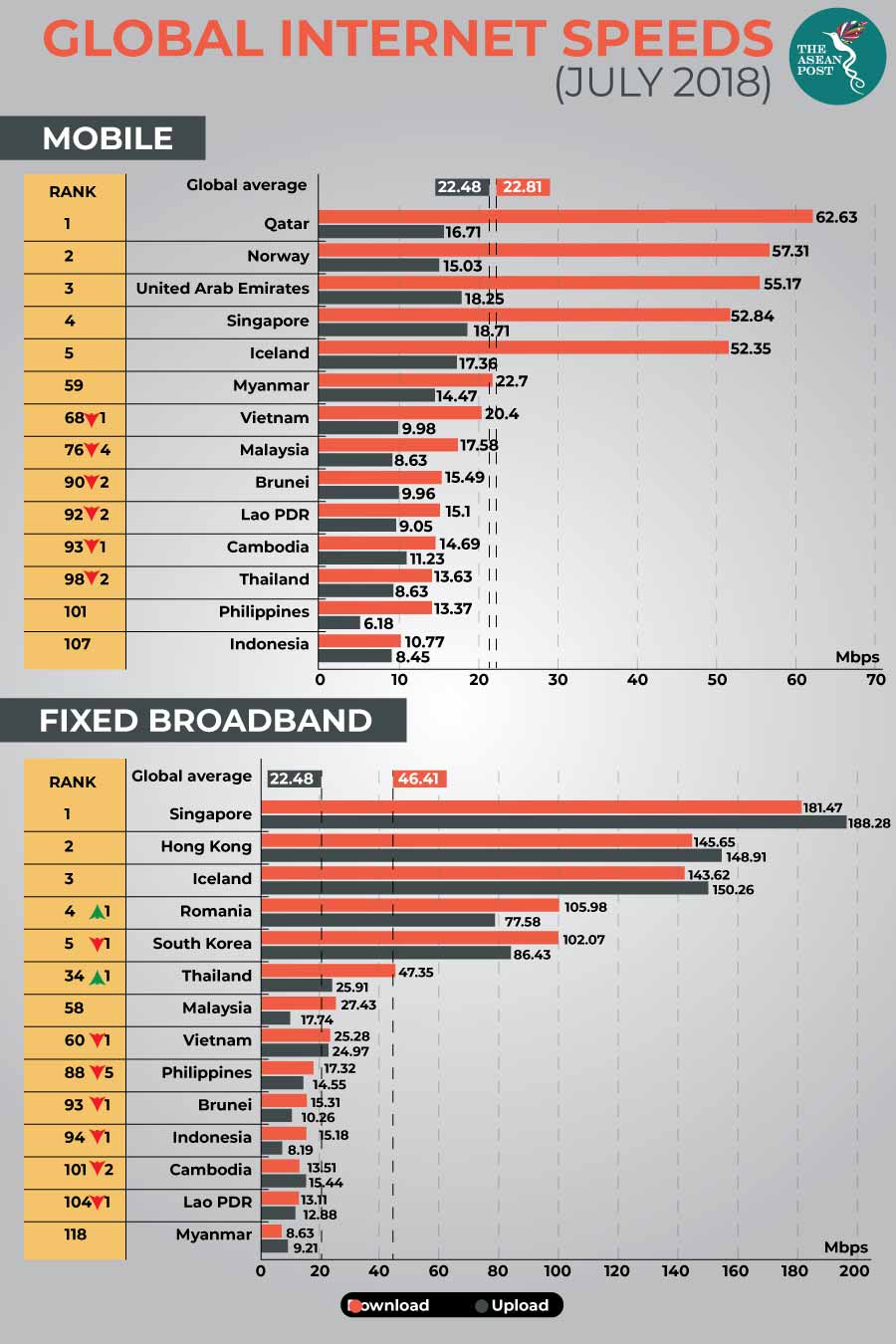 As Speedtest data is derived from actual speed tests conducted by users at various locations, they reflect the availability and affordability of connections in each country.
Speed at a price
The Alliance for Affordable Internet advocates for 1GB of mobile prepaid data to cost no more than two percent of the average monthly income in a particular country. This would enable all income groups to afford a basic broadband connection. However, this formula is less useful when there is a big disparity in income levels.
Telecommunication providers (telcos) typically charge a tiered pricing structure, charging more for faster connection speeds. This limits the take-up to large corporations.
Cable.co.uk commissioned a survey on the average cost of broadband and found a big disparity between countries. Within ASEAN, Singapore has the lowest cost, at US$0.05 per Mbit per month, followed by Thailand (US$0.42) and Indonesia (US$1.39). The same top two "medallists" for fastest fixed broadband speeds in the region.
Interestingly, third-placed Malaysia is the sixth priciest at US$3.16 per Mbit per month, behind Vietnam (US$2.41) and the Philippines (US$2.69).
The World Bank's July Economic Monitor report noted that digital adoption by Malaysian businesses is average for a lower middle-income economy. Only 62 percent of businesses are connected to the Internet, 46 percent have access to fixed broadband services and 18 percent have some form of web presence, it said. Slow Internet connections and a lack of affordable broadband plans were cited as two major barriers to digital adoption.
Following his appointment as Malaysia's Communications and Multimedia Minister, Gobind Singh Deo announced his ministry will focus on doubling Malaysia's Internet speed and reducing prices.
However, the World Bank report urged Malaysia to look beyond doubling its Internet speed and achieving gigabit-level of connectivity like advanced economies.
Unlike the Asian Games, the Internet speed race is not run every four years. Speedtest results are updated each month and there may yet be a new winner soon.
Related articles:
Tapping into digital consumers for greater business opportunities