With nearly 74 police reports lodged and a chorus of criticisms from civil society groups and Malaysians over safety conditions and the promotion of immoral acts, controversial online dating platform Sugarbook was blocked by the Malaysian Communication and Multimedia Ministry (MCMC). Its founder, 34-year-old entrepreneur Darren Chan, was soon arrested.
Fadzil Ahmat, Senior Assistant Commissioner in the Criminal Investigations Department of Selangor, Malaysia's richest industrial hub state, confirmed the arrest was for breaches involving public mischief, exploitation, and soliciting prostitution, as well as improper use of network facilities. These alleged offences could lead to a penalty of up to 15 years in jail with a fine and whipping.
The uproar started as a result of a PR stunt in a survey gone wrong that was conducted by Sugarbook which contained unverified statistics claiming there were close to 300,000 Malaysian "sugar babies" consisting of mainly female university students in their 20s, who are in materially beneficial relationships with older men. 
Aside from including regional sustainable city developer Sunway's education arm at the top of the list, which resulted in a strong statement from Sunway University condemning it and informing parents and society at large that their university is a safe ground for educational purposes – the list also included Malaysia's decades-old beacon of bumiputra education policy – University Teknologi MARA (UiTM). The latter is an institution that is viewed as sacred to the Malay right agenda; permitting the enrolment of Malaysians of Malay ethnicity only.
What began as a marketing gimmick to capture its target audience and to promote its modus operandi – Sugarbook matches "sugar daddies" to "sugar babies," or older and generally more well-off men to young women in what is largely seen as a financial arrangement – has backfired as a failed and costly PR stunt.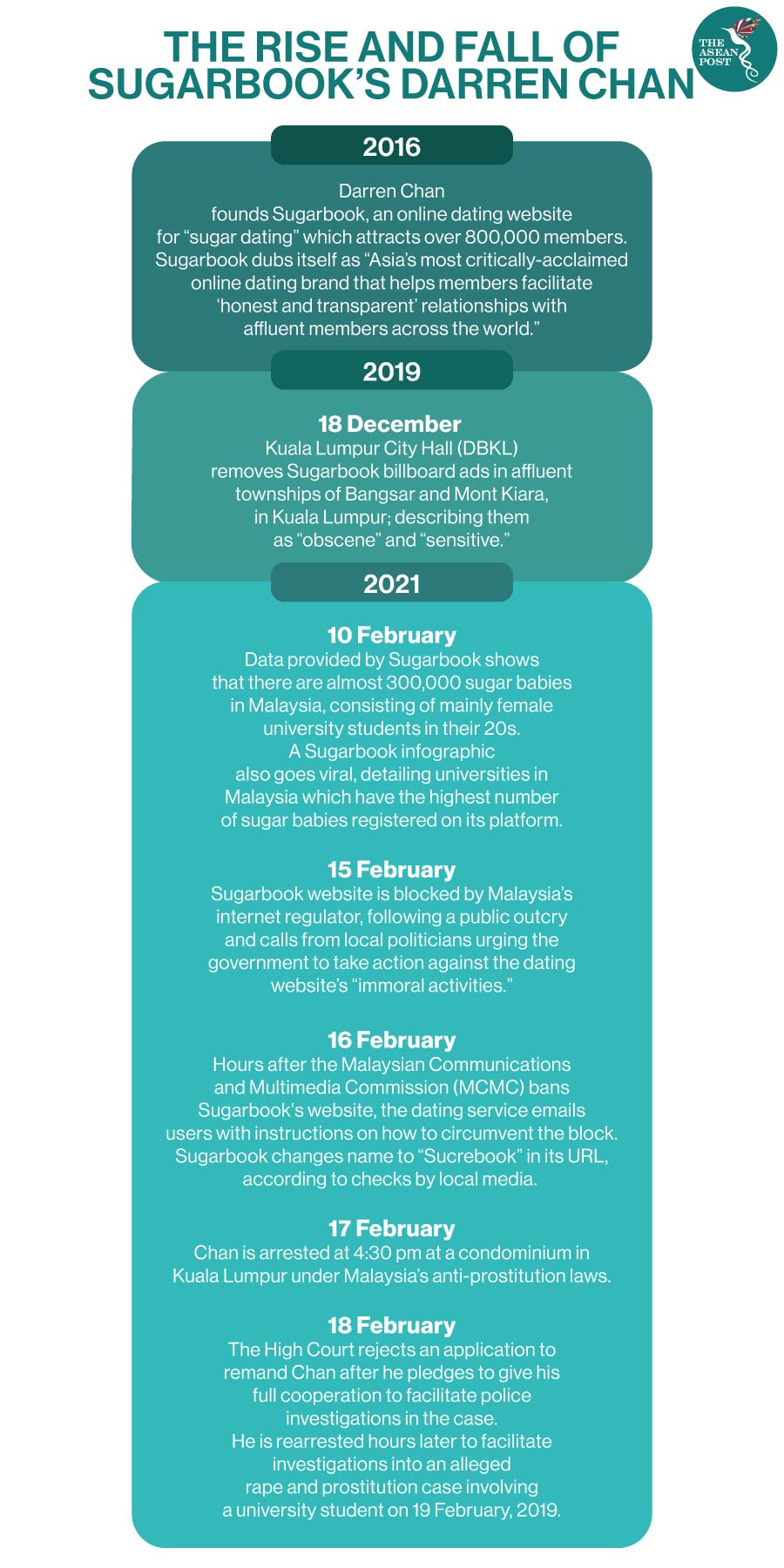 Constitutional Rights & Civil Liberties
From a civil rights and liberal society perspective, where one is free to do as he or she wishes as part of the Universal Declarations of Human Rights, Sugarbook could be said to have done no harm. 
At some point, this narrative was being championed by Sugarbook, only to be shot down with the blocking of the platform and its website by the MCMC. To circumvent the network takedown, the platform decided to host its IP elsewhere and provide Malaysians with unfettered access to the platform. This irritated local authorities which then led to the immediate arrest of Chan at a condominium in Kuala Lumpur. He was then brought before the Shah Alam Court in the capital city of Selangor.
Although conceding that this "fruitful" entrepreneurial jockey had come to an end, reports have cited his adamance and desire to continue; stating that the company, domiciled in Cyprus – a questionable move for any start-up located in ASEAN – will ensure services are not disrupted in Singapore, Hong Kong, Thailand, and the United States (US). 
Data on Sugarbook's actual userbase and audience size is still unverifiable. 
The Morality Standpoint
ASEAN is home to a diverse, multi-cultural and multi-ethnic society with strong values and belief systems. Promoting an irresponsible way of life via a platform that is capable of enabling both, predators and sex traffickers to exploit it, whilst also contributing to other social ills is something that is wholly unacceptable and frowned on openly in this part of the world. 
This case perhaps may be viewed differently in the liberal Americas or the Nordic region where Sugarbook would have fared better, given the perception that Western society is driven and entitled to their fundamental rights.
However, in Southeast Asia, the moral and belief systems are different. 
Parents sending their children to study do not want their daughters pursuing the material benefits of having a "sugar daddy" – a hip and cooler term to describe older men with deep pockets of change – are able to provide these young ladies to fulfil their wildest dreams. 
Educational institutions do not want their campuses to become breeding grounds or transit points for immoral activities when they should be places of intellectual attention with high moral standards. 
Families do not want their households brought into disrepute by dropouts, unwanted pregnancies, extra-marital affairs, scandals, or any other unfortunate events. 
To date, there have been no reports of such cases, or perhaps unheard of because of the highly judgemental and conservative society that Malaysians operate within.
Moreover, in more highly conservative Malaysian Hindu and Muslim homes, such escapades would lead to huge controversial, and possible honour-based, and religiously charged punishments. 
"Bona Fide" Online Dating Platforms
A recent report by the United States' (US) Federal Trade Commission (FTC) found that more people have been flocking to online dating platforms in search of romance and companionship in the wake of COVID lockdowns and social distancing mandates. 
At the same time, romance scams have grown from threefold in the last four years to fourfold during the pandemic. 
WeLiveSecurity, a Bratislava-based internet security firm with experienced researchers who have in-depth knowledge of the latest threats and security trends in the digital landscape, found recently that COVID-19 had created a golden opportunity for crooks to take advantage of unsuspecting victims, claiming job losses or costly healthcare bills to even saying they are COVID-19 positive to dodge "first dates" or "love interest meetings."
Closer to home in ASEAN, transnational love scam syndicates have begun emerging. In the middle of a COVID-19 lockdown in May 2020, the Royal Malaysian Police and Singapore Police Force, in a joint international exercise, raided a luxury apartment in the heart of Kuala Lumpur detaining a Malaysian woman and three Nigerians. They had cheated eight victims to the tune of US$200,000.
Speaking to Channel News Asia, Singapore Commercial Affairs Department Director, David Chew was quoted as saying: "Notwithstanding the global lockdown in trade and human traffic, criminals use the internet to target victims across international boundaries." 
Hong Kong, the financial hub of Asia, is a densely populated city that has also seen online and dating scams skyrocket. A recent report by a news agency stated that according to data from the Hong Kong police, 681 people in the territory were duped out of their savings between January and September in 2020, marking more than a 50 percent jump from the previous years' figures.
Thus, "sugar daddies" and "sugar babies" are both susceptible to the brunt of this new shadowy and illicit domain that is part of the ongoing COVID fallout. The ill-effects clearly outweigh the benefits to society as a whole.
In Malaysia, the timing of this event coincides with Prime Minister Muhyiddin Yassin's National Harmony blueprint which aims to unwind decades of draggy, race relations. The recently-launched National Harmony Bill is expected to promote understanding and fostering a Malaysian society that is built on a solid moral compass and value system.
It can be deemed that Sugarbook goes against the very initiative that the government is trying to promote and the society it is trying to build. 
Related Articles:
Sex Work, OnlyFans And Sugar Dating In A Pandemic