The world has embarked on the Fourth Industrial Revolution and technology continues to evolve and improve almost on a daily basis. In keeping up with the revolution, we have seen how technology is being put to good use to fight crime in ASEAN countries like Thailand and Indonesia, just to name a few. But where crime fighting has improved with the use of better tech, criminals too have stepped up their game with the use of technology. Perhaps one of the more tragic areas this evolution in crime presents itself is in the exploitation of children.
In May, victims and children's charities warned that Southeast Asia was in the grip of a fresh surge of paedophile activity with predators orchestrating and watching abuse on live-streaming sites and via webcams, and paying for it with near-untraceable cryptocurrency.
They noted that tougher policing and greater awareness have deterred some offenders, however technology had shifted the patterns of abuse in a region with growing access to broadband internet and encrypted technology. According to experts, paedophiles now have at their arsenal an array of mobile and online tools – including social networks, video-sharing sites, and the dark web – to direct and watch child rape and sexual abuse with anonymity.  
The issue was recently mentioned by an Australian Government-led consortium of leading child rights advocates, together with the Philippine Government, which noted that new technologies, such as live streaming, are contributing to the rising incidents of cybercrime in the Philippines. More than just that, it was also revealed that an alarming 80 percent of these cybercrimes is made up of the online sexual exploitation and abuse of children.
On 22 October, the consortium launched the SaferKidsPH campaign to raise national awareness on the extent and impact of online sexual exploitation and abuse of children in the Philippines. The SaferKidsPH campaign is in partnership with the United Nations Children's Fund (UNICEF), Save the Children Philippines and The Asia Foundation. 
SaferKidsPH will engage the government, non-government agencies, special task forces and committees, civil society, communities and schools, the private sector, media and other like-minded donors to support and be part of innovative and sustainable solutions.
The Philippines usually scores better when compared to other ASEAN countries when it comes to fighting the scourge of child abuse such as in the recent Economist Intelligence Unit's report. Nevertheless, the country is not without its own set of problems and this is especially the case when it comes to child pornography.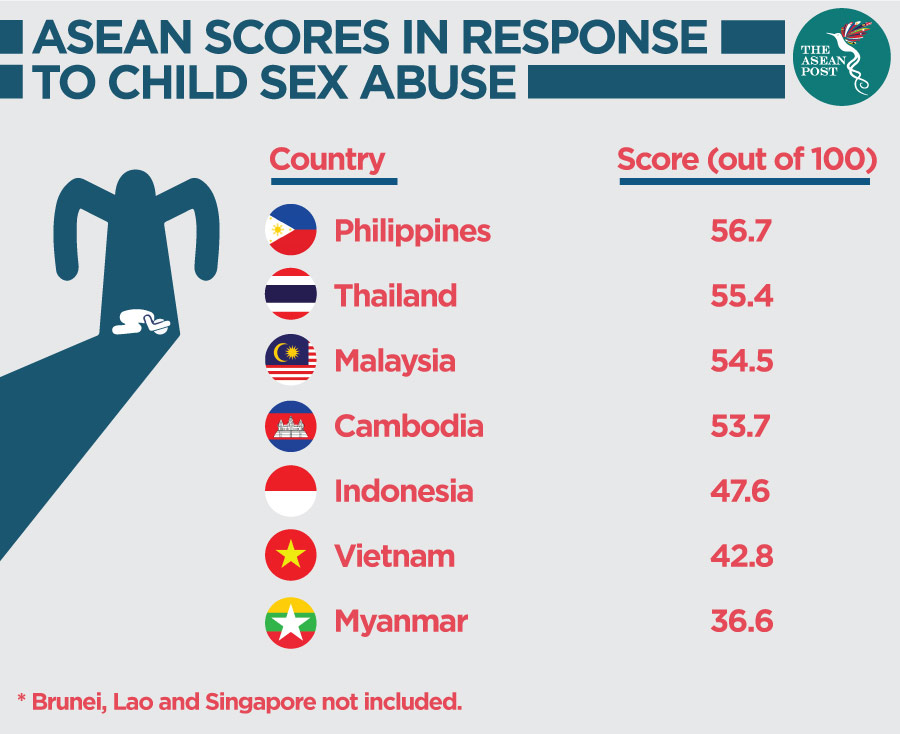 News reports in December 2017 cited a 2017 report by The United Nations Children's Fund (UNICEF) entitled "Children in a Digital World" as stating that the Philippines had become a top global source of child pornography with around 80 percent of Filipino kids at risk of online sexual abuse or bullying.
"Child pornography is a billion-dollar industry, and Filipino children are the ones being traded and exploited online. Children who are made to perform sex acts in front of a web camera will never get their childhood back. We must all work together to protect our children," UNICEF Philippines Representative, Lotta Sylwander was quoted as saying. 
Service providers
During the launching of the SaferKidsPH campaign, The Department of Social Welfare and Development's (DSWD) Undersecretary Aimee Neri told reporters that one noticeable gap in anti-child pornography law enforcement is the non-compliance of internet service providers (ISP) with a certain provision of the law.
In the Anti-Child Pornography Act, ISPs are required to inform the Philippine National Police (PNP) and the National Bureau of Investigation (NBI) within seven days of obtaining facts or circumstances regarding any form of child pornography engagement on their servers.
Neri said that, despite the law being enacted for 10 years, the National Telecommunications Commission (NTC) and the Department of Information and Communications Technology (DICT) fail to report to them.
"We've tried in 2016 to communicate with them. According to the ISPs, it's easier to pay the administrative or penalty fees than to track or intercept these websites," she said, adding that this was a gap in that particular provision of the law that neither the NTC or DICT saw coming.
The Philippines has done a good job in tackling most forms of child sexual abuse in the country, especially when compared to the rest of ASEAN. Nevertheless, there is a lot more room to improve and this is especially true in terms of tackling child pornography. Since technology has made this issue even more complex and difficult, vigilance and a concerted effort from all quarters will be the best way to protect Filipino children.
Related articles:
Fighting bribery with tech in Indonesia