Tomorrow, 24 March 2019, is a day that will forever be etched in the history books. Tomorrow, Thais will choose who they want to lead them to glory or perhaps drag the country down to damnation. While some pundits believe that victory is already in the hands of general turned prime minister Prayut Chan-o-cha, and that whoever wants to taste victory should align themselves to the military; the ultimate choice still lies in the hands of those who will make their mark on the ballot papers.  
While the National Council for Peace and Order (NCPO) may have already hand-picked 250 members for the Senate, making a win by Prayut that much more attainable, the fact that many Thais are fed-up of being under the thumb of the military makes it anyone's game. This frustration of living under the military junta's rule was made abundantly clear when a song entitled "What my country's got" (Prathet Goo Mee) by Thai rap group Rap Against Dictatorship went viral on YouTube, garnering tens of millions of views and reviews. 
In a country that has seen more than its fair share of military coups, there is little doubt that Thais want to be governed by a democratically-elected leader. 
But what of Prayut himself? 
Are Thais as fed-up with Prayut as they are with the fact that they are governed by the military? The recent opinion survey by Suan Dusit Rajabhat University, or better known as the Suan Dusit Poll, seems to indicate the opposite. 
In a nutshell, the poll shows that the majority of Thais believe that political conflict is likely to occur, and that a strong-willed, stern leader who puts peace before political gain is what will avert it. Looking at the prime ministerial candidates that different Thai political parties have to offer, Prayut is most likely to fit this bill. Considering Prayut's strong affiliation with the army, he also seems to be the safest bet if the country wants to avoid another coup.
But apart from security, it was under Prayut's watch that Thailand embarked on its Thailand 4.0 vision, making technological strides even in the police force. It was also Prayut who brought about the Eastern Economic Corridor (EEC), attracting huge sums of foreign investment in the process. And it was under Prayut too that Southern Thai Muslims were allowed to enjoy local mores on language and Islamic dress; even resulting in the lowest number of reported deaths since the Southern Thailand Insurgency began. 
The good that Prayut has done for Thailand does not take away from the fact that he was not democratically-elected. And while the military coupe of 2014 was supposedly in response to high levels of corruption that was plaguing the country – and it was – statistics say there has been no meaningful drop in corruption since the NCPO took control, bringing to question whether the main reason the coup was carried out was to fight corruption or merely to get rid of Thaksin.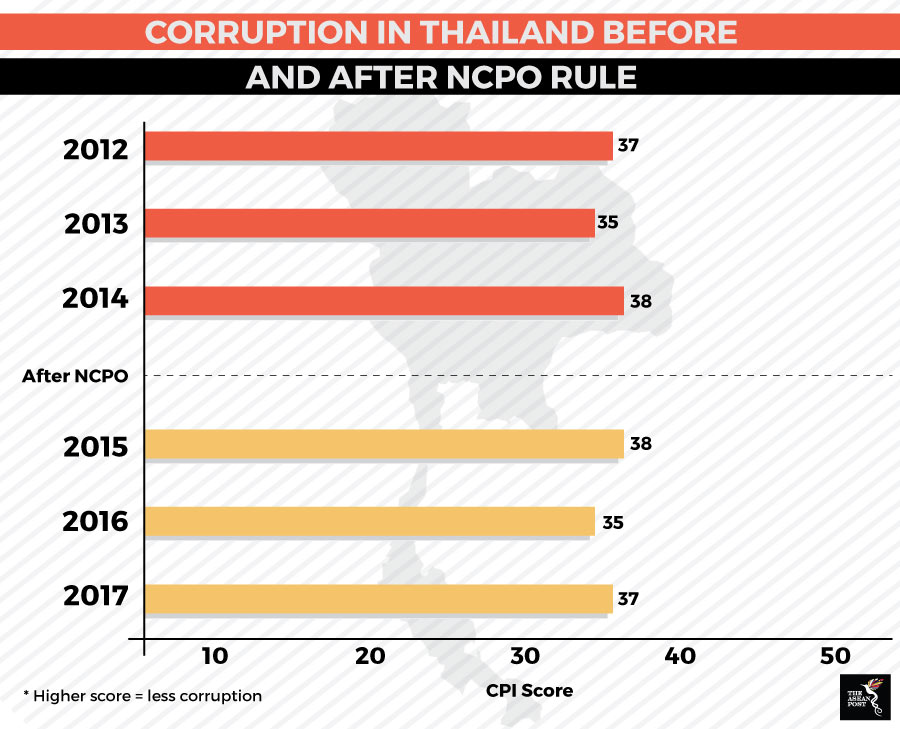 Source: Transparency International
Prayut is seeking political legitimacy and there's nothing wrong with that. However, many politicians have complained that the way he is going about it has been unfair as he has allegedly been using his power to get a leg up on the competition. 
The question that Thais must ask themselves, even as they walk into polling booths tomorrow, is whether the good Prayut has done for the country outweighs what he stands for and how he came into power in the first place. And if not, then what is their alternative and how long will that alternative last before a country known for its military coups sees another one? Will the 2013–2014 political crisis that brought about the coup which has landed them in the current predicament they are in today still be fresh in their minds? Will they also consider the real prospect of having to live through another coup again if they elect the wrong leader?
Who will end up the victor and chart the course of Thailand's future is still anyone's guess. One thing is for certain though; after a long and suspenseful wait, eligible voters from all corners of the country will come together tomorrow and choose their new government. 
We at The ASEAN Post wish all Thais the very best and hope for a peaceful voting process tomorrow. โชคดี!
Related articles:
Thais might still want Prayut as PM
Attracting more investors to Thailand
Corruption before and after the NCPO