The Delhi Declaration that was announced recently during the ASEAN-India Commemorative Summit is a mutual commitment "to further deepen and strengthen" the strategic partnerships of all 10 ASEAN countries with India. One of the more interesting highlights of the declaration is the call for stronger partnerships in countering terrorism within the region. The declaration calls for "…the compliance with the relevant United Nations Security Council resolutions regarding counterterrorism."
Geopolitical ambitions aside, India's pact with ASEAN highlights a growing concern many have with Southeast Asia – the threat of regional terrorism. Last year's Battle of Marawi shows that the threat of terrorism in the region is still pervasive. According to The Manila Times, 47 civilians were killed as a result of the siege by militants associated with ISIS and Abu Sayyaf. The Economist reports that 1.1 million civilians in Marawi have been displaced because of this conflict.
One of the main concerns for the region in 2018 is the threat of returning ISIS fighters from Syria and Iraq. The New York Times said in September last year that more than 500 Indonesians have joined ISIS in Syria, while Malaysian daily, The Star reported that there are about 60 Malaysians fighting in Syria as of last year.
The threat of returning fighters could be more real now that ISIS in Iraq and Syria are considered defeated after losing control of their de facto capitals, Mosul in Iraq and Raqqa in Syria. However, testifying before the House Subcommittee on Counterterrorism and Intelligence on ISIS' reach in ASEAN, Joseph Chinyong – Dean of the S. Rajaratnam School of International Studies at Nanyang Technological University – said that ISIS has called for a new front to be established in Libya, indicating that the likelihood of these fighters actually returning home are low. Sidney Jones, Director of Institute of Policy Analysis of Conflict (IPAC) speaking at Yusof Ishak Institute's Regional Outlook Forum 2018, echoed this sentiment as well saying that there probably isn't going to be a flood of returning terrorists. She did however say that the worry is that "…two or three of them could come back to the region and play a leadership role, particularly those who have been in contact with local pro-ISIS groups."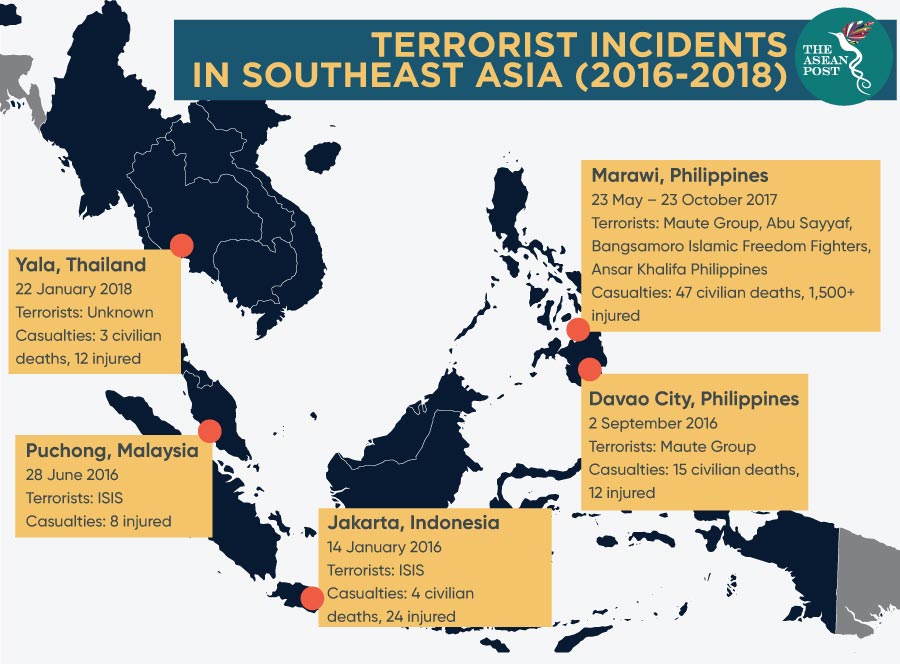 The Battle of Marawi last year has also raised several other concerns about the state of terrorism in the region. Sidney Jones said that the coalition of ISIS affiliates in Marawi last year indicates that regional groups from different countries are working together. She said that ISIS forces fighting at the Battle of Marawi received help from a significant number of ISIS converts from outside Mindanao as well as from foreign operatives hailing from Malaysia and Indonesia. According to Sidney, different groups banding together gives the alliance a much larger reach and creates a diversity in tactics for them to exploit.
This growing concern of the co-operation between cross-border terrorist organisations and individuals was also echoed in an IPAC report released last year. The report, titled "How Southeast Asian and Bangladeshi Extremism Intersect" revealed that radicalised Bangladeshi students in Malaysia are forming partnerships with pro-ISIS groups in Bangladesh. The report also shows that the arrests of Bangladeshi fugitives hoping to get to Mindanao – a hotbed for terrorist groups – and the Malaysians and Filipinos assisting them indicates a "deeper web of interaction."
The persecution of Muslims in Thailand and Myanmar has also worried some observers that non-local Islamist extremists might use this opportunity to recruit. Foreign Affairs magazine reported last year that al-Qaeda has already made a call to arms against the government of Myanmar. Reuters reported last year that Malaysian authorities have detained a suspected ISIS follower who was planning to carry out terror attacks in Myanmar.
The prospects of terrorism in the region this year may seem worrying, but Joseph Chinyong says the operational capabilities of Southeast Asian militant groups remain limited and mass casualty attacks are still unlikely.
"Though eliminating terrorism altogether would be a tall order, the threat is certainly manageable if the correct balance of perspective and policies are taken, and cooperation among regional states is enhanced," he explained.
Related articles:
The boom in intra-ASEAN health tourism
The struggle for human rights in ASEAN