Cambodian women are posting images of themselves in swimwear and skimpy outfits on social media in a move to condemn a proposed law governing the way people should dress in public.
The draft legislation, said to take effect in 2021 – if approved by government ministries and the national assembly – would allow Cambodian police to fine people deemed to be dressed inappropriately. The law would prohibit women from wearing anything "too short" or "too see-through" and would also ban men from going out shirtless.
Although billed by the Cambodian government as a way to preserve national traditions, rights campaigners said it could be used to curtail women's freedoms and reinforce a culture of impunity around sexual violence. 
Women in the conservative Southeast Asian country are traditionally expected to be modest, soft-spoken, well-mannered, 'light' walkers and must remain virtuous to uphold the image of their families, as described in Khmer literature. Nevertheless, in recent years, women in Cambodia have become more outspoken and active in the traditionally male-dominated spheres of work and politics in the country.
Eng Chandy from the Gender and Development for Cambodia charity told reporters that the news of the proposed law has taken the discussion of gender equality in the country to a new level.
"The reaction on social media is very positive: people from all parts of society are talking about gender equality," added Chandy.
Earlier this year, a woman who sells clothes and cosmetics on social media was sentenced to six months in prison on pornography and indecent exposure charges after ignoring official warnings to wear 'less revealing' outfits while selling her products in a Facebook live stream.
Days prior to her arrest, Prime Minister Hun Sen had ordered authorities to take immediate action against women using provocative sales pitches on social media, which he said sullied Cambodian culture and encouraged sexual violence. 
"We want to maintain Khmer women's values. The actions of such sellers devalue women and make men do bad things," said Culture and Fine Arts Ministry's spokesman, Long Bunna Sireyvath.
Rights groups have criticised the crackdown, warning that the new law could put women at further risk of sexual harassment and violence by fostering a culture of victim-blaming.
"Hun Sen's assertion that women are to blame for sexual violence and human trafficking due to their choice of dress on Facebook is a despicable and dangerous instance of victim-blaming. This rhetoric only serves to perpetuate violence against women and stigmatise survivors of gender-based violence," said Nicholas Bequelin, Amnesty International's Regional Director.
Rape Culture
Rape culture is a culture in which sexual violence is treated as the norm and victims are blamed for their own assaults. Unfortunately, this can be seen evidently everywhere across the world. In a documentary film titled India's Daughter which is based on the 2012 Delhi gang rape and murder of a young female student – one of the suspects and even some of the lawyers blamed the deceased of the brutal crime.
"A decent girl won't roam around at nine o'clock at night. A girl is far more responsible for rape than a boy," said Mukesh Singh, one of the five convicted.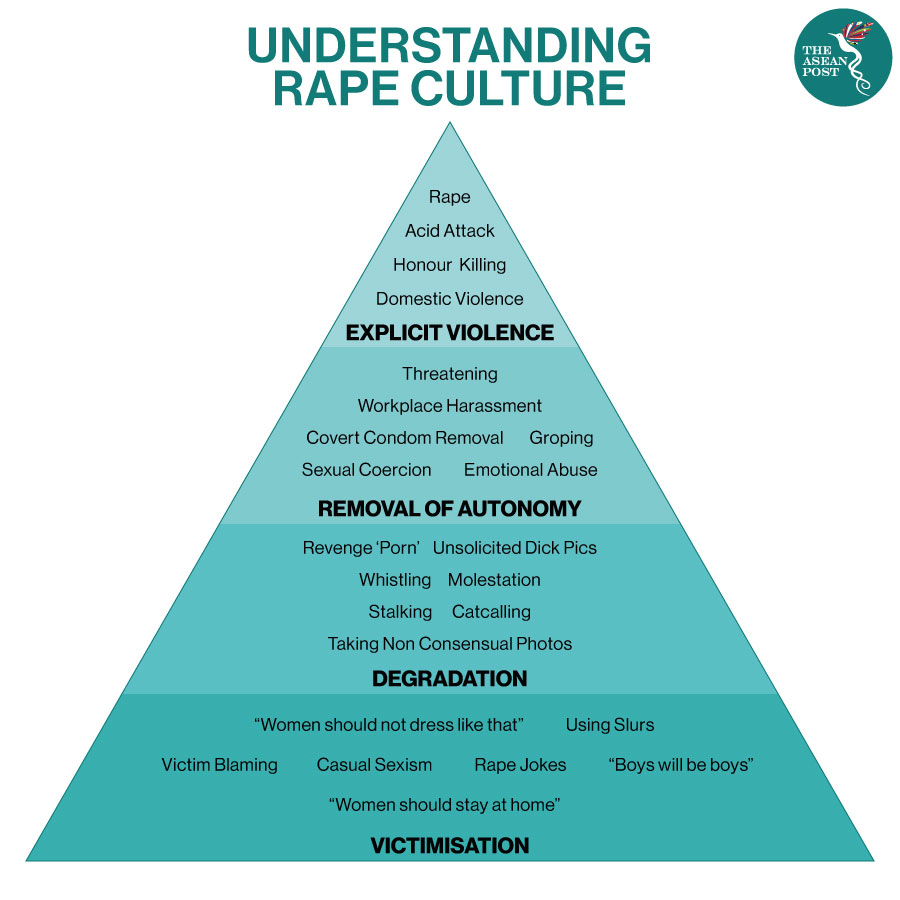 In Cambodia, it was reported by human rights group, Licadho that rape cases in the country have become more brutal over the years. Cases of gang rape, assault on minors and assaults by relatives are all too familiar.
A 2019 joint study conducted by three non-governmental organisations (NGOs) – Klahaan, Urban Poor Women Development, and People in Need revealed that some Cambodians blame domestic abuse on the victims. In a report titled, 'Experiences of Gender-Based Violence in Urban Poor Rental Housing Communities of Phnom Penh' it was found that while the perception of the majority of those surveyed was that gender-based and domestic violence was decreasing, the culture of victim-blaming still persisted.
This is perhaps one of the many reasons why victims don't report assaults or seek help. Although some countries release official figures for rape cases, many of these heinous violations go unreported. Instead of continuously asking girls and women to dress 'appropriately' or to always be alert of their surroundings, maybe it's about time to ask boys and men to stop raping.
Related Articles: