The deadly COVID-19 virus has threatened the lives of billions worldwide. To date, over 470,000 have already succumbed to the novel coronavirus and more than nine million people have been infected with the highly contagious disease. This has prompted governments around the world to impose strict measures to contain the virus such as citywide lockdowns. Some countries have even resorted to a nationwide lockdown – travel curbs, restricted movements and shuttered borders. The pandemic has severely affected livelihoods and major industries as lockdowns have halted business operations and prevented millions from going to work. 
Nevertheless, some sectors have been thriving amid the coronavirus crisis. These include tech, e-commerce, healthcare and even video gaming. 
According to e-commerce aggregator, the iPrice Group, computer equipment has seen a surge in demand among ASEAN consumers in March as millions of people were urged to stay indoors. With people avoiding going out to public spaces and confining themselves at home over virus fears – gaming has become a means of escapism and a time filler for many. 
The global video game market is forecasted to be worth US$159 billion in 2020 – about four times box office revenues (US$43 billion in 2019) and nearly three times music industry revenues (US$57 billion in 2019), said the World Economic Forum (WEF). The biggest market by revenue is the Asia-Pacific region with almost 50 percent of the games market share by value.
The World Health Organisation (WHO) even praised the #PlayApartTogether campaign where over 50 companies in the industry encouraged their user networks to follow WHO guidelines, including social distancing and hand hygiene.
Newzoo, a market research firm specialising in games and e-sports analytics stated in its report published last month that all game segments saw an increase in engagement and revenues as a result of COVID-19 preventive measures, with mobile gaming experiencing the biggest increase.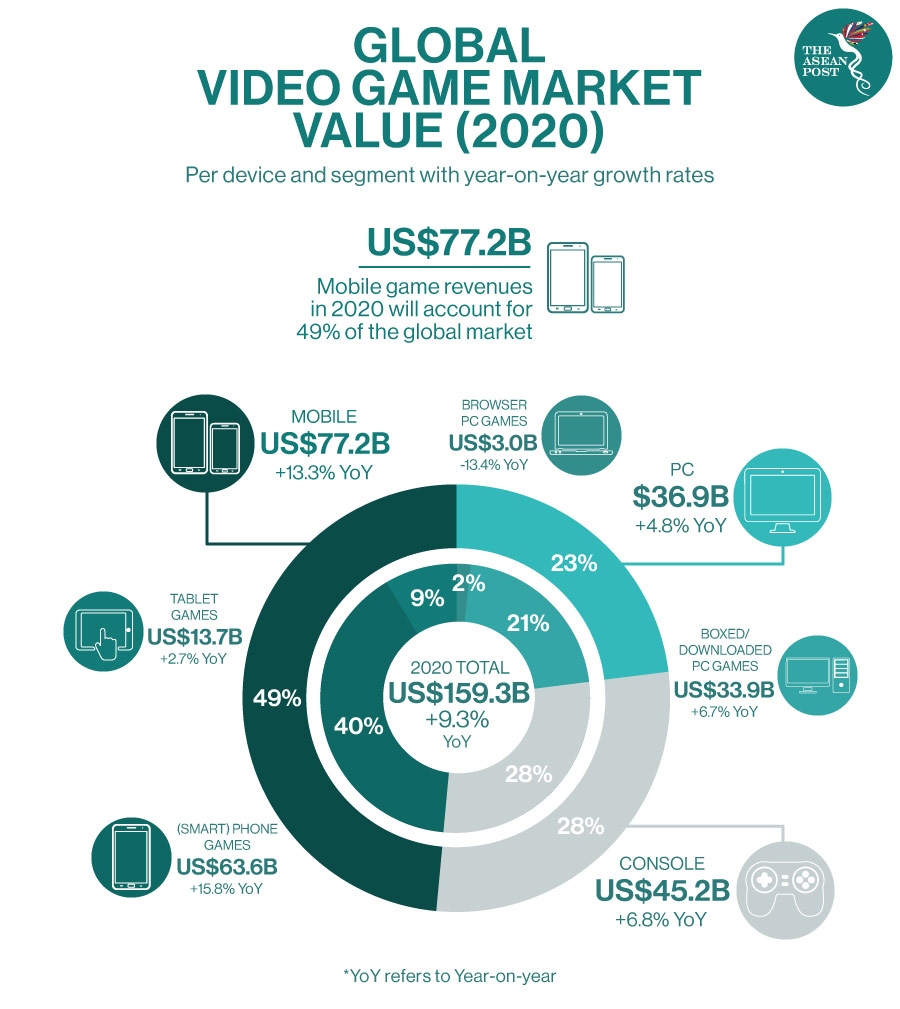 Newzoo has projected that mobile gaming will generate US$77.2 billion in revenues this year, an increase of 13.3 percent year-on-year. This is perhaps due to its less complex development process, therefore making it less likely to suffer delays due to pandemic-related disruption. Other than that, mobile gaming has the lowest barrier to entry as two-fifths of the global population owns smartphones and some of the games available are free to play.  
Whereas revenue from console gaming such as the PlayStation 4 and Nintendo Switch is expected to grow 6.8 percent year-on-year to US$45.2 billion, while PC gaming is predicted to grow 4.8 percent year on year to US$36.9 billion in 2020.  
According to the WEF, Asian gaming giants Nintendo and Tencent both saw sales increase during the first quarter of 2020. It was reported that Nintendo sold almost half of its games digitally, a record that helped increase the company's profits by a staggering 41 percent. 
Nintendo's Animal Crossing: New Horizons was released in March and became one of the top-selling video games of this year. Animal Crossing is a social simulation video game series where players can invite friends to hang out or visit their characters. 
A media report stated that research shows video games offer a way for people to fulfil psychological needs without having to leave their houses. Multiplayer video games or those like Animal Crossing where friends can interact with one another in the gameplay allow people to cope with isolation and to connect amid mandatory safe distancing. 
Video games could also potentially create new friendships between individuals as many online gaming-related groups can be found on platforms such as Discord (a chat application used by gamers), Reddit and Facebook, to connect and talk about the games they play. 
"As communities have practiced social distancing and observed stay at home orders across the United States (US) over the past weeks, many people have turned to video games as a means of finding connections," said Mat Piscatella from American market research firm NPD Group – in reference to the sharp rise in growth of the US video game industry in March 2020.
"Whether together on the couch playing locally, or playing online, gaming has generated increased engagement, which has resulted in corresponding increases in consumer spend," he added.
Related Articles:
Online Shopping: The New Reality