Generation Z (Gen Z) is entering the workforce and business leaders must stay ahead to harness this new wave's talents and appeal to their interests. According to McKinsey, Gen Z is the cohort born between 1995 and 2010, and are currently between the ages of nine and 24-years old.
According to a 2018 article by Nielsen on 'How to engage with Generation Z in Vietnam,' by 2025, Gen Z will account for 25 percent of the labour workforce in Vietnam. The article described Vietnam's Gen Z as the cohort that embraces multiculturalism and cares about various societal issues including social responsibility, environmental matters and gender equality. Vietnam's Gen Z expresses this sentiment through their choice of brands, where 50 percent favour brands that reflect Vietnamese values and cultures. 
Career choices
Despite being young, Gen Z is cautious and always looking for sensible career choices moulded by practical realities. Adecco Vietnam, a leading recruitment and staffing agency, recently published a report on 'Career choices & the motivations survey,' focusing on important aspects affecting Vietnamese talents. The report revealed that when it comes to choosing a job, the top priority for Gen Z is 'salary and financial benefits' followed by 'professional recognition of qualifications' and 'job satisfaction.' 
The survey found that 48 percent of Gen Z learns about career choices through social media instead of school or university (19 percent). This number compliments Gen Zs' attitude towards technology since they have never known a world without smartphones and social media. 
According to a 2018 Forbes article, 'Understanding Vietnam's Generation Z,' the nation's Gen Z uses an average of 2.77 social media platforms each week. However, this group is less interested in sharing their lives on social media for public record, wary of the consequences. Instead, they prefer to use anonymous social media platforms like Snapchat.
Connecting their jobs to social impact will remain a priority for generation Z. A 2018 research by Dell Technologies, 'Gen Z: The Future has arrived,' revealed that although this batch looks for job security and monetary motivation, Gen Z is less interested in climbing the corporate ladder and are more intrigued about supporting their companies' growth and success. The survey also showed that 43 percent of Vietnam's Gen Z wants to work in socially and environmentally responsible organisations.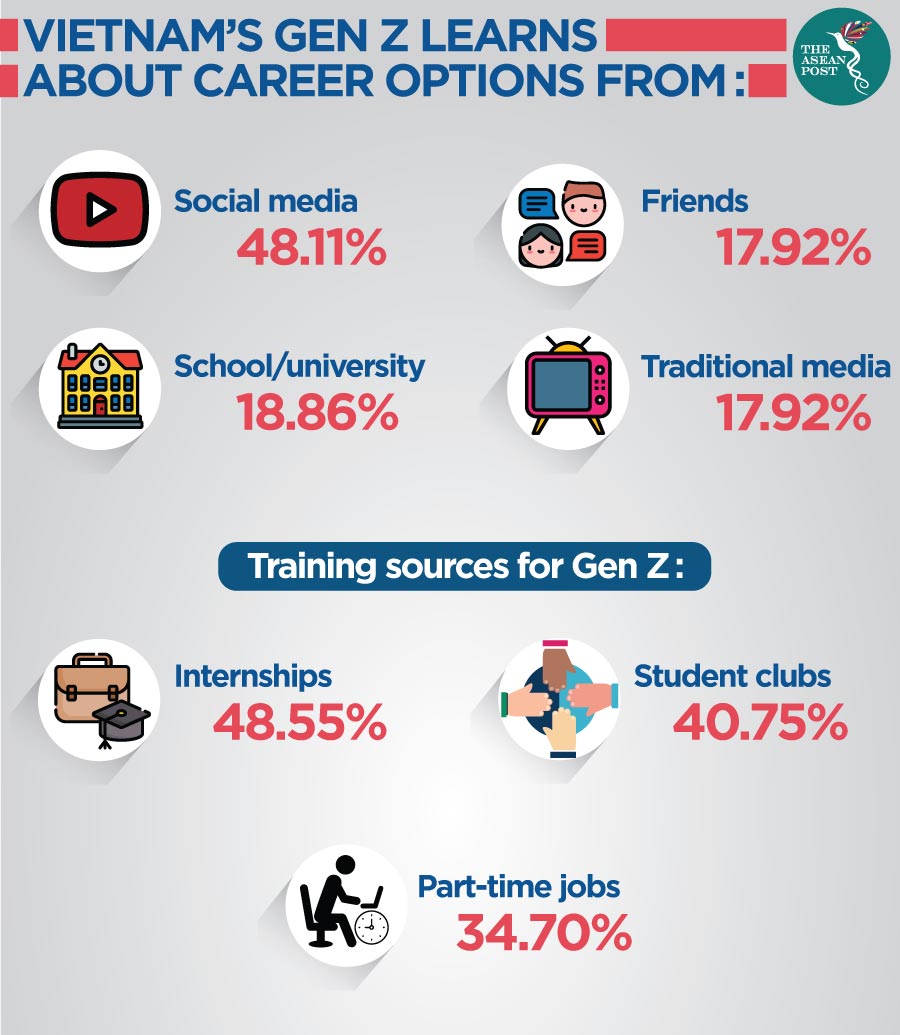 Upskilling future workforce
The advancement of technology and rapid changes in labour markets have prompted the youth to upgrade their skills or risk being left behind. According to a 2019 research by the World Economic Forum (WEF), 69.3 percent of Vietnam's youth say that their "current education and skills will need to be constantly updated."
Andree Mangels, General Director of Adecco Malaysia and Vietnam, said that Vietnam's Gen Zs are proactive. "They start to look for internship opportunities right in the first year of college and don't hesitate to broaden their networks through events. Yet, their skills are still very academic, which required additional training, especially soft skills." 
To meet market needs, vocational schools in Vietnam have been told to include soft skills training in their curriculum. Soft skills include communication skills and critical thinking among others.
Apart from formal education, at least 49 percent of Vietnam's Gen Z feel that fruitful training sources come from internship programs, followed by student's club (41 percent) and part-time jobs (35 percent). 
"Internship is the best learning course, not only for skills development but also advance their knowledge on the industry and future work, thereby clearly defining their suitable job and career orientation," said Thao Nguyen a recruitment consultant at Adecco Vietnam. 
Recently, the United Nations Children's Fund (UNICEF) and partner SAP announced that they will provide quality education, life skills and digital skills training to adolescents in disadvantaged communities in Vietnam to prepare them for decent work. Together with the Government of Vietnam, they aim to enhance digital and transferable skills for 11,000 secondary school and vocational students in Vietnam in the first year. 
Special attention will be given on the inclusion of girls, including those from ethnic minorities as well as adolescents with a disability. The partnership will also undertake in-depth research to better inform and connect the private sector with future talents.
"Businesses need to take meaningful steps to upskill the current and future workforce, regardless of their age or where they live in the world. We will increase collaboration with the public sector and focus on the best possible curriculum to prepare future workers," said Josephin Galla, Managing Director of SAP Vietnam. 
Companies too are getting involved in developing undergraduate talents. The Boeing Company and The Asia Foundation announced a one-year vocational training program for disadvantaged young adults in Hanoi and Hai Duong, focusing on practical information technology skills development. The project will provide participating youth with much better opportunities to obtain decent and secure employment in high-demand sectors.
As part of the program, youth will undergo technical skills training in addition to practical instruction in the English language, financial literacy, work readiness, and on-the-job training. 
"Vietnam's youth account for a significant proportion of the country's labour force," said Skip Boyce, president, Boeing Southeast Asia, adding that "these young adults in Vietnam must be sufficiently skilled to meet a changing labour market."
Related articles:
Women-led businesses on the rise in Vietnam
Balancing business and social needs in Vietnam