In 2018, Malaysia had its first change of government since independence from the British over six decades ago. Malaysians had high hopes for the newly elected government; expecting radical changes and improvements in governance. However, there has been a sense of disappointment and growing frustration as the new government there continues to show no real progress since coming into power. In some instances, things actually feel worse. 
The youth of Malaysia are the ones who are most disenchanted with the new government's actions and policies. Unemployment is one of the issues still plaguing the nation with the overall unemployment rate stagnant at 3.3 percent, according to the Malaysian department of statistics in their January 2019 monthly statistical bulletin. Youth unemployment stands at more than 10 percent - three times the global average. This begs the question; why are so many young Malaysians jobless?
Unpolished skills
English proficiency could be a contributing factor. In a survey done in 2016 by the Malaysian Employers Federation (MEF), over 90 percent of respondents indicated that "graduates need to improve on their English proficiency". Azman Seri Haron, president of MEF said that "73.2% of the respondent companies indicated that graduates lacked skills in problem solving as well as communication skills". This indicates a lack of mastery of the English language among graduates actively seeking jobs. The lack of emphasis placed on learning English during their studies could be a factor.
The shifting landscape to a more digital-focused business model among employers has also had a noticeable impact on the job market. In online employment marketplace, JobStreet.com's job outlook 2019, 96 percent of companies surveyed perceived that the job market will shift towards one driven by the digital economy. Thus, digital literacy is key in navigating this shifting focus. 
In a 2018 study entitled "Digital Skills Measurement: A Study on the Malaysian Youth" by Ts. Dr Lee Ming Foong, lecturer at the Department of Professional Education, Faculty of Technical & Vocational Education at the Tun Hussein Onn University Malaysia, it was reported that while most Malaysian youth seem able to operate in the digital landscape, whether on a phone or a computer, as well as being able to identify information that should or shouldn't be shared, they lack the knowledge to navigate through it as well as the creativity to produce a digital product. It seems that while Malaysian youth are somewhat digitally capable, they lack the necessary knowledge and skills to help businesses migrate into the digital ecosystem.
In the 2018 paper "Graduate Work-Readiness in Malaysia: Challenges, Skills and Opportunities" by Dr. Noorziah Mohd Salleh, lecturer at the Faculty of Business and Management, MARA Institute of Technology Kota Kinabalu, Dr. Jabil Mapjabil, Professor at Sabah Malaysia University and Dr. Rafeah Legino, senior lecturer for Faculty of Art and Design, MARA Institute of Technology Shah Alam, they wrote that while "low skill and low productivity work with tough working conditions and limited career development opportunities" are aplenty, these jobs do not appeal to graduates. "The low level of work-readiness among Malaysian graduates" is an issue that has yet to be resolved. This is simply a case of supply not meeting demand. Simply put, graduates are applying for jobs while not possessing the prerequisite skills that prospective employers are looking for. 
Monetary influences
The jobs themselves could also be seen as not worth the investment by both parties. Employers see the 2019 rise in minimum wage as a detriment to their bottom line. The rise from RM1,000 (US$240) to RM1,050 (US$252) is seen as "unfair to employers" according to Shamsuddin Bardan, Executive Director of MEF.  
On the other side, graduates are unhappy with the relatively low monthly average wages on offer. According to the MEF, companies would offer, on average, RM1,661 (US$398.64) for a diploma holder, RM2,393 (US$574.32) for a graduate with a basic degree and RM3,267 (US$784.04) for a Masters graduate in 2019. Most Malaysian youths would struggle or find themselves unable to be self-sufficient on such meagre salaries. According to the Belanjawanku (My Expenses) guide for 2019 that was published by the Employee Provident Fund (KWSP) of Malaysia, even a youth with the most frugal of lifestyles would require an estimated minimum of RM1,870 (US$448.8) per month for living expenses.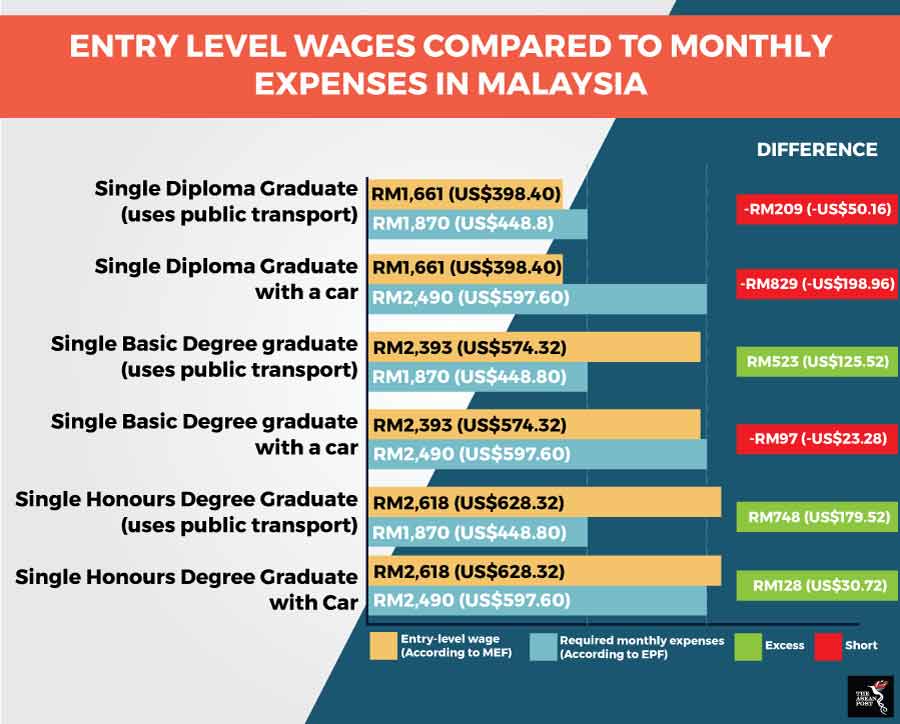 Source: Various
Race as a factor
Malaysia's multi-ethnic society with its long-seeded prejudices also seem to be contributing to the uncannily high unemployment rate among its youth. In a 2019 study done by the Centre of Governance and Political Studies (Cent-GPS) entitled "Racism in Recruitment: A Study on Racial Bias for Entry Level Jobs in Malaysia", it was found that, with all things being equal including language proficiencies, ethnic-Chinese fresh graduates were more likely to be called for job interviews in the business and finance sectors as opposed to the other races in the country. 
Dr. Hwok-Aun Lee, a senior fellow at the ISEAS-Yusof Ishak Institute and Dr. Muhammed Abdul Khalid, Malaysia's economic advisor, in their 2016 paper "Discrimination of high degrees: race and graduate hiring in Malaysia" believe that it could be due to the negative perceptions of other races as well as cultural compatibility with employers. While it could be much more malicious or benign than what is assumed, prejudices against certain races does exist and contributes to Malaysia's high unemployment rate among its youth. 
Graduates for their part should pick up or polish the skills that employers want such as English language proficiency and problem-solving capabilities. Employers in turn should be willing to look beyond short-term profits and employ graduates that would help grow the company in the long run. The Malaysian government could do its part in attracting more foreign investments as it would help galvanise the economy and create more job opportunities for the youth of the country.
Related articles:
Who speaks for the youth of Malaysia?
Malaysia launches Industry 4.0 policy