The Philippines' long history of migration is deeply ingrained in the country's social, economic and cultural climate. This migration trend now resonates with the country's youth, especially the newer generation (Gen Z), as they begin to enter the workforce.
Based on a 2019 survey conducted by the World Economic Forum (WEF) last August, 52.9 percent of Philippine youth aged 15 to 35-years-old would like to work overseas. This aspiration was shared by youth in Thailand with 51.9 percent wanting to work abroad. 
The WEF survey found that Singapore's youth preferred to stay and work in their home country, followed by Indonesia (60.4 percent) and Vietnam (54.5 percent). This is perhaps due to the opportunities available for the young to earn a living, climb the management ladder and opportunity to upskill.
According to the Philippine Statistics Authority, there were 2.3 million Overseas Filipino Workers (OFW) across the world in 2018. The statistics also found that there were more females than males among the OFWs, comprising 55.8 percent, where half of them belong to the age group of 25 to 34 years. Filipinos are migrating to Saudi Arabia (24.3 percent), United Arab Emirates (15.7 percent) and Hong Kong (6.3 percent).
Most Filipinos go abroad to get a higher salary. But the young are also motivated to leave their country to acquire new skills, pursue a career and experience other cultures. Some seek this opportunity to reunite with families that are already living abroad. 
According to 2018 Asian Development Bank (ADB) report on youth unemployment, young people still struggle to find jobs after they leave school in the Philippines because it is not able to absorb all new entrants to the job market. Limited job opportunities in the country, along with high paying job abroad leads to the country's brain drain.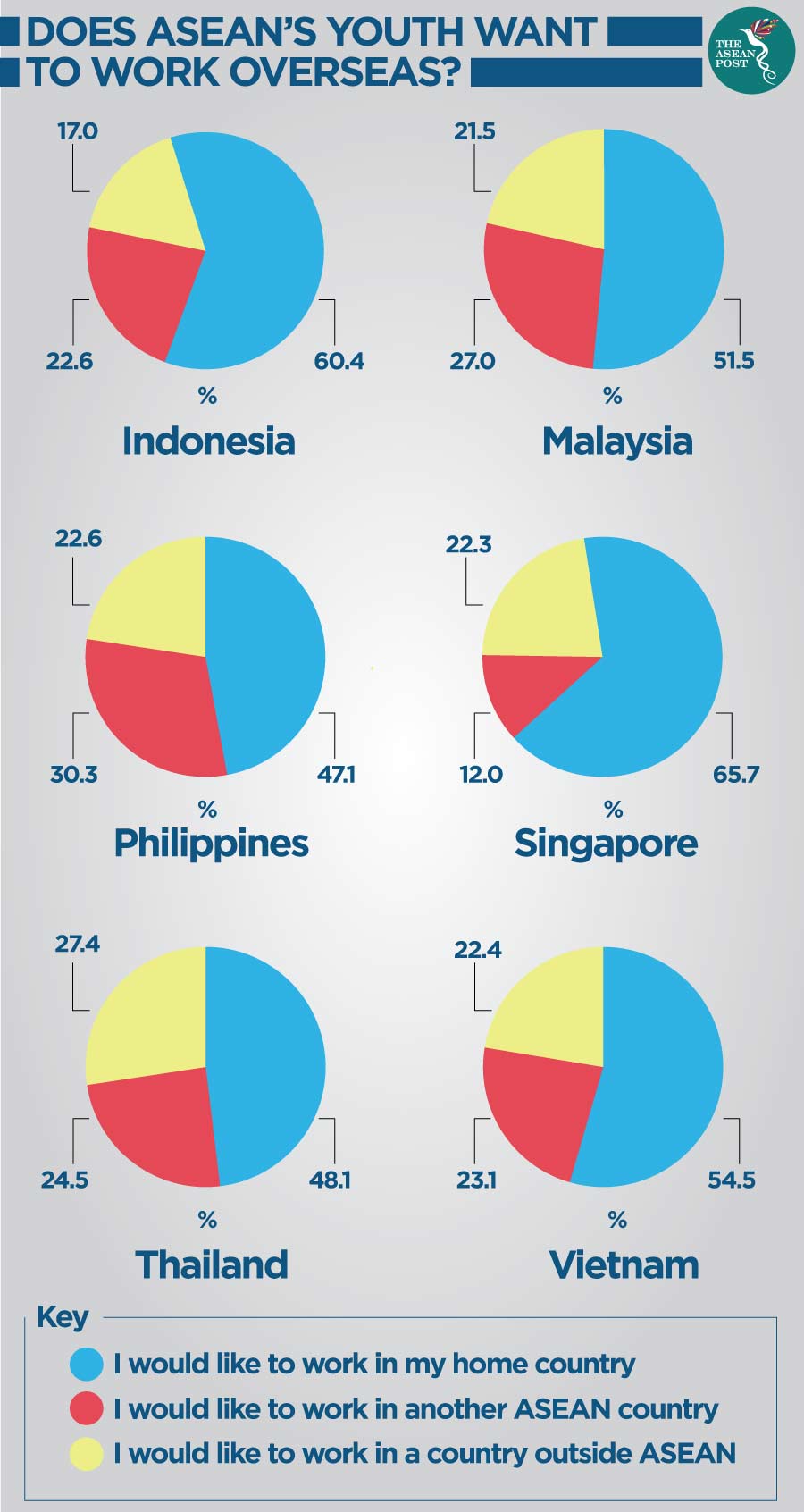 Encouraged to migrate 
Filipinos who migrated are skilled and talented professionals and the government is proud to export its workforce. The Philippines government even encourages migration as part of its strategy to boost the country's economy. Over 2 million Filipinos who leave for work overseas each year brought home a remittance total of more than US$25 billion. Remittances help sustain the country's domestic consumption and growth and are also a safety net against regional economic fluctuations. 
To further encourage overseas employment, the government has developed several institutions, laws and policies aimed at enhancing the protection of OFWs and their families. This approach of facilitation and protection contributed to making the Philippines a major source country of workers and talent for the global labour market. Currently, the Philippines has 49 bilateral migration agreements with 25 destination countries. 
Working overseas is a phenomenon that has reshaped the Philippines' education systems. Education institutions and vocational schools in the country funnel students into industries that will likely get them a job abroad. For example, nursing schools have churned out at least 19,000 certified nurses yearly to be deployed to hospitals around the world. These nurses are also trained in languages corresponding to their destination countries. 
Families support migration as they will be the direct beneficiary of gains made by OFWs. In the past ten years, overseas employment has helped at least 850,000 families out of poverty, according to the government's statistics. Taking families out of poverty benefits the government as it reduces the issues that poverty brings. However, there are concerns that a fostered dependency on remittances may have delayed the implementation of needed reforms.
'Balik' Scientist Program
The limited jobs in the Philippines affect higher-skilled Filipinos. The supply of science, technology, engineering and mathematics (STEM) workers outpace the local demand, leading them to find jobs overseas. To counter the loss of talents facing the country, the government has introduced initiatives such as the 'Balik' Scientist (Return Scientist) Program (BSP) to encourage Filipino scientists based overseas to return to the Philippines and carry out research in their home country. This national policy recognises the importance of talents and their contribution to the country's national, political, economic and social development. 
Yet, would talents come back knowing that the salary offered will not be enough to sustain the needs of their families? Many highly qualified Filipinos choose to work outside the Philippines, even in jobs where they would be considered overqualified for the sake of financial stability. And unless socio-economic conditions are improved, Filipino youth will continue to look for opportunities outside the country. 
Related articles
Philippines' fast-growing gig economy