More professionals are joining the gig economy to look for additional income or a change of pace in work. The gig economy refers to the hiring of independent contractors and short-term workers by businesses. Talents that make up the gig economy are usually called freelancers, gig-workers, independent contractors and free agents. 
Technology is enabling gig economy workers to take on extra or freelance work from anywhere in the world. Eyal Moldovan, the general manager of Payoneer, a financial services company, said that professionals who voluntarily choose to freelance do so for lifestyle reasons because online platforms make it possible for them to work from home. 
Companies are also embracing this new work setup and employing freelancers for certain projects. Based on a 2018 report by talent outsourcing and consultancy group, KellyOCG, 84 percent of hiring managers in the Asia Pacific outsource to freelancers. These hiring managers use freelancers in their departments to save cost, drive innovation and keep a competitive advantage. The KellyOCG report also found that 43 percent of global organisations who engage these free agents have saved at least 20 percent in labour costs.
According to a 2019 report by Payoneer on 'Global Gig Economy Index,' the Philippines placed sixth in the world as the fastest-growing market for the gig industry, revealing a 35 percent growth in freelance earnings. 
Whether it's the flexible hours, the absence of micromanaging bosses or a desire to build their businesses, the rewards for freelancers includes work flexibility, higher incomes and autonomy. A rising number of freelancers have also created a demand for flexible coworking spaces.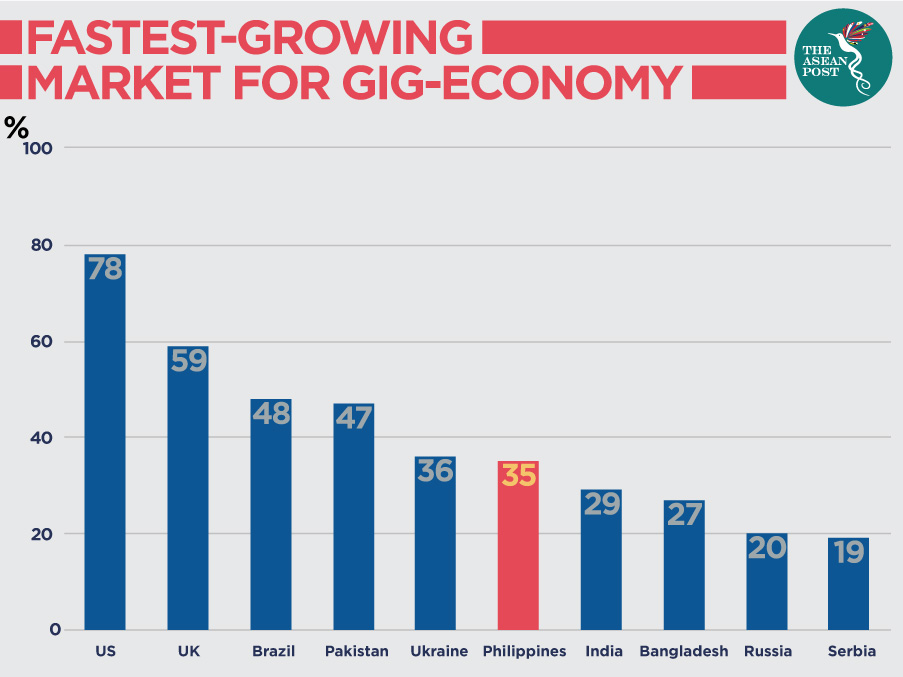 Choosing to freelance 
Driven by digital technology and high Internet penetration, more Filipinos are choosing to freelance. According to PayPal's 2018 Global Freelancer Insights Report, at least two percent of the Philippines' population is said to be freelancers. The report also found that 84 percent of freelancers use a freelancer online platform such as Upwork and Freelancer. Some of the many types of works Filipino freelancers are engaged with are data entry/internet research (34 percent), virtual assistance (13 percent) and customer service (8 percent).
PayPal's survey revealed that digital platforms provide ease and convenience for freelancers to receive payments from clients overseas.
Filipino freelancers are supported by government initiatives such as the DigitalJobsPH Technical Training which help people find work as digital entrepreneurs and freelancers in the Information Communications Technology (ICT) field. The government recognises the potential of the gig economy to provide meaningful work to rural folks who are otherwise left out in the industrialisation of cities. According to Senator Sonny Angara, Philippine's Congress member, the training has helped 712 freelancers find online jobs. The Oxford Internet Institute (OII), through their real-time monitoring of online platforms found that the Philippines is the fifth-largest supplier of online labour. 
Freelancing can become stressful 
Even though there are benefits to freelancing, participating in the gig economy comes with its own set of challenges. PayPal's recent online survey found that 92 percent of Filipino freelancers said 'job stability' is a key concern for their careers. It is hard for freelancers to calculate their future since they move from contract to contract. To sustain a pipeline, gig-workers freelance for multiple clients, allowing them to anticipate the unpredictability of work and diversify their income streams.
The gig economy also raises concerns over social safety nets, financial security, and health and retirement plans. Without savings or health benefits, freelancing can become stressful. Surviving in the gig economy also requires competency in specific skill sets, which can get very competitive. In Southeast Asia, the gig economy is unregulated, making freelancers easy targets for exploitation either by being overworked or underpaid. 
Then there are people who assume freelancers work for free. The 2018 study by PayPal revealed that 58 percent of freelancers in four Southeast Asia markets (Singapore, Philippines, Indonesia, and Vietnam) have experienced not being paid. The key reason for this is that freelancers are not being taken seriously by clients.
A World Bank article on 'Regulating the gig economy,' stated that without changes to governments' regulations, freelancers will continue to be left out of the traditional social protection systems such as unemployment benefits, sick pay and pensions. The International Labor Organization (ILO) has also suggested for countries to extend their labour protection to people who are working part-time or in temporary jobs. 
Sandra Polaski, the deputy director general of policy at ILO said: "There is huge scope for governments to use technology for enforcing the new regulations," adding that "most transactions on the gig economy are done via the internet and as such, they can be tracked. These companies do need to contribute to insurance and other social contributions."
According to a 2017 OII report on 'The risks and rewards of online gig work at the global margins,' regulation of online platforms can effectively improve labour conditions for workers, especially in low-income countries. However, it is contested that over-regulation can negatively impact the gig economy. 
As the gig economy continues to take over the workforce, governments and labour groups must reassess their role and be creative to better protect workers in this industry. 
Related articles
Southeast Asia's internet economy booming
Coworking is reshaping the workplace