Talents' demand for greater control over how they integrate career with personal lives has changed the entire concept of work. Freelancers, gig-workers, temporary employees, independent contractors or free agents are some of the names used for the talent that makes up the gig economy. 
The gig economy is defined as a prevalence of short-term contracts or freelance work as opposed to permanent jobs.
Freelancers thrive in pursuing temporary and flexible jobs, either with specific scope and instructions such as web designers or freelance copywriting, to labour-driven services for companies such as Grab or Go-Jek.
A majority of hiring managers are using freelancers in their departments to save cost, drive innovation and keep a competitive advantage. According to a 2018 report by KellyOCG, a talent outsourcing and consultancy group, 65 percent of global hiring managers said the gig economy is rapidly becoming the new norm for how businesses organise workflow. In the Asia Pacific, the report revealed that 84 percent of hiring managers outsource to freelancers. The report also found that 43 percent of global organisations who engage these free agents have saved at least 20 percent in labour costs. 
The KellyOCG report states that nearly one-third of global workers are freelancers or free agents, with 75 percent working by choice for positive reasons. They chose to step away from the standard 9-to-5 office environment to determine how, when, and where they want to work. 
Appeal
There are benefits to leveraging the skills and expertise of freelancers. Companies can yield cost savings, and gain better access to niche skill sets, etc. Without the restraints and bureaucracy of traditional employment, organisations can be more innovative and competitive. Start-up companies in the technology and app development industry use freelancers to lower their overhead cost and avoid breaking the bank.
Based on the KellyOCG study, 81 percent of talent managers hire freelancers who are within the millennial cohort. Freelancers are also among the most resilient as they are constantly re-skilling through self-funded training and on-the-job learning, in preparation for their next gig.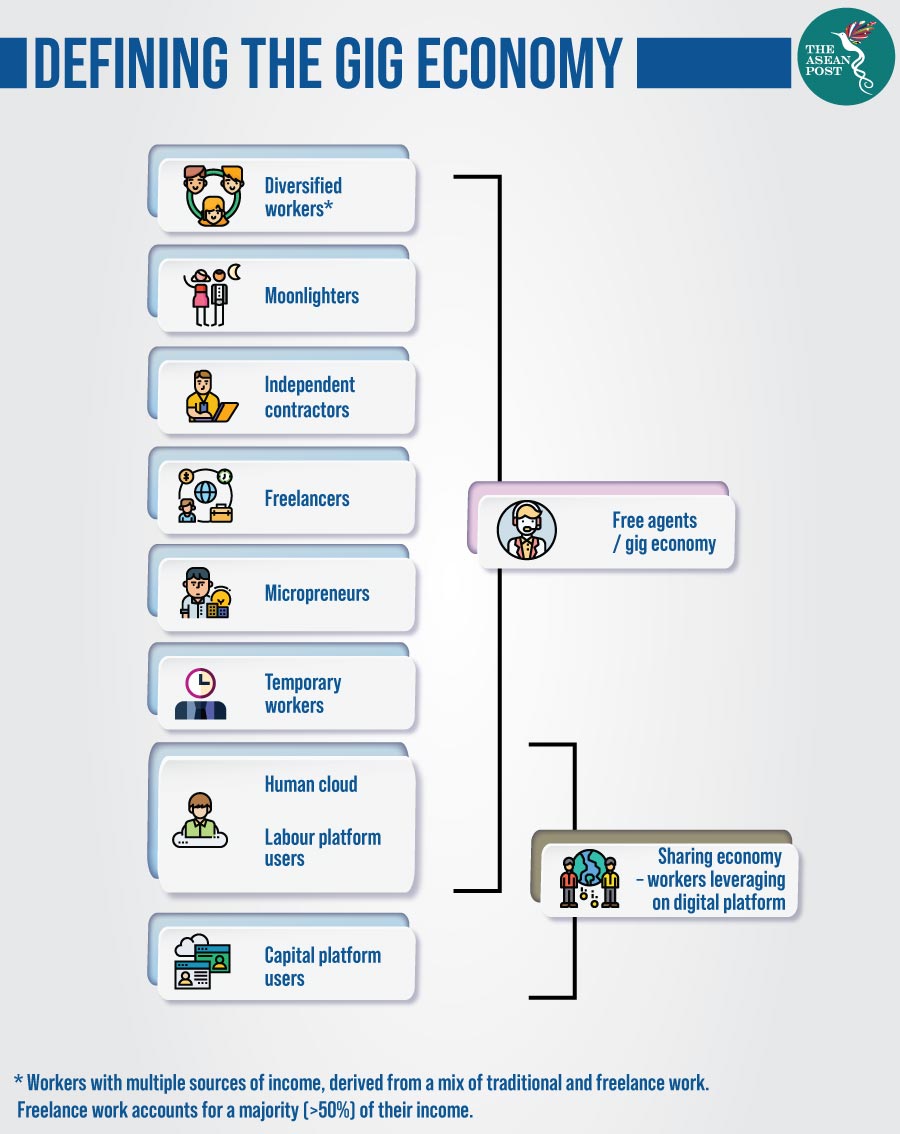 Source: KellyOCG, 2018
Full-time freelancers are averaging 36 hours a week, and this engagement outlook contributes to the rising numbers of free agents, with 73 percent believing that a much more flexible workforce will emerge as a way to navigate an increasingly dynamic business climate. 
Ecosystem of freelancers 
A recently published report by Payoneer, on 'The Global Gig-Economy Index, Q2 2019,' has ranked the Philippines sixth in the world for the number of its freelancers. The index found that Filipino freelancers grew 35 percent from the year before. At least two percent of the Philippines' population is said to be freelancers, according to Paypal's 2018 Global Freelancer Insights Report.
The country's freelancers are supported by government initiatives such as the DigitalJobsPH Technical Training which help people find work as digital entrepreneurs and freelancers in the Information Communications Technology (ICT) field. According to Senator Sonny Angara, Philippine's Congress member, the training has helped 712 freelancers find online jobs. 
In Malaysia, the gig economy in 2017 grew by 31 percent based on figures by Employees' Provident Fund (EPF) Malaysia. 
"In the next five years, 40 percent (of a company's workforce) will be coming from contingent workers," said Shareen Shariza Abdul Ghani, co-founder and director of Sourga Ventures at a forum held at University of Malaya (UM) on 'The Gig Economy - Disruptive Innovation or Opportunity for Exploitation', in February 2019. 
Recently, a Memorandum of Understanding (MoU) was signed between SME International Trade Association (SMITA) Malaysia and Workana, an Argentine-based online platform company, to assist Malaysian companies expand their businesses through freelancers. Workana currently works with over one million freelancers worldwide to address organisational talent gaps for companies of all sizes, recruiting highly skilled professionals for diverse projects. 
"We are envisioning an ecosystem where freelancers thrive and grow not only their creativity but also their productivity as they collaborate with diverse companies who appreciate their passion and dedication to their work," said Tomas O'Farrell, Chief Executive Officer and co-founder of Workana.
Not taken seriously 
Although gig work affords freelancers with flexibility, the gig economy also raises concerns over social safety nets, financial security, health and retirement plans. Without savings, or health benefits freelancing can become stressful. 
Surviving in the gig economy also requires competency in specific skill sets, which can get very competitive. In Southeast Asia, the gig economy is unregulated, making freelancers easy targets for exploitation either by being overworked or underpaid. 
Apparently, some people assume freelancers work for free. The 2018 study by PayPal revealed that 58 percent of freelancers in four Southeast Asia markets (Singapore, Philippines, Indonesia, and Vietnam) have experienced not being paid. The key reason for this is that freelancers are not being taken seriously by clients.
Rahul Shingal, managing director of PayPal Southeast Asia said, "We are seeing more young people choosing to freelance," adding that "as they become integral to the global economy, it is critical for them to be accorded the same respect that other professionals receive. We should do more to elevate the standing of freelancers as a community and empower them in their autonomy."
Perhaps as Southeast Asia's workplace and technology continue to evolve, the gig economy too will grow, becoming a steady career that is built on flexibility. 
Related articles
Digital nomads are coming to an area near you