Southeast Asia's unicorns are now supposedly worth US$57 billion after the recent addition of four new companies to the exclusive club, but how realistic that figure is remains to be seen.
Singapore's Bigo Tech (streaming and social media), Trax (image-recognition), ONE Championship (media and sports) and Zilingo (e-commerce) all passed the US$1 billion valuation mark between September 2018 and September 2019, making for a total of 14 unicorns in the region according to a report released last week by global consultancy firm Bain & Company.
Unicorns are start-ups which have rapidly grown to achieve market valuations of US$1 billion or more, and Bain & Company reported that there were only 10 ASEAN unicorns last year – and they were worth a combined US$34 billion.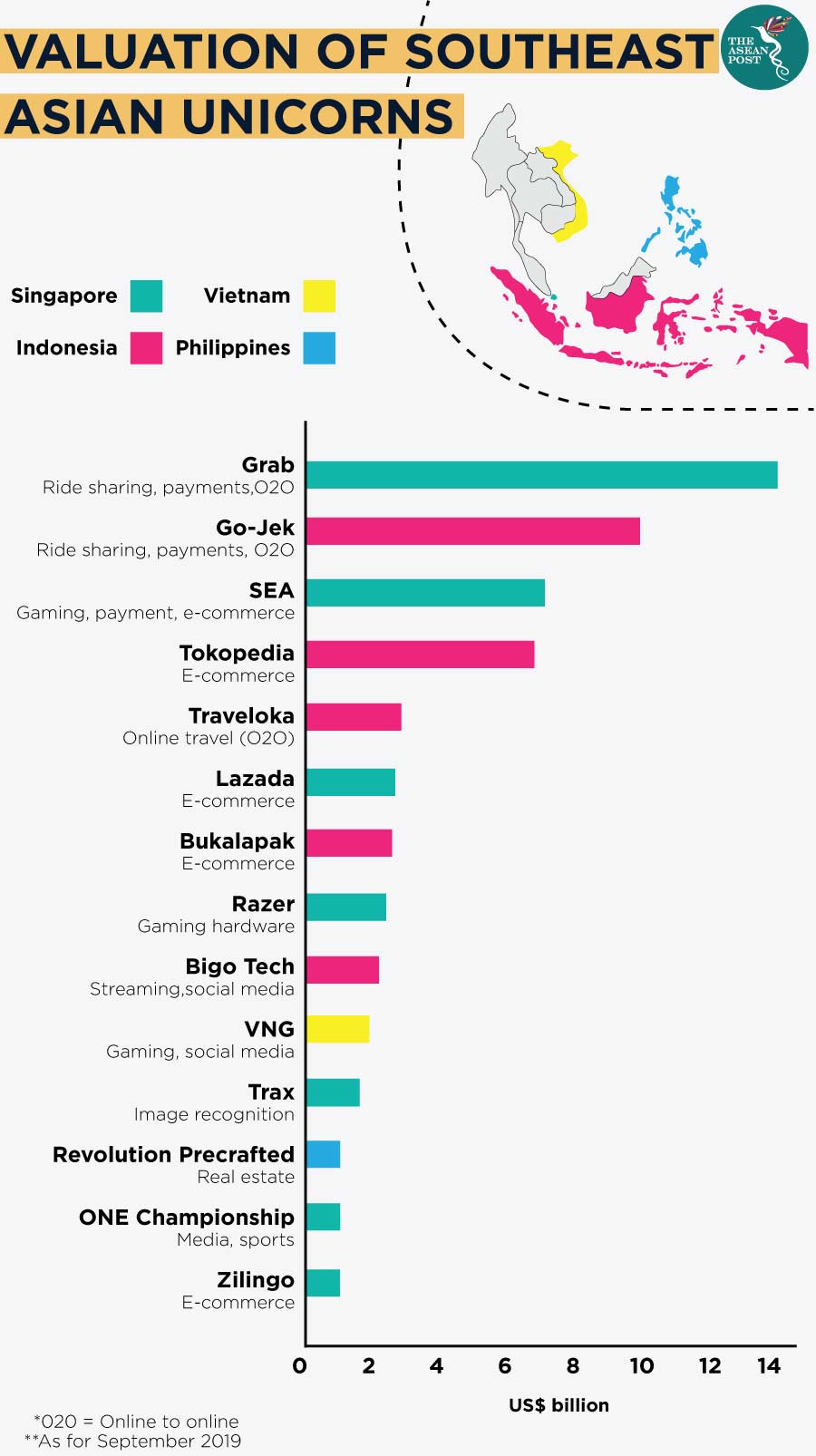 With fintech, e-commerce and ride hailing services playing an increasingly prevalent part in the daily lives of many ASEAN citizens, the region's start-ups that cater to these needs have become a powerful draw for investors – with the report outlining how the top four start-ups behind the quartet of newly-minted unicorns have raked in US$1.19 billion in financing.
In another signal of ASEAN's strong investment momentum, the region's top 20 start-ups ranked by funding – not including unicorns – have raised more than US$1.5 billion from investors between 2018 and mid-2019.
"Despite warnings of a looming recession, a two-year surge of investment in Southeast Asia shows no sign of slowing," stated the report's authors, Suvir Varma and Alex Boulton.
"Venture capital firms in the region raised more than US$500 million in the first half of 2019, and private equity investors remain on a path to double the cumulative investment since 2017 compared with the previous five years," they added.
Elusive profits
However, despite going through multiple funding rounds, profitability still remains elusive for ASEAN's unicorns – and operating costs, profits and losses are all closely guarded secrets.
Trumpeting their gross revenues and ability to scale, ASEAN's unicorns are backed by global giants such as Google, Microsoft and Toyota, and their valuations seem to be more closely linked to how well they can inspire confidence in their investors rather than by any other measure of profitability.
In an interview with American television network CNBC last week, Grab's co-founder and chief executive officer, Anthony Tan, said that Southeast Asia's biggest unicorn needs more time before venturing into the stock market.
"Once we're profitable, then we can clearly go public when we want to," Tan said on Thursday.
One only needs to look to Grab's counterparts in the United States (US), Lyft and Uber, to see why Tan is biding his time.
Lyft and Uber were supposedly valued up to US$23 billion and US$83 billion before going public in March and May, respectively. Fast forward to November, and their market cap now stands at US$12.8 billion and US$45.7 billion. Bleeding billions on a quarterly basis, both companies said they can only achieve profits by 2021.
Are ASEAN's unicorns similarly overvalued?
They could very well be judging by a revised study of 135 unicorns from the US carried out in June which revealed that the average unicorn was overvalued by 48 percent. Titled 'Squaring Venture Capital Valuations with Reality', the new research found that the 10 least overvalued companies were overvalued by 13 percent on average and the 10 most overvalued companies were overvalued by 145 percent on average.
The research by Ilya Strebulaev, the David S. Lobel Professor of Private Equity at the Stanford Graduate School of Business, and Will Gornall, an assistant professor of Finance at the University of British Columbia's Sauder School of Business, was aimed at attracting the attention of academic researchers to the increasingly important issue of the valuation of private companies.
The pair also wanted to make the different stakeholders in the venture capital industry – such as the founders, employees, investors, regulators and consultants – aware of the issues surrounding the interpretation of the metrics traditionally used in the industry.
"We hope that our analysis of unicorn valuations puts pressure on venture capitalists and mutual funds to more accurately report the values of their holdings," they noted. "Better reporting would benefit limited partners, employees with stock options, and the entire venture capital ecosystem."
Clearly, more analysis needs to be done on ASEAN's unicorns before the average investor can feel comfortable enough to add them to their portfolios.
Related articles:
ASEAN gets ready for Singles' Day shopping event