There are approximately 124 million people around the world who suffer from acute hunger. According to the Global Hunger Index (GHI) 2018 report, without intervention, 50 countries will fail to achieve the United Nation's (UN) Sustainable Development Goal (SDG) of zero hunger by 2030. On top of this, the world's food security is further threatened by conflict, climate change and poor governance.
Across ASEAN, there is a downward trend in the rate of hunger and undernutrition since 2000, indicating improvements in the lives of millions of women, men and children. Yet, there are plenty of people in the region who are suffering the indignity of hunger. 
Food waste 
The UN Food and Agriculture Organization's (FAO) study on 'Global Food Losses and Food Waste', found that roughly one-third of all food produced for human consumption is wasted every year. 
According to the Boston Consultant Group's (BCG) research on tackling food waste, each year, 1.6 billion tons of food goes to waste. The BCG estimates that by 2030, annual food loss and waste will hit 2.1 billion tons, worth US$1.5 trillion. Based on figures by Future Directions International (FDI), a non-profit strategic research institute, South and Southeast Asia accounts for 25 percent of the world's food waste.
Singapore's National Environment Agency (NEA) reported that in 2017, over 809,800 tons of food was thrown out. Meanwhile, Malaysia generates 38,000 tons of waste per day, of which 3,000 tons are edible and could have fed at least two million people. Based on a 2017 Economist Intelligence Unit (EIU) report, 'Fixing Food', Indonesia is the world's second-largest food waster, throwing out 300 kilograms (kg) of food per person each year.
Massive amounts of food waste end up in landfills to be incinerated or left to decompose, producing methane which is 21 times more damaging than carbon dioxide (CO2).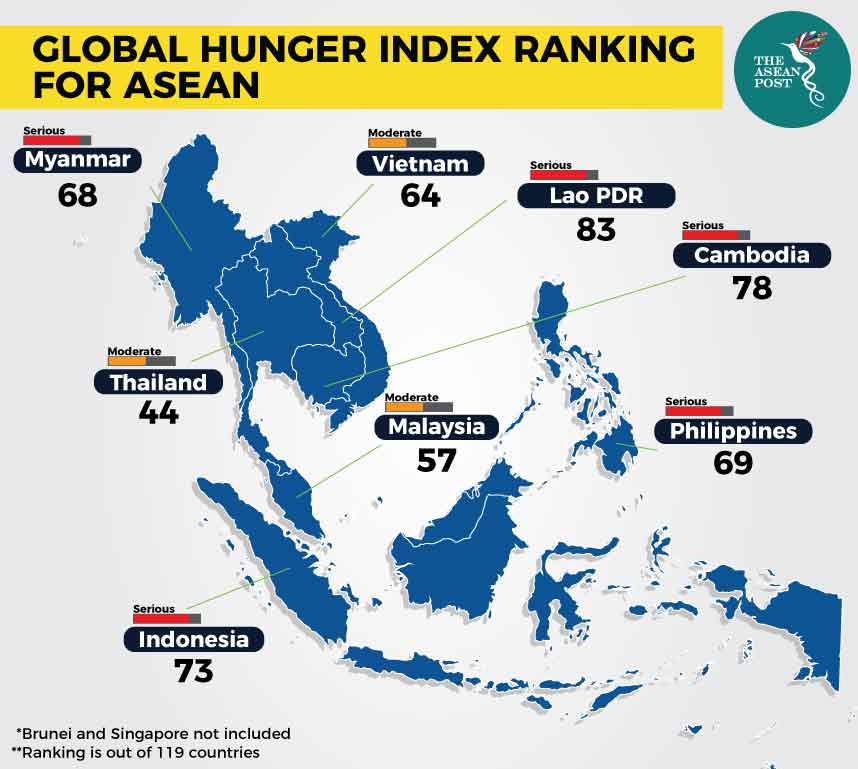 Esben Hegnsholt, author of the BCG report, said: "When we fight food loss and waste, we also fight hunger, poverty and global warming."
Fortunately, donation initiatives are popping up across the region to curb the food waste crisis. Tesco Malaysia is taking action by redirecting 610 tons of unsold surplus food stock to more than 130 local charity homes, community groups and schools. The amount is equivalent to over 1.45 million meals. Tesco Malaysia recently published a report to reveal that from 2018 to 2019, they generated 7,048 tonnes of surplus food not sold to customers. They also found that fresh produce makes up over 70 percent of their total food waste. 
Start-ups addressing food waste
Tech start-ups and social enterprises are also looking for innovative ways to reduce and prevent food waste across Southeast Asia. They are addressing food loss issues along the supply chain from farms to the table.
Following the donation initiative, Garda Pangan, an Indonesia-based start-up, saves food from the hospitality industry and distributes it to the poor or farms to be processed into compost. Eva Bachtiar, a co-founder of Garda Pangan, said that many companies are reluctant to donate food excess because throwing the food out is easier and less risky than fearing legal complications from food poisoning cases. 
"We want to facilitate those who have food excess and food scarcity problems so the excess can be distributed rightly to those who need it," Bachtiar told e27, Asia's largest tech media platform. Built as a food bank, the start-up aims to educate consumers on the economic loss, and environmental hazard caused by food waste.
Another start-up raising awareness about food wastage is Grub Cycle. The Malaysia-based company developed digital platforms to help supermarkets, farms and restaurants reduce waste. Through their app, Grub Bites, consumers can purchase surplus food from restaurants and cafes at bargain prices. 
The start-up's platforms include Grub Groceries (selling close to expiry products), Grub Mobile (collecting produce and redistributing them to low-income communities) and Grub Homemade (increasing produce lifetime). The start-up has since saved 7,000 kg of food.
Good For food is a Singaporean start-up that tracks food waste via a 'smart bin' called Insight, to empower kitchens to reduce waste and better manage their food inventory. Insight uses artificial intelligence (AI) technology and big data to analyse the types and quantities of food being disposed. 
Rayner Loi, a co-founder of Good For Food, told regional media that, "if we can tell a buffet restaurant that for the last 30 days, they've thrown away … maybe 10 kg of curry chicken, on average, for every lunch service, they can then use that information to better plan for future lunch services." The company saw that within the first 4-5 months of using Insight, restaurants had reduced their food waste by almost one third. 
Insta-worthy culture plays a role in the food crisis, where food not deemed 'attractive' is wasted. Pei Shan, founder of start-up, UglyFood, called the phenomenon, 'cosmetic filtering'. Based in Singapore, UglyFood is disrupting the supply chain to reduce food wastage by building awareness that misshapen food tastes just as good as perfect-looking food and is just as nutritious. The start-up approaches wholesalers, distributors and market stall owners to gather fresh produce that would be wasted and transforms them into healthy products. 
Preventing food waste can preserve scarce natural resources and improve food security for many. And start-ups are leading the fight to solve the global food crisis.
Related articles:
Childhood malnutrition and obesity in Vietnam