Reverse mentoring was a concept popularised by Jack Welch, former CEO of General Electric (GE) in 1999. His pilot project involved the pairing of 500 senior and junior employees, where the latter would teach the former on the advances of technology. The study revealed that shared learning between colleagues with generational gaps and diverse backgrounds have shown to create 'symbiotic corporate learning.' 
According to a 2018 Hays Worldwide Journal on 'Reverse mentoring,' organisations are turning to younger members in the workforce to mentor their senior colleagues. "In the corporate world, many organisations are encouraging reverse mentoring, where senior-level executives are coached by millennials and young recruits. This helps foster diversity, skills development, the idea of lifelong learning and inclusive culture," said Grant Torrens, Business Director of Hays in Singapore.
Generation gap 
Technology and the advent of the Fourth Industrial Revolution (4IR) brings with it a sense of immediacy and complexity, leaving organisations with little time to reflect and respond. Big data, social media and artificial intelligence (AI) have become essential tools for many corporations.
Inga Beale, CEO of Lloyd's of London, suggested that the trend of reverse mentoring is a response to the uncertain, complex and ambiguous climate brought on by 4IR. Agility in technology is essential for senior leaders to be in tune with ground realities and young employees who come in with fresh perspectives and an intuitive approach to new technology, can help them.
"We need to be reminded on what's happening in the world and how the new generation thinks and behaves and wants different things," Beale said adding that she takes ideas and inspiration from the young to help her think on how to do things differently and appeal to younger generations. 
Thomas Koulopoulos, founder of Delphi Group, said that "if you don't create that understanding of new technologies, and new ways to look at work and to look at how we communicate and collaborate, what you end up with is a generation gap within your organisation."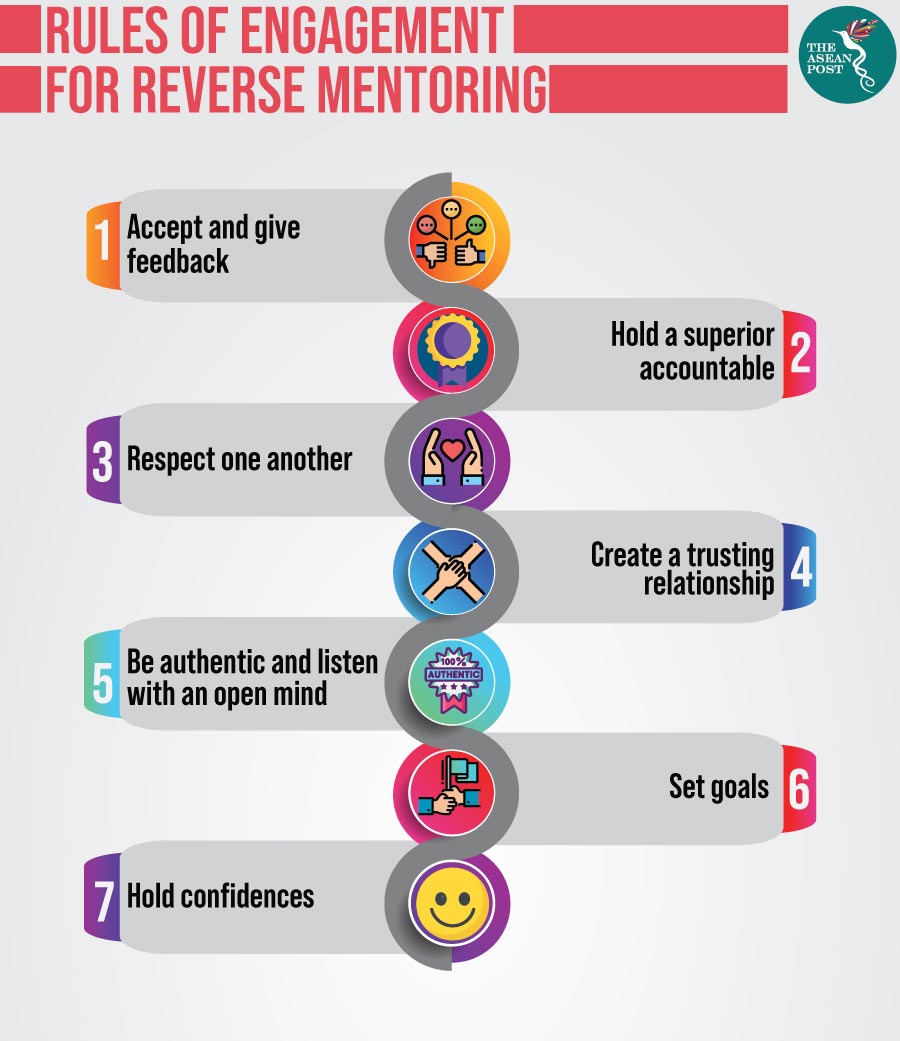 Source: River, 2018
For the concept to succeed, a safe environment must be created where differences are acknowledged and appreciated. "What I have enjoyed most is the ability to share my experience as a woman within the firm to challenge the partners' views and ways of working, in a safe environment," said Krystal Allen, a millennial mentor and Manager at PricewaterhouseCoopers (PwC). 
Reverse mentoring can foster a more open and inclusive culture. Kalee Talvitie-Brown, Head of People at PwC Consulting, said that "diversity is something we value at PwC and it is also really valued by the younger generation. We wanted to empower them, to make them feel that their viewpoint was valid and look at different perspectives." PwC has 122 millennials mentoring 200 partners and directors. 
Reverse mentoring also helps increase millennial retention. Millennials want to feel engaged and fulfilled in their work and they have a lot to give to employers. Ignoring these needs, employers will face an issue of millennial retention. Currently, millennials are the largest generation in the labour force but according to the 2018 Deloitte Millennial Survey, 43 percent of the demographic group plan to leave their job in the next two years. 
In Southeast Asia, 83 percent of generation Z (Gen Z), cohorts born after 1996, are willing to be technology mentors to others on the job based on a survey by Dell Technologies on the 'Gen Z effect.' By 2020, at least 20 percent of the workforce will be made up of Gen Z. 
While 99 percent see technology as important, the survey found that 96 percent of Gen Z lack confidence in soft skills like leadership and collaboration. Here, mentor and mentee collaboration will be important. Another interesting insight from the survey is that Gen Z is eager to have more human interaction in their work than millennials.
Implementing reverse mentoring can however be a challenge in societies that identify age with wisdom, which may bring up issues around seniority. Senior-level staff who have spent years accumulating skills and experiences may take umbrage at being mentored by someone who may not have been born yet when they were already in the workforce. 
Laura Francis of River, a mentoring software for business, has come up with tips to ensure a successful reverse mentoring in their 2018 report, 'The Ultimate Guide to Reverse Mentoring'. 
Positive disruption
Last year, Cisco launched an ASEAN Workforce Reverse Mentoring Pilot Program where 20 junior colleagues were paired with senior leaders, to allow them to better understand each other's workload.
The objectives for the program were to generate greater inclusion by breaking down barriers and to enable innovation. According to Naveen Menon, Vice President of ASEAN Cisco Systems, connections will help bridge the gap between different employee groups (whether they are diverse in age, experience, gender, abilities, ethnicity, etc.) while highlighting new perspectives and driving new ways of working. For Menon, access to senior leaders can accelerate innovation, which may not have been realised without these connections.
"This program has so far resulted in very fruitful conversations around engaging the future workforce to use their innovative thinking to help the organisations transform and positively disrupt our current ways of working," commented a mentor from the pilot program. 
Millennials and the younger generations may lack in experience but make up for it with invaluable insights on new technologies. Organisations should tap into their resources and knowledge to maximise the potential value they can bring to the business.
Related articles:
ASEAN youth face disruptive job market