Over the weekend, the second ASEAN Lifestyle Week 2019 (ALW2019) was held at the Kuala Lumpur Convention Centre in Malaysia to showcase the best that ASEAN small and medium enterprises (SMEs) have to offer in the lifestyle sector. Organised by Yayasan Budi Penyayang Malaysia (Penyayang), ALW2019 had exhibitors from across the region comprised of businesses from different sectors. The program for the weekend included forums and dialogues featuring business leaders and prominent speakers across ASEAN. ALW2019 was supported by the ASEAN Malaysia National Secretariat and endorsed by the Malaysia External Trade and Development Corporation (MATRADE).
In her welcome speech at the opening ceremony, Penyayang's chairman, Nori Abdullah, emphasised the importance of events such as the ALW for local enterprises to establish an international presence. She also said that company participation in the event has doubled from last year. 
The opening ceremony was officiated by Mohd Redzuan Md Yusof, Minister of Entrepreneur Development (MED) Malaysia. 
"This ASEAN Lifestyle Week offers a wealth of opportunities for established businesses and start-ups. Going global with your business opens new doors and bring countless opportunities but launching a brand across borders is no small feat," he said, adding that the event was aptly themed 'Accessing Markets Beyond Borders'.
Guests at the launch were entertained by a traditional dance performance from Sarawak Tourism Board and Ballistik Boyz, a popular seven-member Japanese male dance and vocal group.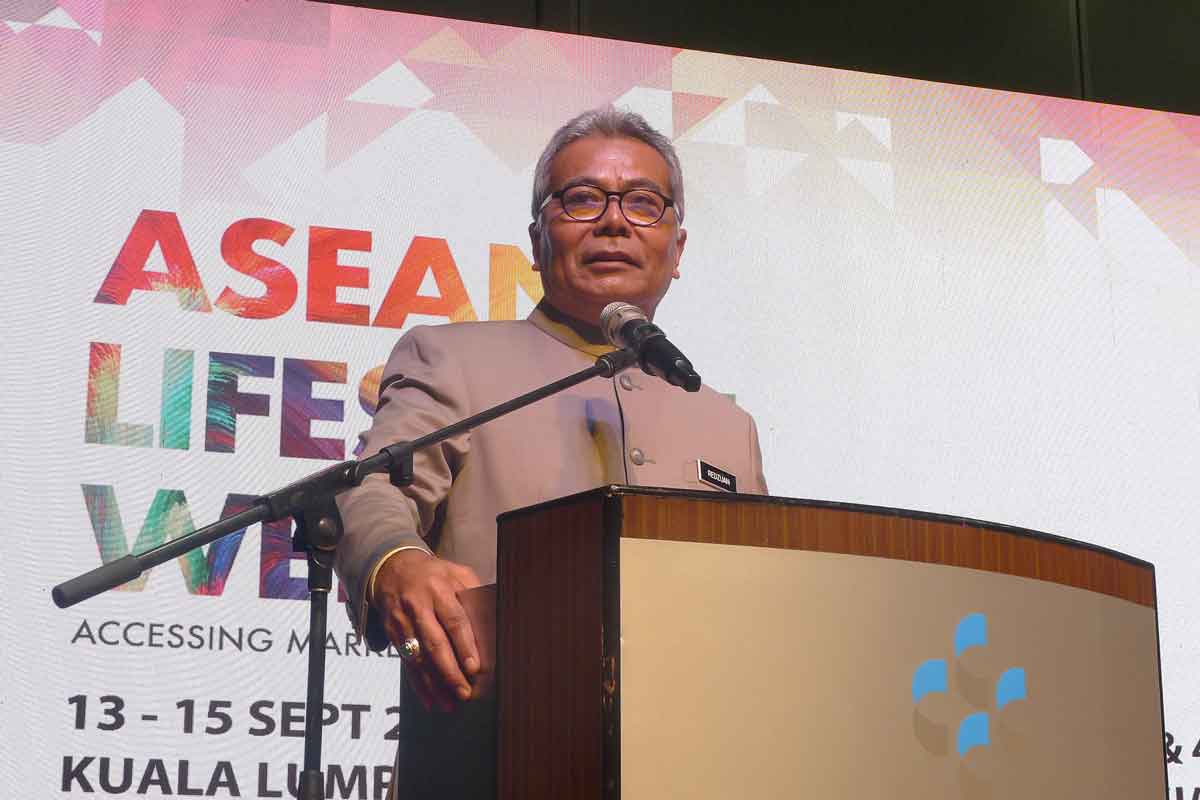 Mohd Redzuan Md Yusof, Minister of Entrepreneur Development Malaysia, giving his special address at the opening ceremony of the ALW2019.
Exhibitors
At least 40 exhibitors were present to showcase products ranging from crafts, fashion, souvenirs, food, technology and other services. A variety of products including handmade Batik dresses from Masterpiece by Masrina Abdullah, herbal oils from Cambodian company, Dragon Spray Flames, Bergamot's face masks and Sada Borneo Enterprises' bambangan fruit juice and jams. Tourism Malaysia and the Sarawak Tourism Board were also there to promote tours.
The Sarawak Tourism Board shared their booth with Sarawak Craft Council to not only promote tourism in the East Malaysia state but also to sell handmade crafts by locals. "The event is a chance to promote Sarawak and by allowing Sarawak Craft Council to be here, we are helping the local community to sell and market their products internationally," said Anderson Harry William Omar, the board's assistant manager. Among the entrepreneurs under the Craft Council is Old Kuching Heritage that showcased the 'keringkam', a high-end head covering popular in Sarawak. 
Anderson said that the event "is a good platform for everyone especially entrepreneurs to expand their business because they can meet other entrepreneurs."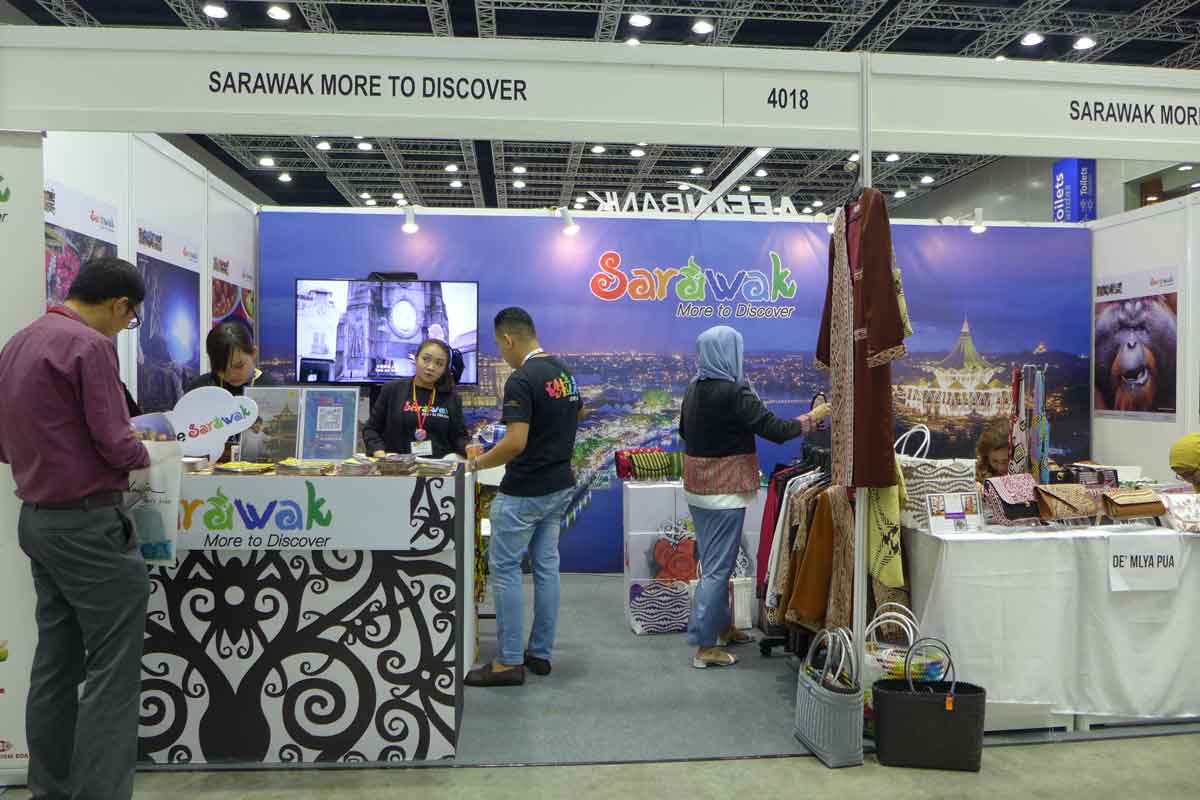 The Sarawak Tourism Board's exhibitor booth at ALW2019.
The Brunei Malay Chamber of Commerce and Industry (DPPMB) displayed some of the nation's handmade products and services. "The Malay chamber has a role in building entrepreneurship to empower Brunei businesses. We promote them and in return we want them to thrive. If they thrive, then it is good for the [Brunei's] economy," explained Khairul Hazmi Zaini, the chamber's assistant secretary of information.
Their main exhibit was an exquisite 'songket' or hand-woven fabric by Syarikat Daiyu, which is a community company. "These are village people, so they don't go out to market their product further than their own community. What we try to do is to empower them by promoting their product internationally," he added.
Across the hall, Lucille Awen Jon of Pungu Borneo and Nabilah Abdullah, founder of Ally: Heritage Clay Crafts, shared a booth. Both are Sarawak-based enterprises. They saw ALW2019 as a great opportunity for them to promote their products which consist of handmade ceramic beads, jewellery and handbags. "We seldom come out; we only create and make things in our studio, leaving us no time to show our things to people. So, when we have a chance like this, it's a great opportunity," Nabilah said, adding that expanding a business beyond borders can be difficult, making events such as this very important to their brands.
Back home, Nabilah's studio was provided by Kraftangan Malaysia in Sarawak, complete with facilities and equipment. She also holds classes there for unemployed mothers and single parents, teaching them craft techniques, baking ceramic and also how to build their own start-ups. 
Another woman venture that supports other women is the Association of Bumiputera Women in Business and Profession in Malaysia or Peniagawati. With around 1,200 members, Peniagawati is one of the oldest women entrepreneur associations in Malaysia and will celebrate its 40th anniversary in 2020. The association consists of members that are involved in fashion, beauty, wellness, logistics, food and other services. 
"Our association help women in business, SME businesses by promoting their product, and giving them advice on opening up their businesses," said Emmy Suraya Hussein, Peniagawati's honorary secretary-general. The association extends assistance to entrepreneurs by directing them to the right channels, "We are the middle person to help them, to establish their business and product, and helping them get financial grants."
Angel Investors 
On Friday, a forum on 'Angel Investment in the Lifestyle Sector,' was held. It was moderated by Dr Melissa Foo, vice-president of Malaysian Business Angel Network (MBAN). Panellists for the forum were Peter Wee, MBAN and Nexea Angels' council member; Jesrina Arshad, founder of Purely B and Low Ziyin, founder of Zcova, a start-up disrupting the diamond and jewellery industry.
Dr Melissa described angel investment as an "early-stage investment by investors looking for small companies, that they can put some money in and prepare them for the next stage." She also added that first investors, sometimes called angels, don't just provide financial support but also mentorship and business advise. Dr Melissa explained that angels invest in ideas that are usually very high in risk, mostly in the field of technology, adding that ideas pitched must have big potential.
"As an investor, when we look at lifestyle, we look at what the trends are in Malaysia and also what people are doing in other parts of the world. We look at the problem statement, they [entrepreneurs] are trying to solve," said Peter Wee when asked on what investors look for in start-ups. "What I ask entrepreneurs is whether their solution is disruptive," he explained. 
For Jesrina, the problem she needed to solve was her health issues. After learning that all it took was a naturally healthy lifestyle to rid her of her health problems, she decided that other people can also benefit from it too. She also saw a rising demand from people for natural herbs and medicinal products. Jesrina's start-up, Purely B, provides digital wellness content to inspire and educate people on how to live healthier lifestyles.
Related articles:
Online travel agents facing disruption
Are ASEAN businesswomen being ignored?